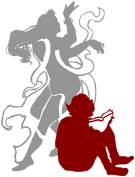 The fourth year of Sirens focused on the theme of "tales retold." Presentations on female fantasy characters and authors were welcome as well.
Dates
October 11–14, 2012
Location
Skamania Lodge, Stevenson, Washington
Conference - Guests of Honor - Schedule - Books and Breakfast - Reading List
Programming - Vetting Board - Call for Proposals

Guests of Honor
Kate Bernheimer has been called "one of the living masters of the fairy tale" by Tin House, and is the author of four books of fiction, most recently the final novel in a trilogy, The Complete Tales of Lucy Gold (FC2 2011), and Horse, Flower, Bird, a collection of stories with illustrations by Rikki Ducornet (Coffee House Press 2010). She has edited three anthologies including the World Fantasy Award winning My Mother She Killed Me, My Father He Ate Me: Forty New Fairy Tales (Penguin 2010). Her fiction and critical essays have appeared in The Los Angeles Times, Fence Magazine, Bookforum, Puerto del Sol, Bomb Magazine, Marvels & Tales: The Journal of Fairy-Tale Studies, and elsewhere. She teaches in the MFA Program at the University of Arizona, and is founding and acting editor of Fairy Tale Review.
For more information about Kate, please visit her website, which includes her blog.
Nalo Hopkinson has published five novels and numerous short stories, and has edited or co-edited four anthologies, most in the realms of science fiction and fantasy. She is a recipient of the Locus Award for Best New Writer, the John W. Campbell Award for Best New Writer, and the Ontario Arts Council Foundation Award for Emerging Writers. Her works have won a World Fantasy Award, a Gaylactic Spectrum Award, an Aurora Award, and the Sunburst Award for Canadian Literature of the Fantastic (twice), and have been nominated for the Philip K. Dick Award, the James R. Tiptree Jr. Memorial Award, the Hugo Award for Best Novel, and the Nebula Award for Best Novel. Brown Girl in the Ring was also a finalist in Canada Reads. Nalo holds an MA in Writing Popular Fiction from Seton Hill University, and is currently an associate professor of creative writing at the University of California, Riverside. She has served as faculty for Clarion East, Clarion West, and Clarion South, and she is a founding member of the Carl Brandon Society.
For more information about Nalo, please visit her website, which includes her blog, or her Twitter.
Malinda Lo's first novel, Ash, a retelling of Cinderella with a lesbian twist, was a finalist for the William C. Morris YA Debut Award, the Andre Norton Award for YA Science Fiction and Fantasy, and the Lambda Award for Children's/Young Adult, and was a Kirkus 2009 Best Book for Children and Teens. Her second book, Huntress, a companion to Ash, was published in April 2011 and received a starred review from Publishers Weekly. Her two-book young adult science fiction series, beginning with Adaptation, will be published in fall 2012. Prior to her work as an author of fiction, Malinda was an entertainment reporter, and was awarded the 2006 Sarah Pettit Memorial Award for Excellence in LGBT Journalism by the National Lesbian & Gay Journalists Association. She is a graduate of Wellesley College and has master's degrees from both Harvard and Stanford.
For more information about Malinda, please visit her website, which includes her blog, or her Twitter.

Schedule
The following files will open in your web browser.
Thursday


Friday


Saturday


Sunday



Books and Breakfast
Friday, October 12, 2012
Kissing the Witch: Old Tales in New Skins by Emma Donoghue
The Orphan's Tales: In the Night Garden by Catherynne Valente
The Palace of Illusions by Chitra Banerjee Divakaruni
Roses and Bones: Myths, Tales, and Secrets by Francesca Lia Block
Sailor Moon (manga, being re-released as Pretty Guardian Sailor Moon) by Naoko Takeuchi
Where the Mountain Meets the Moon by Grace Lin
Saturday, October 13, 2012
A Curse Dark as Gold by Elizabeth C. Bunce
The Dark Wife by Sarah Deimer
Mella and the N'anga: An African Tale by Gail Nyoka
Peaceweaver by Rebecca Barnhouse
The Sigh by Marjane Satrapi
There Once Lived a Woman Who Tried to Kill Her Neighbor's Baby: Scary Fairy Tales by Ludmilla Petrushevskaya (trans. Keith Gessen and Anna Summers)

Reading List
The following list will open in your web browser.

2012 Accepted Programming
Papers and lectures feature one or more presenters talking about the topic at hand. The specific style and formality of each presentation varies according to the speaker: some may be more formal readings of scholarly papers, with or without time for questions at the end; others may be relatively informal lectures with more audience participation.
Adaptation and the Distorting Mirror: Little Red Riding Hood and The Company of Wolves
Courtney Bates

Neil Jordan's film,
The Company of Wolves
, is based on a selection of short stories from Angela Carter's collection,
The Bloody Chamber
, which are themselves adapted from the Little Red Riding Hood tale type. This paper explores adaptation as it relates to the transition from text to film, as well as the transition from girlhood to womanhood, through the motif of a distorting mirror used in
The Company of Wolves
. The distorting mirror is a useful symbol for adaptation because it reflects what it posits to be a "true" image while also changing what it mirrors.
Sponsor:
University of Regina Students' Union
The Dark Side of Happy Endings
Jennifer Gale

This paper explores why we shy away from the darker aspects of fairy tales, myths, and religious stories when we retell these stories. There will be time for discussion and sharing built into the presentation, so that attendees can discuss how they view the darker aspects of these retold stories.
Desires of Older Women: Queer Possibilities in Emma Donoghue's Kissing the Witch
Rachel Steiger-Meister

This paper offers a queer close reading of Emma Donoghue's 1997 collection of retold fairy tales,
Kissing the Witch
, with a focus on the book's subversive intergenerational relationships (platonic, romantic, erotic) between older and younger women. These relationships are integral to the individual tales in the collection and to the collection's structure overall, offering a queer vision of a new, female fairy tale world.
Fact and Fantasy: Bringing Legend to Life through Historical Research
Diana L. Paxson

To bring the old tales to life for the modern reader, we need to root them in history. Diana L. Paxson talks about seeking the truth behind the stories of Iseult and Branwen, Cordelia, Brunhild and Gudrun, and the women of the Arthurian cycle, and how and where she found insights and answers.
May the Narrative Be Ever in Your Favor: Storytelling in The Hunger Games
Meg Belviso

In the Hunger Games arena the right story can keep a tribute alive—and bring the Capitol down. This paper looks at
The Hunger Games
as a battleground of stories: the Capitol's propaganda, Peeta's star-crossed romance, Cinna's call for revolution. And it looks at the girl at the center of these narratives. Katniss Everdeen finds herself cast as the hero of everyone else's story, while unable to see herself as the hero of her own. Folk hero, ingénue, reality TV star—Katniss is all and none of the above.
Modern Poets, Ancient Tales
Valerie Estelle Frankel

Many poets are adapting myths, viewing them through new eyes. "Persephone the Wanderer" and "A Myth of Innocence" by Louise Glück analyze Persephone through modern psychology, questioning how she felt about her abduction by the dark god as she struggles to find an identity outside the realm of her suffocating mother. In Catherynne M. Valente's "The Descent of Inanna," too, the questing goddess is presented as a troubled young woman who must confront her angry dark side. Both authors cast a new psychological light on these most ancient and primal of myths through the beauty of their poetry.
Obedience Training: The Domestic Educations of Girls Raised by Wolves
Brenda Mann Hammack

This essay examines the way in which Angela Carter and Karen Russell recast the historical rehabilitation of savage girls in their respective short fictions, "Wolf-Alice" and "St. Lucy's Home for Girls Raised by Wolves." These narratives, along with poetry by Janet McAdams and Bhanu Kapil, will serve as imaginative interrogations of the gendered pedagogy that informed the attempted re-educations of Marie-Angélique Leblanc, the Wild Girl of Champagne, in the eighteenth century—and Kamala and Amala, the so-called Wolf Girls of India, in the twentieth century.
Postmodern Scheherazade: Catherynne M. Valente and the Poetics of Mythpunk
Allison Stieger

Catherynne M. Valente's masterful duology
The Orphan's Tales
is a nested story, told to a prince by a mysterious girl who lives in the Sultan's garden. In these tales, Valente explores and retells a cornucopia of world myths and folklore, while refracting them all through a postmodern and feminist lens. This paper examines Valente's approach to the retelling of these tales, including her upending of the traditional tropes of myth and fairy tales. The paper presentation will include music from S. J. Tucker's pair of albums inspired by
The Orphan's Tales
.
Songs in Fiction—Not Just for Ballads Anymore
Caitlin Kirchenwitz

The sense of sound is difficult to incorporate into prose, and is one of the neglected senses in prose work. One often-overlooked way to incorporate sound is to include a song, either in the background or performed by a lead character. From the standpoint of a writer of both prose and song, Kirchenwitz will take a look at some authors who are known for using song. This presentation will begin to help attendees feel more comfortable with the use of songs in their own work, and get them comfortable with writing their own songs to use.
Voicing the Drowned Girl: Reviving Ophelia
Lacey Skorepa

This essay explores Angela Carter's revisionings of Ophelia in three of her texts:
Love
,
The Infernal Desire Machines of Doctor Hoffman
, and "The Lady of the House of Love." Throughout these texts, connections between Shakespeare's Ophelia, Gothic representations of Ophelia, and Carter's characters are illustrated. The essay further seeks to examine the progression, development, and growth of the Ophelia character throughout these three texts.

Papers and Lectures - | - Panels - | - Workshops
Roundtable Discussions - | - Additional Presentations - | - Afternoon Classes

Panels feature several speakers discussing a topic before an audience. Panels may take questions or discussion from the audience, but are not required to do so.
Beyond Werewolves: Telling and Retelling Shapeshifter Stories
Janni Lee Simner, Cora Anderson, Mette Ivie Harrison, Andrea Horbinski, Cindy Pon

From pookas and kitsune to selkies and frog princes, shapeshifters have long played a role in the stories we tell. Although wolves may be contemporary fantasy's most beloved werecreatures, other animal shifters appear everywhere from Ursula K. Le Guin's Earthsea books to Laurell K. Hamilton's Anita Blake novels. This panel will take a wider look at the range and nature of shapeshifters of all species in folklore and fantasy novels, at the varied stories different creatures lead us to tell and retell, and at where our fascination with taking on forms not our own comes from in the first place.
Fans and Fandom as (Re)Tellers of Tales
Andrea Horbinski, Marie Brennan, Rachel Manija Brown, Hallie Tibbetts

It's a common jump from loving a book, a story, a TV show, or a movie, to wanting to play around with its elements oneself. Fandom offers many girls and women a space in which to do just that. This panel looks at fandom and fans as retellers of tales, asking questions such as: what kinds of stories do fans choose to retell? What are some of the most common, or most interesting, kinds of fannish retellings? What is the line between "fannish" and "professional" retellings of stories such as fairy tales? What makes fandom (and retelling) original and creative?
Sponsor:
Amy Tenbrink
Fantasy by the Numbers: Decoding the Writer Hive Mind
Jennifer Udden, Amy Boggs, Emily Gref, Rachel Kory, Bridget Smith

Five young agents from four leading literary agencies want to know: what is going on in the writer hive mind? To this end, they played detective in May and June of 2012, taking a look at their slush piles with an eye for data. Who is writing what? What does the slush pile have to say about race, gender, and theme, especially as concerns fantasy? And how does this play out in publishing writ large?
The Female Gaze and Female Desire in Fiction
Kate Elliott, Nalo Hopkinson, Malinda Lo, Sarah Rees Brennan

Much fiction, and much of our society, is viewed from "the male gaze." This is a perspective in which expectations of what matters and what is worth being written about, as well as the way in which characters and events are seen and described, is from what might be called a "male view" of the world. What, then, is the female gaze? How do stories change when seen from the point of view of female desire and female agency? How do we read those stories differently? And does the critical establishment view such stories differently than those written with the more "normative" male gaze?
Sponsor:
Suzanne Rogers Gruber
Gender Masquerades
Mette Ivie Harrison, Malinda Lo, Dene Low, Janni Lee Simner

In television and movies, which characters are subverting our views of gender by playing the opposite role from the one that the audience expects? And what does this do to the audience? Are these shows helping us to see how gender is itself a masquerade, or do they fall back on old roles?
The Huntress and the Dude in Distress: Gender Roles in The Hunger Games
Rachel Manija Brown, Faye Bi, Marie Brennan, Artemis Grey, Shveta Thakrar

This panel will discuss gender and gender roles as they relate to characters in Suzanne Collins's
The Hunger Games
trilogy. We will focus our discussion on the changing roles of Katniss, Gale, and Peeta, but will also explore gender roles as they pertain to secondary characters and to the societies of Panem.
Retelling History
Marie Brennan, Andrea Horbinski

Whether it simply uses the culture of the period or features real people and events in starring roles, whether it hews closely to reality or flings in vampires and zombies, historical fiction takes the past and reshapes it for a modern audience. What methods do writers use to retell history in fiction? And what obligation does the writer have to their source?
Women Who Run with Wolves and Dance with Dragons
Rachel Manija Brown, Cora Anderson, Janni Lee Simner

From the magic horses of Mercedes Lackey's Valdemar series to the psychic wolves of Sarah Monette and Elizabeth Bear's
A Companion to Wolves
, fantasy novels have featured a wide variety of soul-bonded animal companions. These bonds, which range from wish-fulfillment fantasy to outright horror, are as diverse as the creatures themselves. This panel will discuss the tropes and themes of the animal companion motif, and explore the metaphoric nature of the bonds between women and their very special animals.

Papers and Lectures - | - Panels - | - Workshops
Roundtable Discussions - | - Additional Presentations - | - Afternoon Classes

Workshops are hands-on explorations of a topic. This category can include writing workshops, practice in strategies for teaching and learning, craft-based presentations, and other hands-on and highly interactive topics. Please note that the seating in workshop rooms is very limited to allow the presenters the maximum hands-on teaching time for each attendee, as well as to control costs that the presenters incur in providing materials. Thank you for your understanding.
The Beast Within: Creating Memorable Minor Characters
Anne Osterlund

From swan maidens to werewolves, traditional tales have a long history of bestowing animal traits on fairy tale characters. Come learn how to use that tradition to your own writing advantage! Create minor characters with the power to leap off the page, linger in the reader's mind, or make your audience laugh out loud.
Dramatic Dialogue
Anne Osterlund

Use theatrical techniques to turn dialogue into drama. Nervous about writing fight scenes? Struggle with adding action to dialogue? Come choreograph an argument between the Heroine and the Hero, write your own dramatic dialogue for prose, and practice weaving dialogue together with action, setting, and emotion. Crowns, swords, and rubber chickens will be present!
How to Write a Sestina
Laura LeHew

A sestina is a highly structured poem consisting of six six-line stanzas followed by a tercet, for a total of 39 lines. The same set of six words ends the lines of each of the six-line stanzas, but in a different order each time. Bring six end words and come write a sestina.

Papers and Lectures - | - Panels - | - Workshops
Roundtable Discussions - | - Additional Presentations - | - Afternoon Classes

Roundtables are interactive discussions of a topic led by a moderator, and attendees are encouraged to take an active part in the discussion. Please note that seating in roundtable rooms is very limited to allow everyone in the room the opportunity to participate.
E-books, E-readers, and Digital Fantasy
Amy Wilson

This roundtable will explore the digital options available for readers of fantasy, and will also examine the rapidly-changing digital publishing landscape.
Everything's Better with Giant Robots: Retellings and Adaptations in Anime and Manga
Cora Anderson

Many anime and manga series are adaptations or retellings of stories from other media. For instance,
Saiyuki
is a retelling of the Chinese classic
Journey to the West
, and
Romeo x Juliet
is an expanded and elaborated-on version of the Shakespeare play. This roundtable will discuss retellings in anime and manga, and will explore the way that tropes and themes common to anime mesh with the original narratives they are adapting.
Fairytales Retold: The Unusual Adaptations
Valerie Estelle Frankel

We all know about the big series: Gail Carson Levine's books, the Simon Pulse imprint, and the
Snow White, Blood Red
series, plus hundreds of romance novels and even erotica. But what have writers done that appears truly special? What's new and different for the new century? And what's so amazing people can't stop talking about it? This roundtable will discuss all the stand-out novels, from Malinda Lo's
Ash
to
Cinder
by Marissa Meyer and
Deathless
by Catherynne M. Valente, and will go on to consider this year's Snow White movies and shows like
Once Upon a Time
and
Grimm
. By the time we're done, we'll have an amazing list of retellings.
A Limited Palette of Girls
Kate Elliott

In American culture there are strong visual and cultural images and assumptions associated with celebrity, Hollywood actresses, and the "ideal" woman. This can include any number of diverse aspects of personhood, from gender identity to religion to ethnicity to personal appearance to personality, ambition, background, and goals. Is there a limited palette of girls and women in our fiction? How diverse are we really, and what limitations do we put on ourselves as writers and readers?
Sponsor:
Hallie Tibbetts
The Mockingjay as Folklore—Retelling and Re-examining Katniss's Story
Katie Hoffman

Can Suzanne Collins's
The Hunger Games
be understood as folklore? Katniss's journey is that of the archetypal hero in many aspects. If viewed from a folklore perspective, the narrative role of storytelling and the storyteller is complicated, especially in regards to Katniss's story versus the Mockingjay's, and in the ownership and creation of that storytelling process. After outlining folklore conventions evident in
The Hunger Games
, we will discuss how this perspective alters and illuminates the role of stories retold, again and again. Perhaps we can even answer the question behind it all: just whose story was Collins telling?
Sponsor:
Lauren Kent
Stories That Get Around: Shared Themes in Folklore
Erynn Kerwin

Join us as we examine the fabric of tales from around the world in order to identify the common patterns, universal elements, and Jungian archetypes woven within them. We'll thread our way through examples of sea maidens, conditional betrothments, and old bone mothers from various cultural cloths, and will do our best to unfold the significance of these symbols in our modern world.
Virgin Savior to Murderous Succubus: Women's Sexual Roles in Fantasy and Folklore
Cindy Pon

Why can only a virgin girl tame a unicorn? And what is the origin of the succubus—always a beautiful, seductive woman, who is not only hyper-sexual, but often intent on killing her male lovers? How have these portrayals of women in mythology and folklore affected fantasy writing to this day? And how much of women's sexuality in current fantasy novels is reflective of our own modern social mores?
Sponsor:
Amy Tenbrink
When Worlds Collide: Fanfiction and Publishing
Amy Wilson

This roundtable will discuss published works that trace their origins to fanfiction, published authors who write fanfiction, authors who either condone or promote fanfiction, and authors who do not. We will explore the value of derivative works in a thoughtful and objective manner.
Sponsor:
Suzanne Scott

Papers and Lectures - | - Panels - | - Workshops
Roundtable Discussions - | - Additional Presentations - | - Afternoon Classes

Creating Proposals, Abstracts, and Compendium Submissions for Sirens
Sirens Staff

Are you thinking of submitting a program item for next year? Want tips on how to prepare your ideas for consideration by the vetting board? We'll cover abstract formats for papers, panels, workshops, afternoon classes, and roundtable discussions. Also, your talk, paper, workshop, or roundtable discussion can become part of a published book: every other year, Sirens produces a compendium of presentations. We will discuss formatting issues, editing, bibliographic citation and why it matters, and some differences between writing for oral delivery and writing for print. The presentation will be very informal; attendees are welcome to drop in for a few minutes to ask a quick question or to use the time for group brainstorming.
Sponsor:
Suzanne Scott

Papers and Lectures - | - Panels - | - Workshops
Roundtable Discussions - | - Additional Presentations - | - Afternoon Classes

Siren with a Sword: Fencing 101
Manda Lewis, Marie Brennan

Have you always wanted to join your favorite character on the training grounds where she first picks up a blade? Have you wished yourself in her place as she readies for the attack? This class will provide you the opportunity to do just that! Join us as we explore the history, terminology, and rules of the sport of fencing. Then you'll take up a foil and practice what you've learned with your fellow attendees. You will see that fencing is not simply about overpowering your opponent, it's about planning and strategy. We recommend wearing comfortable or athletic clothing.
Thread Magic: Hand Sewing for Beginners
Manda Lewis, Erynn Kerwin

Alanna, in Tamora Pierce's Song of the Lioness quartet, says that a woman with a bit of string in her hands can bring down a troupe of armed knights if her will is strong enough. Thread magic weaves its way throughout fantasy literature, and we've even seen some of our favorite characters dabble in textile arts for fun or necessity. This class will teach participants the basics of construction and decorative stitching. By the end, participants will create a final project for charity, and will be a little more armed when they find a bit of string in their hands. A $2 donation for materials is requested.

Papers and Lectures - | - Panels - | - Workshops
Roundtable Discussions - | - Additional Presentations - | - Afternoon Classes

Vetting Board
Cora Anderson has been an avid reader of everything she could get her hands on for as long as she can remember. She is especially fond of fantasy and young adult literature, both prose and manga. Cora has a history degree from the University of Southern California, and currently lives in Seattle, Washington, where she works as a technical writer. When not working, writing, or reading, Cora enjoys cooking, playing video games, and exploring Seattle.
Sharon K. Goetz works for a print-and-digital project that creates critical editions. Too fond of textuality for her own good, she has also written software manuals, taught college writing courses oriented around speculative fiction and King Arthur, and completed a Ph.D. investigating medieval English chronicles amidst their manuscript contexts. Sharon served as Academic Programming Coordinator for Terminus and Phoenix Rising and as Programming Secretary for The Witching Hour; in 2002 she chaired the Medieval Performativity conference that celebrated the fiftieth anniversary of the UC Berkeley Beowulf Marathon. Amongst Sharon's leisure pursuits are reading widely, playing video games, and volunteering as a Strange Horizons copy-editor.
Mette Ivie Harrison writes romantic fantasy for the young adult market, including Mira, Mirror, The Princess and the Hound, The Princess and the Bear, and the newly-released Tris and Izzie. She has a PhD in Germanic literature and languages from Princeton University, and wrote her dissertation on the topic of the female Bildungsroman in the eighteenth century.
Andrea Horbinski is a PhD student in Japanese history at the University of California, Berkeley. She was previously a Fulbright Fellow at Doshisha University in Kyoto, Japan, researching hypernationalist manga and is the editorial assistant for Mechademia, a peer-reviewed journal of anime, manga, and fan culture studies.
Mallory Clare Loehr is the editor-in-chief of Random House Books for Young Readers, where she has worked for twenty years! She edits everything from six-page board books to six-hundred-page young adult titles, with a particular fondness for fantasy geared toward any age. She is Tamora Pierce's editor for the Tortall books featuring Kel, Alianne (Aly), and Beka Cooper. Other fantasy/SF authors she has edited include Isobelle Carmody, Esther Friesner, and Lauren McLaughlin. She has also worked on all the Magic Tree House books by Mary Pope Osborne—the ongoing best-selling series that has launched many a fantasy reader. Mallory is in publishing because she is a reader first and foremost, although her reading volume has been stunted by the arrival of two children. Once upon a time she read ten books a week, frequented flea markets, and danced Argentine tango late into the night. Now she lives in Brooklyn with her husband, two small(ish) children, and one cat. In her (little) spare time, she reads as well as organizes libraries at home, at work, and at her son's school. She is addicted to parentheses and footwear.
Sherwood Smith writes fantasy and science fiction novels and short fiction. Her stories have been finalists for the Nebula and Mythopoeic Fantasy Awards, and her characters, including Meliara, Wren, and Inda, are fantasy favorites. Her recently published works include Crown Duel and its prequel, A Stranger to Command; the four Inda books; Sasharia en Garde: Once a Princess and Twice a Prince; Senrid; the Wren series; and stories in Lace and Blade, Firebirds, and Firebirds Soaring: An Anthology of Original Speculative Fiction. In September 2010, DAW published Coronets and Steel, a Ruritanian romance. In addition to coauthoring the Exordium series with Dave Trowbridge, she has published novels set in others' worlds, including Earth: Final Conflict, Andromeda, L. Frank Baum's Oz, and (with Andre Norton) the Solar Queen and Time Traders universes.
If people let her, Shveta Thakrar would eat books for dinner. Since they won't, she settles for writing Indian-flavored fantasy. Drawing on her heritage, her experience growing up with two cultures, and her MA in German literature, she likes to explore the magic that is just out of sight as well as that which stands right in front of our faces. Other things that interest her include feminism, cultural and racial notions of beauty, and how language influences how we think. Shveta is currently working on a YA novel featuring Indian fey, bleeding thumbs, and family secrets, all in Philadelphia. She blogs at http://shveta-thakrar.livejournal.com/.

2012 Call for Proposals
CALL FOR PROPOSALS: Sirens
Stevenson, Washington
October 11–14, 2012
A conference on women in fantasy literature presented by Narrate Conferences, Inc.
Sirens, a conference focused on literary contributions by women to the fantasy genre and on fantasy works with prominent female characters, will take place October 11–14, 2012, in Stevenson, Washington, near Portland, Oregon. The conference seeks papers, panels, interactive workshops, roundtable discussions, and other presentations suitable for an audience of academics, professionals, educators, librarians, authors, and fantasy readers.
The theme for 2012 is "tales retold," and presenters are invited to explore fantasy based on extant stories. Programming prompted by the theme is encouraged; presenters are not limited to this theme, however, and proposals that address specific aspects of a work or series, works related by other themes, and studies of the fantasy genre across all disciplines are encouraged as well. A non-exhaustive list of sample topics includes literary analyses of novels; studies of genre history; use of fantasy works in schools and libraries for education; examination of related business and legal issues; media and fan studies; craft-based workshops in writing, art, and publishing; and overviews of how fantasy works fit into larger contexts.
Presentation submission to the vetting board is by online system only. No other format or contact will be considered. The online submission system is located at <http://www.sirensconference.org/submissions/>.
The deadline for proposals is May 6, 2012, and notices regarding proposals will be sent no later than June 2, 2012. Those requiring an early decision in order to obtain travel funding should contact the programming coordinator at (programming at sirensconference.org).
At the time of proposal submission, presenters must provide an abstract of 300-500 words, a 50-100 word presentation summary for publication, and a presenter biography of no more than 100 words. Those wishing to submit a proposal for an interactive roundtable discussion may submit a brief explanation of a topic and a list of 10-15 sample discussion questions in lieu of a formal abstract; workshop proposals may be formatted as lesson plans. Afternoon classes—interactive demonstrations of interest to fantasy readers that may be less formally related to the theme—may also be presented as lesson plans. Presenters must be available to attend the conference in its entirety; no partial or day registrations will be offered.
Conference papers will be collected for publication at a later date. Presenters must be registered for the conference no later than July 1, 2012. For more information about programming, the review process, suggested timing and structure of presentations, audio-visual availability, and proposal submissions, please see the Sirens website at <http://www.sirensconference.org/programming/>. Questions specifically about programming may be directed to (programming at sirensconference.org), and general conference inquiries may be sent to (help at sirensconference.org).
Sirens is a presentation of Narrate Conferences, Inc., a 501(c)(3) charitable organization with the mission of organizing academic, literary, and exploratory educational conferences that address themes of interest to scholars, educators, students, professionals, and readers. For inquiries about Narrate Conferences, Inc., please write to (info at narrateconferences.org).
Download the Call for Proposals


You will need Adobe Reader to view these files. If you do not have it, please use this button to access the free download.
Get Adobe Reader


Conference - Guests of Honor - Schedule - Books and Breakfast - Reading List
Programming - Vetting Board - Call for Proposals