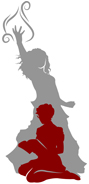 The ninth year of Sirens focused on the Sirens community and the theme of "women who work magic" and presenters were invited to consider women who possess and wield power in fantasy literature in a number of ways, from traditional witch constructs to less traditional conjurers, sorceresses, and others. Presentations on female fantasy characters and authors were welcome as well.
Dates
October 26–29, 2017
Location
Park Hyatt, Beaver Creek, Colorado
Conference - Guests of Honor - Schedule - Books and Breakfast - Reading Lists
Programming - Vetting Board - Call for Proposals

Guests of Honor
Zoraida Córdova was born in Ecuador and raised in Queens, New York. She is the author of The Vicious Deep trilogy, which centers around Tristan, who discovers his heritage and is thrown into a battle going on beneath the ocean, fighting for his future, his friends, and his life. Her other works include the On the Verge series, which is about 20-something-year-old-girls searching for love and the meaning of life, and Labyrinth Lost, about Alex, a bruja, the most powerful witch in a generation who hates magic so much that she performs a spell to rid herself of her power. Zoraida loves black coffee and snark, and still believes in magic. She is a contributing writer to Latinos in Kid Lit because #WeNeedDiverseBooks. Zoraida studied at Hunter College and the University of Montana in Missoula.
For more information about Zoraida, please visit Zoraida's website, blog, or Twitter.
N. K. Jemisin is an author of speculative fiction short stories and novels who lives and writes in Brooklyn, New York. Her works include the Inheritance Trilogy, the Dreamblood Duology, and the Broken Earth series. In the Inheritance Trilogy (The Hundred Thousand Kingdoms, The Broken Kingdoms, and The Kingdom of Gods), gods dwell among mortals and one powerful, corrupt family rules the earth; three extraordinary people may be the key to humanity's salvation. The Dreamblood Duology (The Killing Moon and The Shadowed Sun) is set in the ancient city-state of Gujaareh, the city of dreams, where once the only law was peace but which now knows violence and oppression; it's a tale of culture and empire, war and religion, and the realm of dreams. The Broken Earth series (The Fifth Season, The Obelisk Gate, and The Stone Sky) is about Essun, who searches for her daughter in the land of the Stillness, which is long familiar with catastrophe, where the power of the earth is wielded as a weapon and there is no mercy. Nora's work has been nominated for the Hugo Award, the Nebula Award, and the World Fantasy Award and shortlisted for the Crawford Award, the Gemmell Morningstar Award, and the James Tiptree, Jr. Award. She won a Locus Award for Best First Novel (The Hundred Thousand Kingdoms in 2010), the Romantic Times Reviewer's Choice Award (The Broken Kingdoms in 2010 and The Shadowed Sun in 2012), and the Hugo Award for Best Novel (The Fifth Season in 2016 and The Obelisk Gate in 2017). Her short fiction has been published in Clarkesworld, Postscripts, Strange Horizons, and Baen's Universe. In addition to writing, she has been a counseling psychologist and educator (specializing in career counseling and student development), a sometime hiker and biker, and a political/feminist/anti-racist blogger. Nora currently writes a New York Times book review column named Otherworldly, in which she covers the latest in science fiction and fantasy.
For more information about N. K., please visit N. K.'s website or Twitter.
Victoria Schwab (also known as V. E. Schwab) is the product of a British mother, a Beverly Hills father, and a southern upbringing. Her first young adult novel, The Near Witch, is a dark original fairy tale and her next one, The Archived, is about a world where the dead are shelved like books (and has a sequel, The Unbound). Victoria's first adult novel, Vicious, is about two brilliant and highly disturbed pre-med students who set out to generate their own superpowers and end up as mortal enemies; the series will continue with Vengeful, expected to be published in 2019. Vicious received a starred review from Publishers Weekly, which named the novel one of its best books of 2013 for SF/Fantasy/Horror, and the American Library Association's Reference and User Services Association awarded it the top fantasy book in their 2014 Reading List. The first book in her Shades of Magic series, A Darker Shade of Magic, is about Kell, a magician who can move through multiple versions of London, and Lila, the pickpocket who steals a talisman that could end them all (its sequels are A Gathering of Shadows and A Conjuring of Light). Most recently, Victoria published her Monsters of Verity Duology, This Savage Song and Our Dark Duet. When she's not haunting Paris streets or trudging up English hillsides, Victoria's usually tucked in the corner of a coffee shop, dreaming up monsters. She loves fairy tales, folklore, and stories that make her wonder if the world is really as it seems.
For more information about Victoria, please visit Victoria's website or Twitter.

Schedule
The following files will open in your web browser.
Pre-conference
Conference
Thursday


Friday


Saturday


Sunday



Books and Breakfast
Friday, October 27, 2017
All the Birds in the Sky by Charlie Jane Anders
The Bear and the Nightingale by Katherine Arden
The Girl Who Drank the Moon by Kelly Barnhill
Slice of Cherry by Dia Reeves
This Strange Way of Dying by Silvia Moreno-Garcia
Three Dark Crowns by Kendare Blake
Saturday, October 28, 2017
A Feast of Sorrows by Angela Slatter
Bayou Magic by Jewell Parker Rhodes
The Bone Witch by Rin Chupeco
The Land of Love and Drowning by Tiphanie Yanique
Nimona by Noelle Stevenson
Silver on the Road by Laura Anne Gilman

Reading Lists
The following lists will open in your web browser.

2017 Accepted Programming
Papers and lectures feature one or more presenters talking about the topic at hand. The specific style and formality of each presentation varies according to the speaker: some may be more formal readings of scholarly papers, with or without time for questions at the end; others may be relatively informal lectures with more audience participation.
The Beauty of Feminism, the Beast of Patriarchy: Investigating Subversive Retellings
Nivair H. Gabriel

"Beauty and the Beast" is one of the most retold tales in young adult fantasy literature by women, yet it is inherently problematic; it features a male monster enacting patriarchal violence, and a beautiful girl tasked with loving and saving him at the expense of her own development. In retelling this story, authors Robin McKinley, Renée Ahdieh, and Robin LaFevers have worked to subvert the tale's foundation in patriarchy and instill their interpretations with feminist values. While the tale's resonance with young women in a patriarchal society seems troubling, a closer look at these retellings reveals women performing powerful acts of feminist reclamation.

Anonymous
Crafting Works of Marginalized Resistance Through the Reinvented Myth and Modern Fairytale
Maria Dones, Hannah Warren

This presentation will focus on the methods through which poets and fiction writers craft works that utilize reinvented myths and modern fairytales as a form of resistance to racial and gendered oppression. Marginalized authors within the writing community often create a space in which their voices are recognized through genres that are well-established but that often misrepresent or undervalue these voices. This presentation will discuss how authors craft that space.
Creating Proposals and Compendium Submissions for Sirens
Sirens Staff

Are you thinking of submitting a program item for next year? Want tips on how to prepare your ideas for consideration by the vetting board? We'll cover abstract formats for papers, panels, workshops, afternoon classes, and roundtable discussions. Also, your talk, paper, workshop, or roundtable discussion can become part of a published book; every three to four years, Sirens products a compendium of presentations. We will discuss formatting issues, editing, bibliographic citation and why it matters, and some differences between writing for oral delivery and writing for print. The presentation will be very informal; attendees are welcome to drop in for a few minutes to ask a quick question or to use the time for group brainstorming.

Simon
Intersecting Magics: Examining Assemblages of Magic and Technology in Nnedi Okorafor's Binti
Alyssa Collins

This paper examines the intersections of magic and technology in the novellas of Nnedi Okorafor. Okorafor's Binti series prompts us to think about the particular ways in which the black fantastic and black technological practices align to create moments of history-making and memorialization, especially in the community-building moments after persecution or state violence. This paper examines not only the operations of such magic and technology in the text, but also gestures to the affordances of such magical and technological thinking in what can be seen as analogous memorializing and community-building moments in black contemporary culture.

Amy Tenbrink
Mrs. Whatsit, Mrs. Who, Mrs. Which, and Ava DuVernay
Sarah R. Kozloff

A Wrinkle in Time
is about to assume renewed cultural importance because Disney hired Ava DuVernay to direct an adaptation that will premiere in 2018. Pre-release publicity indicates that DuVernay has transformed
A Wrinkle in Time
through her casting decisions. The vivid trio of magical women is now multiracial: Oprah Winfrey is Mrs. Which, Mindy Kaling, Mrs. Who, and Reese Witherspoon plays Mrs. Whatsit. This presentation examines how DuVernay's role as director, and the "Ws" transmutation, may alter common perceptions of who has magic (and power).
Our Trashy Grandmother: Historical (Mis)Perceptions of the Fantasy Genre
Lyta Gold

Nearly every reader and writer of fantasy has been told, at least once, that fantasy literature is silly, trashy, and not properly literature at all. But the origins of fantasy stretch back through myth, legend, and "old wives' tales" into prehistory and the farthest realms of the human imagination. This paper will briefly sketch the origins of fantasy before examining ways in which genre, particularly in the West, has been constantly redefined in order to perpetuate hierarchies of gender, race, and class--and how fantasy can act as a literature of liberation from those hierarchies.
The Power of Contracts
Amy Boggs

Whether you're signing with a publisher, hired to sew someone's coat design, or co-creating a musical, contracts are the ultimate protection for your art. But many artists ignore contracts because the language is hard to understand or they think they don't need them, until they're hit with a worst-case scenario. This presentation will go over contract basics, issues to consider before entering into any agreement, and tips on negotiating without burning bridges, all with a focus on contracts specific to the art world. Please note that this presentation will not include specific legal advice.
Publishing Magic, More or Less
Hallie Tibbetts

Where is fantasy literature headed for middle grade and young adult readers? What will young readers be offered in the years to come, and what can we glean from those offerings about fantasy's values, mores, and community? Using industry sources, this presentation will provide a data-driven analysis of recent book acquisitions--and what those trends might mean for the present and future landscape for children's fantasy readers.

Simon
Sorceresses Transgress: Examining Treatment of Female Magic Users
Casey Blair

Fantasy literature is rife with incredible sorceresses, witches, and other female magic users. Magic can be an avenue for female characters to play an integral role in an otherwise patriarchal narrative, but does that approach give women power, or is it another kind of trap? This paper will discuss the ways magic is used to empower and constrain female characters, from the evolution of tropes casting feminine magic as "good" or "evil" to the limitations and opportunities for female magic users in their worlds—and what that says about ours.

Renae Jones
"Cold as a Witch's Tit": Gender and Magic in Early Modern Witch Trials
Gillian Chisom

The witch trials of early modern Europe are a fascinating and often misunderstood historical episode that offers important insights into women's lives in the past. This paper will provide a comparative overview of the witch hunts that occurred in Europe between roughly 1450 and 1750 within their legal, social, and religious contexts, with particular attention to the British Isles.

Anonymous
Papers and Lectures - | - Panels
Workshops - | - Roundtable Discussions - | - Afternoon Classes
Combination Presentations

Panels feature several speakers discussing a topic before an audience. Panels may take questions or discussion from the audience, but are not required to do so.
Becoming a Better Reader
Amy Tenbrink, Faye Bi, s.e. smith

Edith Wharton once said, "When I first began to read, and then to write ghost-stories, I was conscious of a common medium between myself and my readers, of their meeting me halfway among the primeval shadows, and filling in the gaps in my narrative with sensations and divinations akin to my own." This idea, that readers must meet authors halfway, implies that readers bear a certain amount of responsibility for the success or failure of their reading experience—and that, ultimately, reading itself may be a skill, something that a reader can improve with education, diligence, and practice. On this panel, four readers will discuss what it might mean to be a good reader and how one might become a better reader.
Conversations with Octavia Butler
K. Tempest Bradford, Kiini Ibura Salaam, N. K. Jemisin

Octavia Butler's novels have taken millions of readers on a fantastic journey—but what about the woman herself? This panel will give participants a glimpse into Octavia Butler, the individual. Through audio clips, we'll hear from the woman who has brought the world fantastic vision, as Sirens guest of honor, novelist N.K. Jemisin, and two speculative fiction writers, Kiini Ibura Salaam and K. Tempest Bradford, engage in conversation with Butler's ideas, visions, and brilliance.
The Link Between Science and Magic
Rhoda Belleza, Kamilla Benko, Miriam Weinberg

This panel will explore the influence of real-world science on the creation of magical systems and/or sci-fi technology, with a focus on how authors across both genres rely on the same pillars to tell a compelling narrative.
The Magic of Beauty: Beauty as Narrative Device and Social Construction
Kate Elliott, Faye Bi, Dhonielle J. Clayton, Zoraida Córdova, Kiini Ibura Salaam

In what sense has beauty been treated as a special magic gift that some girls and women possess? How has it functioned as a narrative device that gives its holders a form of power other girls and women don't receive? This then obliges us to confront and discuss social constructions of beauty. Who is allowed to be beautiful in narratives and on what terms? For whom is beauty a limiting characteristic? For whom is it an empowering one?

Anonymous
Poor Unfortunate Souls: Women, Magical Power, and the Idea of Evil
Nicole Brinkley, E.K. Johnston, Katherine Locke, Natalie C. Parker, Shveta Thakrar

Traditionally, women with magic in fantasy media are presented as evil: a witch that steals away the innocence of a princess without power, or an evil queen set up against a pure-of-heart prince. But women with magical power being classically seen as evil is being subverted and challenged in today's fantasy stories. This panel will discuss how and why women with magical power were traditionally seen as evil, and what happens when you overlap women with power with other marginalizations: queer women with magical power, women of color with magical power, and—heaven forbid—queer women of color with magical power, as well as favorite magical ladies who got the short end of the proverbial stick.

Anonymous
Reader, I Married Them: Problematic Tropes in Romantic Storylines
Kate Elliott, Zoraida Córdova, Tessa Gratton, Rebecca Roanhorse

Many of us love "love stories" in fantasy, even when they have problematic elements. But what happens when the basis of the love story is harmful? Can genuine romance flourish without consent? Do offensive depictions of ethnicity and religion always undercut the good of a romance? What are some of the problematic tropes that used to be common but have now dropped out of fashion? Which are still with us, and why? Where does "it's okay to love problematic things" collide with stereotypes that can cause lasting harm?

Anonymous
The Unicorn Fallacy: Dissecting the Argument That Dragons Can Be Accurate While Diverse Characters Are Not
Julia Ember, C.B. Lee, Shveta Thakrar

A common argument against diversity in speculative fiction is that its inclusion isn't historically or scientifically accurate for the time period the work is based on. In this session, the presenters will challenge the fallacy that diverse characters cannot be included in speculative fiction with a strong historical bent, and the historical evolution of this misconception. In addition, the presenters will discuss why this fallacy is especially harmful in genre fiction and highlight works that actively fight against this argument.

Anonymous
Who's a Witch? Gender, Power, and Magical Systems
s.e. smith, Robyn Bennis, Dhonielle J. Clayton, Kate Elliott, Shveta Thakrar

Moon blood, woman power, military magic, enchanted masculinity: across fantasy, magical systems and magic users are often highly gendered. What are the cultural and historical roots of this tradition? Why are some forms of magic so closely associated with binary gender systems, and what happens in a fantasy world where gender is a spectrum? This panel will explore magic, gender, and identity across cultures and eras.
Writing the Fantastic: Magic and Power
Amy Tenbrink, Zoraida Córdova, N. K. Jemisin, Victoria Schwab

Too often, in fantasy literature, women are, literally, powerless. Despite worlds bursting with magic—magical environments, magical beasts, magical men—female characters are so frequently everyday humans navigating these wonders without powers of their own. Further, even when female characters do have power, they are often denigrated, ostracized, or assaulted; even in fantasy literature, where magic abounds, the word "witch" is so often a slur. Join us as Sirens guests of honor discuss women, magic, and power—and what the limitless possibilities of fantasy literature might add to this conversation.
Papers and Lectures - | - Panels
Workshops - | - Roundtable Discussions - | - Afternoon Classes
Combination Presentations

Workshops are hands-on explorations of a topic. This category can include writing workshops, practice in strategies for teaching and learning, craft-based presentations, and other hands-on and highly interactive topics. Please note that the seating in workshop rooms is very limited to allow the presenters the maximum hands-on teaching time for each attendee, as well as to control costs that the presenters incur in providing materials. Thank you for your understanding.
Fight-Writing Tactics
Blair MacGregor

Writing fight scenes, whether physical or magical, requires an understanding of the specialized skill the author wants to portray, but the craft of communicating to the reader is paramount. Between the common strategic advice of "Make it exciting!" and the common logistical advice of "Get the details right!" are the tactics writers need to match strategy with logistics and create compelling fight scenes to reveal character, build the world, and drive the plot.

Anonymous
Tools and Techniques for the Reluctant Rewriter
B R Sanders

Masterpieces are rarely written perfectly the first time around. Revision, rewriting, and editing are key steps in the writing process, but they aren't always fun, and they aren't always easy to master. For many of us, learning to write first drafts is more straightforward and easier than picking up the skills necessary to polish those first drafts. In this workshop, we'll explore a variety of techniques writers can use to structure their revision and rewriting process to get the most out of it. Writers at all stages of their career and of all levels of expertise are welcome.
Papers and Lectures - | - Panels
Workshops - | - Roundtable Discussions - | - Afternoon Classes
Combination Presentations

Roundtables are interactive discussions of a topic led by a moderator, and attendees are encouraged to take an active part in the discussion. Please note that seating in roundtable rooms is very limited to allow everyone in the room the opportunity to participate.
Bewbs and Brains: Talking About Our Favorite Smart and Sexy Women in Fantasy Literature
Kristen Blount

You know her: She radiates sex appeal, shows cleavage, and wears a red dress. Her motivations are her own and maybe she's not bad, but she's certainly been drawn that way. You know her, too: She's smart and a little mousy. She's too busy with her nose in books to be bothered with being attractive, and really it's better to be smart than sexy. Right? Let's talk about women in fantasy literature who get to have both boobs and brains. The discussion welcomes examples from real life, fiction, and graphic media, as well as television and movies.
Coming Out Mage: Gender and Sexual Identity Explored in Fantasy Literature
Kate Larking

Fantastic societies often explore the roots of power and oppression, and the relation of those onto group and individual identity. In this roundtable, we will discuss how queer identity themes are incorporated and explored in fantastic literature, from gendered masquerades to secret magics.
Kissing the Witch: Fantasy Women as Lovers
Catherine Lundoff

Female couples and other romantic pairings, whether lesbian, bi, and/or queer, appear in all kinds of fantasy tales, from Emma Donoghue's nested fairy tale retellings to Xena/Gabrielle fanfiction. Until comparatively recently, however, it's been easier to find coded relationships than explicit ones: women in fantastic couples are often buddies or companions, their love for each other kept on a spiritual plane or described in sisterly terms. Romantic female couples in fantasy are often the province of the small press, marketed to a queer female audience, while more mainstream genre portrayals tend to make those pairings minor characters or wander into the Tragic Queer/Kill Your Gays tropes. How can readers and writers navigate this range of work to find the kind of stories they like? How can we chart the development of different kinds of romantic female relationships in fantasy literature? What areas of relationships between female characters has the genre already explored, and where does it still have plenty of room to grow?
The Magic of "Women's Work"
Amanda Helms

In fantasy, some subsets of magic-working are framed as "women's work," whether that means domestic tasks such as cooking or cleaning--as in the Disney-fied versions of some fairy tales--or for tasks befitting a proper lady of a certain class (along the lines of embroidery or singing), as in Mary Robinette Kowal's Glamourist series. Depending on the book, such magic may be presented as practical or wasteful. This roundtable discussion will explore the topic from both angles and also consider ways in which authors subvert magic devoted to so-called "women's work."

Cora Anderson
The Magical Girls of Anime and Manga
Andrea Horbinski

The anime and manga genre of magical girls has a rich history of girls wielding magical power with fashion, friendship, and heart. In this roundtable, we'll review our favorite magical girls from famous to unfairly forgotten, and talk about why and how anime, manga, and magical girls work so well together.

Justin Pava
The Nonhuman in Fantasy: Female Posthuman Configurations in Speculative Literature
Jessica Silbaugh-Cowdin

Speculative literature often takes us to new worlds that are not quite Earth and introduces us to characters who are not quite human, offering us a mode of exploration into posthuman spaces where we can interrogate our definitions of what makes us human. This roundtable will discuss these and other questions: How do we envision depictions of nonhuman women in speculative literature? What makes these nonhumans women, and what makes these women nonhuman?

Anonymous
The Price of Power
Meg Belviso

We say something works "like magic" when it's easy. But is that really want for our fictional magic workers? This roundtable will examine magic that comes at a price. We'll look at fictional examples of power with a downside from Hans Christian Andersen's "The Little Mermaid" to Kristin Cashore's
Fire
and discuss how these bargains reflect how women and power relate in the real world. Perhaps we'll come to some conclusions about just what magic is worth.
Reluctant Heroines
Cass Morris

What happens when you don't want to join the rebellion, marry the warlord, or find Mount Doom--but the world needs you to? When a heroine has greatness thrust upon her, whether she will or no? All are invited to join this discussion of the heroines who never asked for adventure and glory, but who found it--or were found by it--anyway.
The Socioeconomics of Magic: Correlations Between Class Structure and Use of Magic in Fantasy Narratives
Emma Whitney

In the struggle for power that constitutes the plot of many fantasy novels, magic is often the primary tool. This use of magic generally confers a particular social status to the user. Frequently, especially in classic "epic" fantasy, this is an elevated status, but that is not always the case. In this roundtable we will discuss how magic is used to reinforce or break down social structure, and what this might say about how we view class distinctions.

J. Kennedy
Sorcerous Sources: Emotion in Magic Systems
Bethany Powell

Jedi power relies on emotionlessness. Harry Potter needs love to defeat evil. The importance of emotion is often part of worldbuilding magic--but what biases limit us? Is jealousy and anger always going to produce bad magic? Are only certain emotions powerful or worthy? Let's talk broadening our worldbuilding and including different experiences of these emotions.
Papers and Lectures - | - Panels
Workshops - | - Roundtable Discussions - | - Afternoon Classes
Combination Presentations

Some presenters have been accepted to teach classes in topics related to fantasy literature and the activities of its characters. These tend to be heavily demonstration-based and interactive. You may be required to sign a liability waiver to be in the room during physical sessions.
The Magic of Costuming
Jo O'Brien, Susie O'Brien

Imagery in literature lights up our imagination, taking us to places we can't visit, showing us faces we can't see, and constructing clothing we can never wear—but Sirens can do anything! In this afternoon class, you'll get a look at costume creation from description to design to construction, with examples of both cosplay and everyday wardrobe inspired by fiction, film, and video games.
Making Money in Fantasy Publishing
Sara Megibow

Learn how a literary agent strategizes to make money for her authors! Sara Megibow will teach writers how an agent thinks about profit by looking at format, distribution, subsidiary rights and the ever-changing role of publicity. Then, Sara will help writers evaluate options for their own careers. Writers can have a more active impact on their own bottom line by vetting publishing choices through the lenses of genre, writing style, backlist, and personality. There is no magic wand in publishing, but there are concrete strategies for profit!
Papers and Lectures - | - Panels
Workshops - | - Roundtable Discussions - | - Afternoon Classes
Combination Presentations

Combination presentations include two or more elements of the other presentation types. For example, a paper may precede a related roundtable discussion.
Headology: Female Power, Social Leverage, and Emotional Labor Among the Witches of Terry Pratchett's Discworld
Cora Anderson

The witches of Terry Pratchett's Discworld series are exceptionally powerful women; they are capable of freezing fire with a thought, borrowing animal bodies, and defeating nigh-omnipotent elves and vampires. However, in the usual practice of their magic, they eschew such obvious magics in favor of "headology" which relies on psychology, social leverage, and emotional labor rather than the supernatural. In this paper and roundtable discussion we will question why the Discworld witches (in stark contrast to their male counterparts, the wizards of Unseen University) use headology, and how that plays into gendered expectations around emotional labor.
Turn Inspiration into Action: How Our Favorite Fantasy Heroines Practice Resistance, and How You Can Do the Same
Katie Hoffman

Feeling energized by the brilliant Sirens programming? Transform that inspiration into direct action by channeling your favorite fantasy heroine! In this hybrid presentation and workshop, we'll discuss different types of activism through the lens of radical fantasy literature by women. You'll leave with a packet of resources on civil disobedience and advocacy (plus a giant sf/f reading list featuring women dissidents) and the ability to turn the fictional bravery of your favorite characters into real-world change. We'll compile our collective knowledge and ideas to a shared digital space and wrap up by sending specially-designed postcards to the representative of your choice. #resist
Papers and Lectures - | - Panels
Workshops - | - Roundtable Discussions - | - Afternoon Classes
Combination Presentations

Vetting Board
Amy Boggs recently joined the contracts department at Kensington Books after eight years as an agent at the Donald Maass Literary Agency. She is a devoted fan of fantasy, science fiction, and all the wibbly-wobbly of speculative art. In her spare time, she tiptoes through fandom and rants about media on Twitter @notjustanyboggs.
Constance Burris is an author of science fiction, fantasy, and horror. She lives in Oklahoma with her husband and two kids. When she's not writing, she's fighting the good fight as an environmental engineer.
Gillian Chisom is a PhD candidate in history at the University of California, Berkeley. She is currently writing a dissertation about gender and embodiment in the early Quaker movement. A lifelong fantasy reader, over the last several years she has wrestled with the genre's flaws and possibilities and become committed to writing fantastical stories which center queer voices. She was a Lambda Literary Fellow in Young Adult and Genre Fiction in 2013, and her work has appeared in The Toast, Global Comment, and Specs Journal.
Sharon K. Goetz tests software. Too fond of textuality for her own good, she has also worked in scholarly textual criticism and web publishing, written software manuals, and completed a PhD investigating medieval English chronicles amidst their manuscript contexts. As time permits, she reads widely and plays computer games.
Andrea Horbinski holds a PhD in history with a designated emphasis in new media from the University of California, Berkeley. Her dissertation, "Manga's Global Century," is a history of Japanese comics from 1905–1989. She has discussed anime, manga, fandom, and Japanese history at conventions and conferences on five continents, and her articles have appeared in Transformative Works and Cultures, Convergence, and Mechademia. In her spare time, she edits video for fun and can be found tweeting as @horbinski.
Joy Kim works as a public librarian in Washington. She is a past chair of YALSA's William C. Morris YA Debut Award and Great Graphic Novels for Teens committees, and even occasionally finds time to read for fun. In her free time, she enjoys cooking, running, and watching Korean reality shows.
Candice Lindstrom is an editorial assistant for a business magazine publisher covering women, LGBT, and minority enterprises. She also edits young adult and adult fiction for a paranormal publisher. When not reading for work, she's reading for pleasure in almost any genre, but science fiction/fantasy is her first love.
B R Sanders is a white, genderqueer speculative fiction writer who lives and works in Denver, Colorado, with their family and two cats. Outside of writing, B has worked as a research psychologist, a labor organizer, and a K–12 public education data specialist.
Hallie Tibbetts has worked in a variety of media, social work, education, event planning, and administrative positions. Hallie has been involved with Narrate Conferences and all of its events since its inception in 2006, serving variously as education officer, communications officer, and vice president, along with chairing a number of conferences (including many years of Sirens). She was a music education major at the University of Southern California, obtained a master's degree in digital and print media from New York University, and works in editorial at Little, Brown Books for Young Readers on books for children age zero to eighteen, but doesn't mind if grownups like those stories too.

2017 Call for Proposals
CALL FOR PROPOSALS: Sirens
Vail, Colorado
October 26–29, 2017
A conference on women in fantasy literature presented by Narrate Conferences, Inc.
Sirens, a conference focused on literary contributions by women to the fantasy genre and on fantasy works with prominent female characters, will take place October 26–29, 2017, in Vail, Colorado. The conference seeks papers, panels, interactive workshops, roundtable discussions, and other presentations suitable for an audience of academics, professionals, educators, librarians, authors, and fantasy readers.
The theme for 2017 is "women who work magic" and presenters are invited to consider women who possess and wield power in fantasy literature in a number of ways, from traditional witch constructs to less traditional conjurers, sorceresses, and others. Proposals that address women in fantasy literature, such as specific aspects of a work or series, works related by other themes, and studies of the fantasy genre across all disciplines are encouraged as well. A non-exhaustive list of sample topics includes literary analyses of novels; studies of genre history; use of fantasy works in schools and libraries for education; examination of related business and legal issues; media and fan studies; craft-based workshops in writing, art, and publishing; and overviews of how fantasy works fit into larger contexts.
Presentation submission to the vetting board is by online system only. No other format or contact will be considered. The deadline for proposals is May 8, 2017, and notices regarding proposals will be sent no later than June 12, 2017. Those requiring an early decision in order to obtain funding from their institutions should contact the programming coordinator at (programming at sirensconference.org).
At the time of proposal submission, presenters must provide an abstract of 300 to 500 words, a 50 to 100 word presentation summary for publication, and a presenter biography of 50 to 100 words. Those wishing to submit a proposal for a panel or an interactive roundtable discussion may submit a brief explanation of a topic and a list of 10—15 sample discussion questions in lieu of a formal abstract; workshop proposals may be formatted as lesson plans. Afternoon classes—interactive demonstrations of interest to fantasy readers that may be less formally related to the theme—may also be presented as lesson plans.
Accepted presenters must be available to attend the conference in its entirety; no partial or day registrations will be offered. Presenters must be registered (and fully paid) for the conference no later than July 9, 2017. Conference papers will be collected for optional publication at a later date.
For more information about programming, the review process, suggested timing and structure of presentations, audio-visual availability, and proposal submissions, please see the Sirens website at <http://www.sirensconference.org/present/>. Questions specifically about programming may be directed to (programming at sirensconference.org), and general conference inquiries may be sent to (help at sirensconference.org).
Sirens is a presentation of Narrate Conferences, Inc., a 501(c)(3) charitable organization with the mission of organizing academic, literary, and exploratory educational conferences that address themes of interest to scholars, educators, students, professionals, and readers. For inquiries about Narrate Conferences, Inc., please write to (info at narrateconferences.org).
Download the Call for Proposals


You will need Adobe Reader to view these files. If you do not have it, please use this button to access the free download.
Get Adobe Reader


Conference - Guests of Honor - Schedule - Books and Breakfast - Reading Lists
Programming - Vetting Board - Call for Proposals