In this issue:
PROGRAMMING DEADLINE: MAY 12
The deadline to submit programming proposals to Sirens is May 12, 2014. That means you have less than two weeks to put together your proposal, to find co-presenters, and to offer your idea to the vetting board. Never fear, however: at the time of submission, you need only have a short summary for the program book and a short abstract (or lesson plan, or set of discussion questions) ready for review. You'll still have until October to prepare! Not sure what to present? Visit…
BRAINSTORMING RESOURCES
…our helpful recent posts on how to prepare a programming proposal, and check out—or add to!—the brainstorming post. Or come to the…
UPCOMING CHATS
We have two chats scheduled for talking about programming ideas, books, travel, Sirens, and meeting potential travel companions and roommates: Sunday, May 4, and Sunday, May 11, both from 4 to 6 p.m. Eastern. You don't need any special software or programs to participate; the page will turn into a chat room at the appropriate time. Join in at http://www.sirensconference.org/chat/.
AMY'S BOOK CLUB
One of Sirens's chairs, Amy Tenbrink, is busily reading so many "hauntings and the haunted" books in preparation for October. Ghosts, specters, memories, visions, and other patterns show up across fantasy, horror, and non-genre fiction, and she keeps talking to us about them, so we thought she should talk to you, too! If you'd like to read along, the following books will be featured on the Sirens Goodreads Group in coming months.
May: Dreaming in Cuban, Cristina García
June: Imaginary Girls, Nova Ren Suma
July: The Ghost Bride, Yangsze Choo
August: In the Shadow of Blackbirds, Cat Winters
September: The Woman in Black, Susan Hill
October: The Haunting of Hill House, Shirley Jackson
BOOKS AND BREAKFAST
Books and Breakfast will be held on Friday, October 17, and Saturday, October 18. For those of you who are new to Sirens, this is where we invite you to bring your own breakfast and join us for informal chats about books before presentations begin in the morning. It's perfectly okay to join in Books and Breakfast if you haven't read any of the books, but if you'd like to come prepared, the schedule is listed below.
This year, our reading list includes tales of hauntings and the haunted. Some of them are new, some of them were game-changing or controversial books, and some we just loved and wanted to share.
Friday, October 17, 2014
The Demon Catchers of Milan, Kat Beyer
The Diviners, Libba Bray
The Red Tree, Caitlín R. Kiernan
The Frangipani Hotel, Violet Kupersmith
A Stranger in Olondria, Sofia Samatar
Saturday, October 18, 2014
Long Lankin, Lindsey Barraclough
Anya's Ghost, Vera Brosgol
Comfort Woman, Nora Okja Keller
White Is for Witching, Helen Oyeyemi
My Real Children, Jo Walton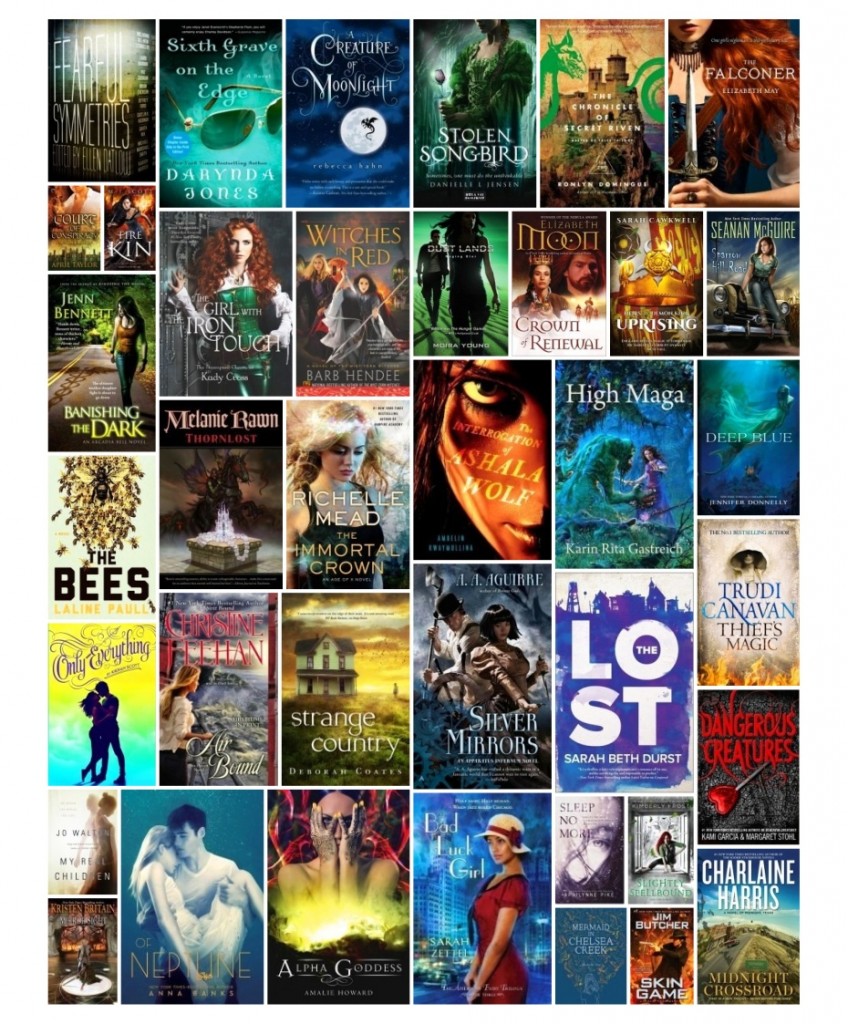 Click the image for a closer look at the covers.
Alpha Goddess, Amalie Howard (March 18)

Stolen Songbird (The Malediction Trilogy #1), Danielle L. Jensen (April 1)
High Maga, Karin Rita Gastreich (April 4)
The Interrogation of Ashala Wolf, Ambelin Kwaymullina (April 8)
Thornlost (Glass Thorns), Melanie Rawn (April 29)
Sleep No More, Aprilynne Pike (April 29)
Silver Mirrors (Apparatus Infernum #2), A.A. Aguirre (April 29)

Mirror Sight, Kristen Britain (May 6)
Deep Blue, Jennifer Donnelly (May 6)
Midnight Crossroad, Charlaine Harris (May 6)
Sparrow Hill Road, Seanan McGuire (May 6)
The Bees, Laline Paull (May 6)
Slightly Spellbound (A Southern Witch Novel), Kimberly Frost (May 6)
Witches in Red (The Mist-Torn Witches #2), Barb Hendee (May 6)
Fire Kin, M.J. Scott (May 6)
Only Everything, Kieran Scott (May 6)
A Creature of Moonlight, Rebecca Hahn (May 6)
The Falconer, Elizabeth May (May 6)

Of Neptune, Anna Banks (May 13)
Raging Star (Dust Lands #3), Moira Young (May 13)
Thief's Magic (Millennium's Rule), Trudi Canavan (May 13)

Mermaid in Chelsea Creek, Michelle Tea, ill. Jason Polan (May 14)

Dangerous Creatures, Kami Garcia and Margaret Stohl (May 20)
Sixth Grave on the Edge, Darynda Jones (May 20)
My Real Children, Jo Walton (May 20)
The Chronicle of Secret Riven, Ronlyn Domingue (May 20)
Fearful Symmetries, ed. Ellen Datlow (May 20)

Court of Conspiracy (The Tudor Enigma #1), April Taylor (May 26)

Air Bound, Christine Feehan (May 27)
Crown of Renewal (Paladin's Legacy), Elizabeth Moon (May 27)
Strange Country, Deborah Coates (May 27)
Bad Luck Girl (The American Fairy Trilogy #3), Sarah Zettel (May 27)
Heirs of the Demon King: Uprising, Sarah Cawkwell (May 27)
Banishing the Dark (The Arcadia Bell series), Jenn Bennett (May 27)
The Lost, Sarah Beth Durst (May 27)
Skin Game (The Dresden Files #15), Jim Butcher (May 27)

The Girl with the Iron Touch, Kady Cross (May 28)

The Immortal Crown (Age of X #2), Richelle Mead (May 29)
Do you have exciting book news or fantasy links to share? Send it to (help at sirensconference.org) and we'll include it in the next newsletter. We appreciate your contributions! Thanks for helping us expand this month's news, and special thanks to Casey, Anne, and Sharon for their additions.
BOOK GIVEAWAY
Post a comment of at least two sentences on our blog or LiveJournal by May 20, 2014, and tell us which May release you're most excited about and why. We'll choose one lucky winner from the participants and contact them for a mailing address, and that person will win a copy of the book they chose. (U.S. addresses only, please!) Current Sirens staff members are not eligible to win, though they may leave a comment, but all volunteers, attendees, and I-wish-I-could-attendees are welcome to tell us their favorites.
APRIL AND MARCH GIVEAWAY WINNERS
Lina K. won the March book giveaway, choosing Boy, Snow, Bird by Helen Oyeyemi. LJ user theironchocho is April's winner, choosing Lagoon by Nnedi Okorafor (please check out http://sirenscon.livejournal.com/57977.html to find out how to claim your book). Congratulations! Thank you to all the entrants.
RETURN OF THE REVIEW SQUAD
In the not-so-distant past, we had a review squad: volunteer readers reviewing books that they would recommend to others interested in women in fantasy. We're pleased to bring back the review squad, and to feature their book reviews in the Sirens newsletter. The first review by thistleingrey appears below, and you'll hear from other reviewers in the future.
If you think you could contribute a book review of at least 250 words sometime during the next year, please visit the volunteer system and on the third page, where you are offered different volunteer team choices, indicate that you'd like to be a book reviewer in the section that says "Please tell us of any specific position you are interested in" (or let us know in any volunteer system text box—we'll sort you out). Review squad volunteering is very flexible; we simply ask that you share information about books you've enjoyed. You can contribute once or on an ongoing basis, and on a schedule that works for you.
If you have recently volunteered, thank you! More information will be on its way shortly. If you're with a publisher and are interested in providing review copies or similar, please contact us at (help at sirensconference.org). On to this month's reviews!
White Is for Witching (New York: Doubleday, 2009; print)
The Icarus Girl (London: Bloomsbury, 2005; OverDrive epub)
Helen Oyeyemi
Having signed up to review Helen Oyeyemi's White Is for Witching for the newsletter, I began reading The Icarus Girl for authorial context . . . and found that it fits this year's theme of hauntings as well. Two for one.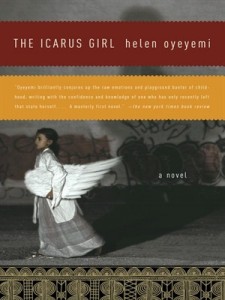 The Icarus Girl begins with an eight-year-old girl in a small confined space—a cupboard in the British sense, a linen closet in the US one—as she listens to her mother calling her from oddly far away. When Jess emerges, she realizes she's been ensconced for half the day without noticing time's passage. This realization is key yet easy for both Jess and the reader to forget, since Jess leaves almost immediately to visit her mother's family in Nigeria for the first time. As she sidles uneasily around her mixed Nigerian and English heritage, her Nigerian cousins ignore her. Her grandfather watches the girl he calls Wuraola, but not closely enough: her curiosity about lit candles in a long-neglected wing of his small estate leads to a dangerous breakthrough, one that bends time and fractures Jess's relationships, including her grasp of herself.
Icarus is Oyeyemi's debut novel (2005), written before she'd finished school. White Is for Witching is her third book and was published in 2009. Its UK title, Pie-kah, gives the reader clear expectations: the narrative revolves around a fraternal twin named Miranda, whose homophonic pica habit leads her to consume local Devon chalk instead of the apple pies baked by her father. The story's multiple narrators are labeled at first, then left to pass narrative segments to each other silently, often mid-sentence. Perhaps the most important is the house, marked as "29 barton road" alongside fellow narrators "eliot," Miranda's twin, and "ore," a key character introduced later. Miranda and Eliot's mother died a few years before Eliot's present time, which is not a spoiler, and indeed the story opens with Miranda's subsequent disappearance, the house's certainty that her location is known (to it), and Eliot's concern that his strong wish to find his sister—to conjure her up from the air if need be—won't suffice this time. From the reader's perspective, White is a mystery whose large middle is to be undone, though one begins by disbelieving the house's unreliable offer of a starting point: "what happened to lily silver," the twins' mother?
To read these two unrelated, psychologically complex novels together illuminates certain tensions that they share: the importance of place alongside the impossibility of understanding one's personal origins, the points of slippage between views of reality, the uncertain power (too much, too little) of ritual observances. Are the hauntings here real or imagined, each narrative asks the reader, and to whom—or what—does the distinction matter?
Did I like the stories? I find Icarus creepily effective, not only in its nightmarish journey but especially in its conveyance of Jess's several senses of (not) belonging; White for me is more clever than compelling. Both repay the time spent, certainly, and I mean to look for Boy, Snow, Bird. – thistleingrey
---
Questions? You can comment here or write to us at (help at sirensconference.org).