In this issue:
PROGRAMMING: COME ONE, COME ALL!
February is here! Time to think about what papers, panels, workshops, roundtable discussions, and afternoon classes you'd like to submit to Sirens this year. Sirens's programming is proposed and presented by attendees—and regardless of your age, profession, or experience with Sirens, your voice is vital to our community. Readers, industry professionals, scholars, librarians, teachers, and writers have all submitted brilliant, successful presentations in the past, and we would love for you to submit a proposal this year.
We appreciate thoughtful topics and proposals that are focused on fantasy literature, particularly the remarkable women of fantasy, and related issues of interest. This year, we're especially excited by our theme of rebels and revolutionaries. Bring on the aspiring queens, brilliant strategists, military tacticians, and crafty spies! How about a panel on "Writing as an Act of Revolution"? Or a roundtable discussion on "The Role of Strategists and Tacticians in Revolution"? Other examples of possible topics can be found in our Twitter feed using #SirensBrainstormMonday. Jump in with your own ideas!
Our annual series on preparing a proposal for submission to our vetting board begins in March. Proposals are due May 15, 2015. Time flies and the more proposals we have, the stronger our program will be. So whether you are a returning attendee or new to Sirens, we welcome your proposals. Please feel free to brainstorm ideas and seek collaborators on our Sirens Twitter feed, message boards, Facebook, or in the comments here. If you have questions, please contact us at (programming at sirensconference.org).
GUEST OF HONOR SPOTLIGHT
This month, we are delighted to highlight Kate Elliott. Ms. Elliott has attended our Sirens conference before and this year we welcome her as an esteemed Guest of Honor as Sirens focuses on rebels and revolutionaries.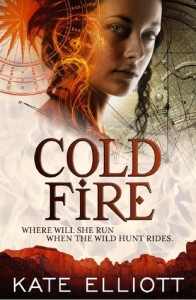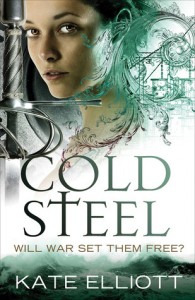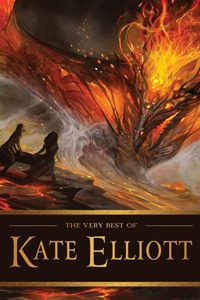 Kate Elliott writes fantasy, steampunk, and science fiction, all with a romantic edge. Kate's most recent work, the Spiritwalker trilogy (Cold Magic, Cold Fire, and Cold Steel), is an Afro-Celtic post-Roman icepunk Regency adventure fantasy with airships, sharks, and lawyer dinosaurs. Kate completed the Crossroads trilogy (Spirit Gate, Shadow Gate, Traitors' Gate), which is an "HBO-style" fantasy with a focus on character and landscape, and an epic plot. Kate also wrote the seven-volume epic fantasy series Crown of Stars, set in an alternate European landscape where magic has been (literally) woven through the land. The first volume, King's Dragon, was a Nebula Award finalist in 1998. Set in a speculative future, the Novels of the Jaran follow the nomadic people known as the jaran after their first contact with the technologically more advanced society of Earth. Kate co-wrote the bestselling fantasy novel The Golden Key with Melanie Rawn and Jennifer Roberson, a 1997 World Fantasy Award finalist. Forthcoming for Kate are The Very Best of Kate Elliott, a short story collection, which will be released by Tachyon Publications in February 2015; Court of Fives, a YA fantasy, which will be released by Little, Brown Books for Young Readers in August 2015; and Black Wolves, volume one of a new epic fantasy series, which will be released from Orbit Books in fall 2015.
For more information about Kate, please visit Kate's website, blog, or Twitter.
REGISTRATION PRICE INCREASE
The next price increase for Sirens will happen on March 31, 2015. Registration at the current price is available until midnight Eastern on March 30.
Registration cost includes entry to conference programming and events, including the three keynote presentations by our guests of honor and a conference T-shirt available only to attendees, as well as four meals or receptions. Currently, the cost of registration is $185. It jumps to $195 at the very end of March. Visit http://www.sirensconference.org/attend/ for more information or to register now.
AMY'S BOOK CLUB
Come read with us! As we prepare for Sirens this year, Sirens co-founder Amy has selected nine new-to-her fantasy books to read over the coming months. All her selections are written by women, and feature rebels or revolutionaries prominently—though not always in an overthrow-the-queen sort of way (women are, of course, revolutionary in many, many more ways than that!). Amy will post on our Goodreads group each month, and we hope you'll read along with her as she tackles critically acclaimed works, popular works, diverse works, and not-yet-released works. This month's selection? The Goblin Emperor by Katherine Addison.
We also continue to post our weekly reading on our Sirens Twitter feed, using #FridayReads. We hope you'll share with us what you're reading; until we're completely buried in our to-be-read pile, we're looking for more recommendations!
Indian comic creates female superhero to tackle rape.

DC announces Vixen, the first animated series starring a Black female superhero.

Sneak peek at character art from the upcoming illustrated edition of Harry Potter and the Philosopher's Stone.

Broken Monsters by Lauren Beukes to be adapted as a television drama!

If Hermione were the main character in Harry Potter.

From BookRiot: 2015 Is the Year of the Feminist YA Novel.

Kirkus lists 100 Science Fiction, Fantasy, and Horror books to watch for in 2015.

Panel Conversation on Afro-futrism between Nnedi Okorafor and Sofia Samatar.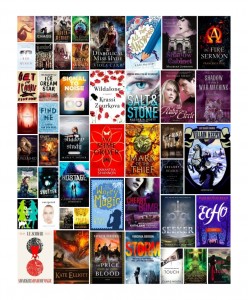 Click the image for a closer look at the covers.
Hostage, Rachel Manija Brown and Sherwood Smith (January 6)
Wildalone, Krassi Zourkova (January 6)

All the Answers, Kate Messner (January 27)
Chaos, Lanie Bross (January 27)
A Cold Legacy, Megan Shepherd (January 27)
The Empty Throne, Cayla Kluver (January 27)
The Mime Order, Samantha Shannon (January 27)

The Storm, Virginia Bergin (February 1)

Beastkeeper, Cat Hellisen (February 3)
Cherry Bomb, Kathleen Tierney (February 3)
Dearest (The Woodcutter Sisters), Alethea Kontis (February 3)
Get in Trouble: Stories, Kelly Link (February 3)
Karen Memory, Elizabeth Bear (February 3)
Shadow of the War Machine (The Secret Order), Kristin Bailey (February 3)
Shutter, Courtney Alameda (February 3)
Soulprint, Megan Miranda (February 3)
Villain Keeper, Laurie McKay (February 3)

The Price of Blood (Emma of Normandy Trilogy), Patricia Bracewell (February 5)
The Shadow Cabinet, Maureen Johnson (February 5)
Worry Magic, Dawn McNiff (February 5)

The Country of Ice Cream Star, Sandra Newman (February 10)
The Diabolical Miss Hyde, Viola Carr (February 10)
The Eterna Files, Leanna Renee Hieber (February 10)
One Witch at a Time, Stacy DeKeyser (February 10)
Red Queen, Victoria Aveyard (February 10)
The Ruby Circle, Richelle Mead (February 10)
Seeker, Arwen Elys Dayton (February 10)
Signal to Noise, Silvia Moreno-Garcia (February 10)
The Very Best of Kate Elliott, Kate Elliott (February 10)

The Bargaining, Carly Anne West (February 17)
Emissary: The Second Book of the Seven Eyes, Betsy Dornbusch (February 17)
Find Me: A Novel, Laura van den Berg (February 17)
Fortune's Blight, Evie Manieri (February 17)

A Darker Shade of Magic, V. E. Schwab (February 24)
Dreamfire, Kit Alloway (February 24)
Echo, Pam Munoz Ryan (February 24)
Feral Pride, Cynthia Leitich Smith (February 24)
Fields of Wrath: A Renshai Novel, Mickey Zucker Reichert (February 24)
Grave Matters (Night Owls #2), Lauren M. Roy (February 24)
Mark of the Thief, Jennifer A. Nielsen (February 24)
Salt & Stone, Victoria Scott (February 24)
Shadow Study, Maria V. Snyder (February 24)
The Sin Eater's Daughter, Melinda Salisbury (February 24)
Touch, Claire North (February 24)
The Uncanny Reader: Stories from the Shadows, ed. Marjorie Sandor (February 24)
Unleashed, Sophie Jordan (February 24)

The Fire Sermon, Francesca Haig (February 26)
SIRENS REVIEW SQUAD
Did you fall in love with a book recently? Are you excited for a new release in the coming months? If you think you could contribute a book review of at least 250 words sometime during the next year, we would love to work with you to publish your critique right here in our Sirens newsletter! Review squad volunteering is quite flexible; we simply ask that you share information about books you've enjoyed. (We are, of course, especially interested in fantasy books by and about women, and we hope you'll consider interesting, diverse selections.) You can contribute once or on an ongoing basis, and on a schedule that works for you.
Please visit the volunteer system and, when we ask you what position you're interested in, type in "Book Reviewer."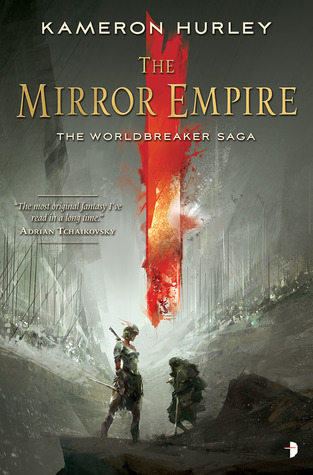 The Mirror Empire
Kameron Hurley
Angry Robot (August 2014)
When all of the 2014 "YOU MUST READ" lists appeared, I kept noticing The Mirror Empire by Kameron Hurley. I have a deep seated reluctance to read things that everybody says I should, which probably stems from having a bachelor's degree in English. Nevertheless, I was intrigued enough to read this huge novel recently.
I'm not going to go as far as MUST READ for this title, but I now understand why it made so many lists. I had to give the book a solid 150 pages before I was fully invested in the characters and the plot. Some of my ambivalence stems from being thrown head-first into a seriously alien culture, with many characters introduced quickly amid aggressively malignant flora and fauna. I appreciate books that demand the reader exercise her literary skills and do some of the work, but this novel goes to extremes. Eventually, however, I was hooked by political intrigue, alien invaders, strange celestial bodies that govern the magical system, and romantic entanglements. Added into that mix, Hurley's world posits more than a binary understanding of gender and females tend toward dominance. The world-building for The Mirror Empire is immense and impressively well developed.
Some philosophies suppose that anything is possible, and that maybe multiple variations actually co-exist over many planes of existence. Essentially, if it didn't happen in this version of the world, it could happen in some other one. In The Mirror Empire, the world's variations collide with the appearance of a dark satellite in their skies. The meetings historically have led to great upheaval and military solutions. Many factions (from different planes of existence) advance their own solutions to the coming turmoil—none of which are facile and nearly none are peaceful.
If you feel the desire to immerse yourself in a completely foreign environment, with no clear-cut "good v. evil," and you can engage both time and effort in your reading, this is a great title. If you are looking for easy entertainment values (my favorite kind of reading when stressed), this might need to wait for another time. – Kristen Blount
---
Questions? You can comment here or write to us at (help at sirensconference.org).