In this issue:
REGISTRATION PRICE INCREASE
The next price increase for Sirens will happen on March 31, 2015.
It is currently $185, and jumps to $195 at the very end of March. Visit http://www.sirensconference.org/attend/ for more information or to register now.
Registrations for Sirens include access to all of our conference programming and events, including the keynote addresses by our guests of honor (and accompanying meals or receptions), as well as a conference T-shirt available only to attendees.
PROGRAMMING NEWS
Starting next week, we'll be posting our annual guide to programming, with information applicable to all types of presentations. If you'd like to submit a programming proposal, we hope you'll take a peek at our tips.
The deadline for programming proposals is May 15, 2015.
Offering opportunities to discuss and debate the remarkable work of women in fantasy literature is vital to Sirens, and the voices of our attendees—including your voice—are critical to those discussions and debates. Therefore, as you know, Sirens's programming—the presentations, panels, roundtables, and workshops that make up most of our daytime schedule—is created, submitted and presented by our attendees, for our attendees. Our schedule can be as extraordinary as our collective brilliance, but also, as you might expect, when we receive more programming proposals, the Sirens conversation, and our programming schedule, becomes more diverse and more vibrant.
We know that presenting a programming topic isn't for everyone, but we very much hope that, as you consider whether to do so, you know that your voice is essential, your thoughts are unique, and you are just as welcome to submit and present programming as anyone else attending Sirens. Please see the guidelines section of our website for more information on putting a proposal together. If you're curious about past programming, check out our archive.
PROGRAMMING BRAINSTORMING!
If you're looking for programming ideas—or you have ideas for programming you'd like to see others present—why not share them on Facebook or on Twitter using #SirensBrainstormMonday. Or why not come to one of our programming chats or Twitter brainstorming sessions? They are a great way find co-presenters or just think out loud.
Our first programming chat will be March 16 at 9:00 p.m. Eastern here: http://www.sirensconference.org/chat/.
Our first Twitter programming brainstorming session will be March 28 at 4:00 p.m. Eastern; our Twitter is @sirens_con and our hashtag is #Sirens15.
In the meantime, why not put together a proposal for one of the topics from #SirensBrainstormMonday, listed below? You can find more via the hashtag—and you can contact people other than @sirens_con if you might want to collaborate with them on a topic they've shared. (We didn't want to give away any ideas you contributed to the hashtag here, just in case they were already in progress as proposals.)
Rebellious Reading Choices: Diversity, Representation, Revolution
That's Logistics: Operations of a Successful Revolution
Covert Operations: Spies, Assassins, and Guerrillas in Fantasy Fiction
Rise Like a Girl: Hallmarks of Women-Led Revolutions
Whispers of Dragons from Across the Sea: Propaganda, Rumors, and Lies in Revolution
Writing as an Act of Revolution
Lessons Fantasy Literature Learned from The Art of War (or The Prince)
If I Only Had a Brain: The Role of Strategists and Tacticians in Revolution
2015 SIRENS READING CHALLENGE
As many of you know, each year Sirens posts a reading list featuring works by that year's Guests of Honor and other thematic works by and about women in fantasy literature. The list generally tops 60 books, and we never thought of it as a reading challenge—more of a place to go to start with your thematic reading for the year.
But it turns out that you want a reading challenge—so now we have one! Each year, our staff reads widely in women in fantasy literature, partly within our theme and partly more broadly, and we'd love for you to join us. So we present the 2015 Sirens Reading Challenge. Just like our staff challenge, it's 25 books, some that are required and some that you'll select from a variety of lists. Finish it by September 12, and we'll give you a special button at Sirens, suitable for gloating. Game on.
AMY'S BOOK CLUB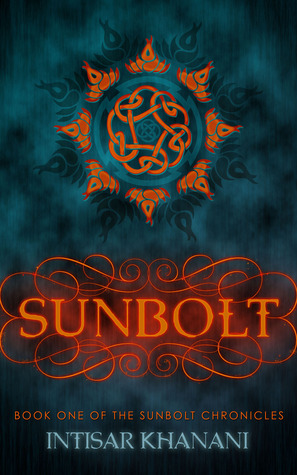 In our revolutionary year, why not join us in reading some revolutionary books? Each month leading up to Sirens, co-founder Amy will read a fantasy book, written by a woman, about revolutionary women—and will then post thoughts on our Goodreads group. This year, she has already read Of Metal and Wishes by Sarah Fine, The Goblin Emperor by Katherine Addison, and for this month, Sunbolt by Intisar Khanani.
As Amy said in her review of Sunbolt, "Give me a disobedient girl who makes her own decisions, and I'll give you a revolutionary." Come read with us!
We also continue to post our weekly reading on our Sirens Twitter feed, using #FridayReads. We hope you'll share with us what you're reading; until we're completely buried in our to-be-read pile, we're looking for more recommendations!
GUEST OF HONOR SPOTLIGHT
Each year Sirens features a fantasy-related theme—and in 2015, that theme is rebels and revolutionaries. Women are revolutionary in countless ways, whether their interests lie in political, domestic, scientific, creative, or divine arenas. To further our discussion, we have invited three guests of honor, each of whom writes powerfully and provocatively about rebellion and revolution: Rae Carson, Kate Elliott, and Yoon Ha Lee. This month, we'd like to highlight Yoon Ha Lee.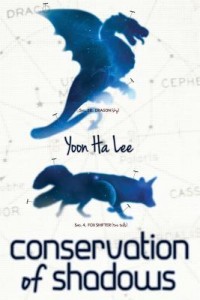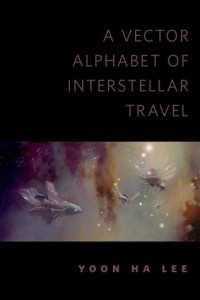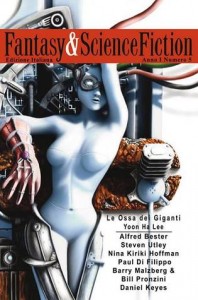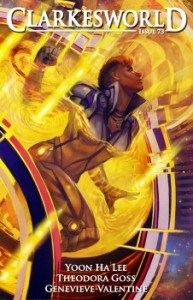 Yoon Ha Lee is a Korean-American science fiction and fantasy writer who majored in math and finds it a source of continual delight that math can be mined for story ideas. Yoon's fiction has appeared in publications such as F&SF, Tor.com, and Clarkesworld, as well as several year's-best anthologies, and has ranged from military science fiction to fairy tales. Yoon's work includes 2010 WSFA Small Press Award finalist "The Pirate Captain's Daughter," Theodore Sturgeon Memorial Award nominees "Flower, Mercy, Needle, Chain" in 2011 and "Ghostweight" in 2012, and 2014 World Fantasy Award finalist "Effigy Nights." Conservation of Shadows, a debut collection of short fiction, integrates tropes of science fiction with elements of myth and is a finalist for the William L. Crawford Award. Yoon graduated from Cornell University, majoring in mathematics, and earned a master's degree in secondary math education at Stanford University.
For more information about Yoon, please visit Yoon's website, blog, or Twitter.
Obituary: We regret to hear of the passing of Suzette Haden Elgin (1936-2015).

The Finnish National Opera performs a ballet of Comet in Moominland.

Under the Radar spotlights Eat the Sky, Drink the Ocean, a collection of speculative feminist short stories featuring writers, illustrators, and editors from India and Australia.

Via Ellen Kushner (@EllenKushner): My Winter Queen Story: "The City in Winter."

To the Best of Our Knowledge highlights African Genre Fiction.

Gender on The Mirror Empire and Ancillary Justice.

For Steampunk Hands 2015: The Raj Revised: Steampunking History.

The Science Fiction and Fantasy Writers of America announce the 2014 Nebula Award nominees!

A Webcomic About A Sworn Maiden, Raised As A Boy, And A Deadly Trial.

Colleen Atwood wins the Excellence in Fantasy Film award at this year's Costume Designers Guild Awards.

Short film Oya, Rise of the Orisha, an African superhero film with two Black women protagonists, is available to stream.

Disney is launching a Latin-inspired Sofia the First spinoff.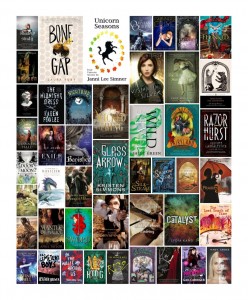 Click the image for a closer look at the covers.
February 10:
The Glass Arrow, Kristen Simmons
The Oathbreaker's Shadow, Amy McCulloch
Sword, Amy Bai

February 12:
Banished: Book One of The Grimm Laws, Jennifer Youngblood and Sandra Poole

February 17:
Unseen (Unborn Series #2), Amber Lynn Natusch
Welcome to Shadowhunter Academy (Tales From Shadowhunter Academy #1), Cassandra Clare

February 23:
Mantle of Malice (The Tudor Enigma), April Taylor
Unicorn Seasons, Janni Lee Simner

February 24:
Who Needs Magic?, Kathy McCullough
A Wicked Thing, Rhiannon Thomas
The Turnip Princess and Other Newly Discovered Fairy Tales, Franz Xaver Von Schonwerth, ed. Erika Eichenseer

March 1:
Prairie Fire (Dragon Slayer of Trondheim #2), E. K. Johnston

March 3:
Bone Gap, Laura Ruby
The Forgotten Sisters (Princess Academy #3), Shannon Hale
Razorhurst, Justine Larbalestier
Flunked, Jen Calonita
Infinity Bell (House Immortal #2), Devon Monk
The Boy Who Lost Fairyland (Fairyland #4), Catherynne M. Valente, ill. Ana Juan
The Winner's Crime (The Winner's Trilogy #2), Marie Rutkoski
Of Silk and Steam (London Steampunk #5), Bec McMaster
Vision in Silver, Anne Bishop
The Storyspinner, Becky Wallace
Death Marked, Leah Cypess
Kin, Lili St. Crow

March 10:
Burning Kingdoms, Laura DeStefano
Shadow Scale (Seraphina #2), Rachel Hartman
The Orphan Queen, Jodi Meadows
Nightbird, Alice Hoffman
The Infinite, Lori M. Lee
The Exile, C. T. Adams

March 17:
Prudence, Gail Carriger
Dr. Critchlore's School for Minions, Sheila Grau, ill. Joe Sutphin

March 24:
Catalyst, Lydia Kang
Half Wild, Sally Green
Shadow Study, Maria V. Snyder
The Walls Around Us, Nova Ren Suma
The Haunting of Sunshine Girl, Paige McKenzie with Alyssa B. Sheinmel
In the Time of Dragon Moon, Janet Lee Carey
The Door in the Moon (Chronoptika #3), Catherine Fisher

March 31:
The Cemetery Boys, Heather Brewer
King (The Dragon King Chronicles #3), Ellen Oh
Sisters of Blood and Spirit, Kady Cross
Voyage of the Basilisk: A Memoir by Lady Trent, Marie Brennan
The Lost Track of Time, Paige Britt, ill. Lee White
The Wicked Will Rise, Danielle Paige
SIRENS REVIEW SQUAD
We're looking for a few more volunteers to supply us with short reviews of works they have read and loved. If you think you could contribute a book review of at least 250 words sometime during the next year, we would love to work with you to publish your critique right here in our Sirens newsletter.
Review squad volunteering is quite flexible; we simply ask that you share information about books you've enjoyed. (We are, of course, especially interested in fantasy books by and about women, and we hope you'll consider interesting, diverse selections.) You can contribute once or on an ongoing basis, and on a schedule that works for you. Please visit the volunteer system and, when we ask you what position you're interested in, type in "Book Reviewer."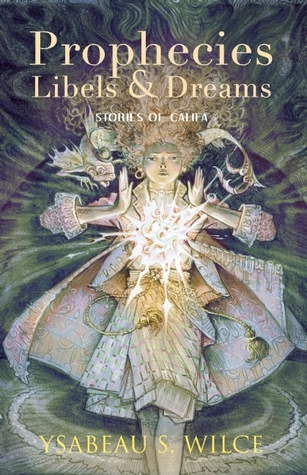 Prophecies, Libels, and Dreams: Stories
Ysabeau Wilce
Small Beer Press (Oct 2014)
Prophecies, Libels, and Dreams: Stories is a collection of seven tall tales and brief adventures from the brilliant Ysabeau Wilce. Fans, like myself, of Wilce's Flora Segunda series, will quickly recognize the magical world of Califa represented here, but even readers who have never visited Califa before will be swept up in this dark, gritty, yet sparkling world. Califa is a thoughtful and highly original mash-up of modern California, the Wild West, Victorian Europe, and Mexican myth, among other cultures and times. The swash-buckling characters who inhabit this kaleidoscopic world are as magnetic as they are complex.
Take, for example, the devastatingly gorgeous Hard Hands, reluctant keeper of his small niece (and fiancée), Tiny Doom, a bouncing and mischievous young lady who attracts abundant trouble. Hard Hands wants nothing more than to conjure a bad-ass demon drummer, rock out in front of his adoring hoardes, and then ka-noodle with one of his lovers, but, much to his chagrin, Tiny Doom consistently lures him into misadventure and mayhem. As gruff and self-absorbed as he is loving and brave, Hard Hands is featured in four of these stories and frankly, I couldn't get enough of him.
Although the Flora series was marketed as young adult, Wilce has brought Califa soundly into adult literature with this collection. Califa is rife with tarts, dandies, and demons of frightening lust and hunger. In the arid lands outside the city, there are re-animated corpses and monsters who terrorize the foolish or smug. Wilce has a background as a scholar of military history and has lived and traveled in many regions of the world. Her mastery of language and character is extraordinary and I highly recommend this collection to anyone who enjoys their fantasy with some grit and intrigue. – Edith Bishop
---
Questions? You can comment here or write to us at (help at sirensconference.org).