When we created Sirens, we created something different: something smart, something friendly, something communal. A place where people feel welcome to both speak and listen, where people respect others and their differing opinions, and that, to many people, now feels like home.
In order to foster that community, we include elements in Sirens, such as our Thursday afternoon tea and our keynote addresses, that bring all attendees together. Those elements raise the cost of presenting Sirens significantly, and challenge our commitment to keeping the cost of attendance as low as possible for all attendees. As a result, we run an unusual budget structure: the costs of presenting Sirens far exceed our registration revenue.
We'd like to talk for a moment about how Sirens makes up that gap, and how you can help. Each year, Sirens raises in excess of $10,000 in monetary donations, auction proceeds, and bookstore revenue. Each of those is vital to the continued success—and availability—of Sirens, and each of those depends on the support of the Sirens community. We hope that you'll consider supporting Sirens this year in one of the following ways.
Monetary Donations
Each year, thousands of dollars of the costs of presenting Sirens are offset by monetary donations—and it's worth noting that none of our staff receive a dime (or a free registration or hotel room) in exchange for their work on Sirens. All monetary donations go straight toward the elements of Sirens that provide immediate value for attendees: catering, t-shirts, registration bags, audiovisual equipment, dance floor rental, and so forth.
We are always thrilled to take donations in any amount. Many of our monetary donations come in from our staff, but we also receive donations from attendees, friends and family of attendees, and from strangers who believe in our mission of supporting the remarkable women of fantasy literature. For those of you particularly interested in programming, you can sponsor individual presentations, and in doing so, support particular presenters or the inclusion of particular topics. For those of you particularly interested in other elements of Sirens, we're always happy to discuss sponsorship of other programming and events.
If you'd like to make a donation, please visit our donations page.
If you'd like to sponsor a programming presentation, please visit our accepted programming page.
If you'd like to discuss a different sponsorship or donation, please email us at (donate at sirensconference.org).
Auction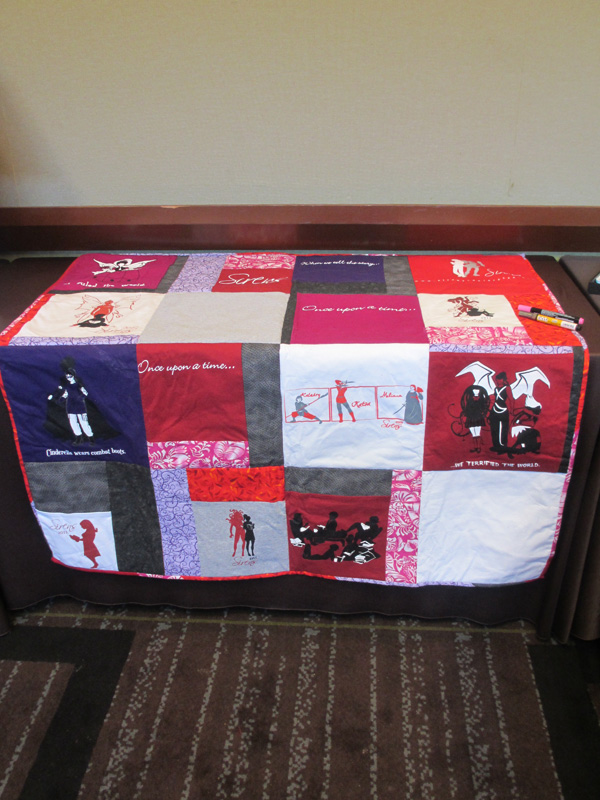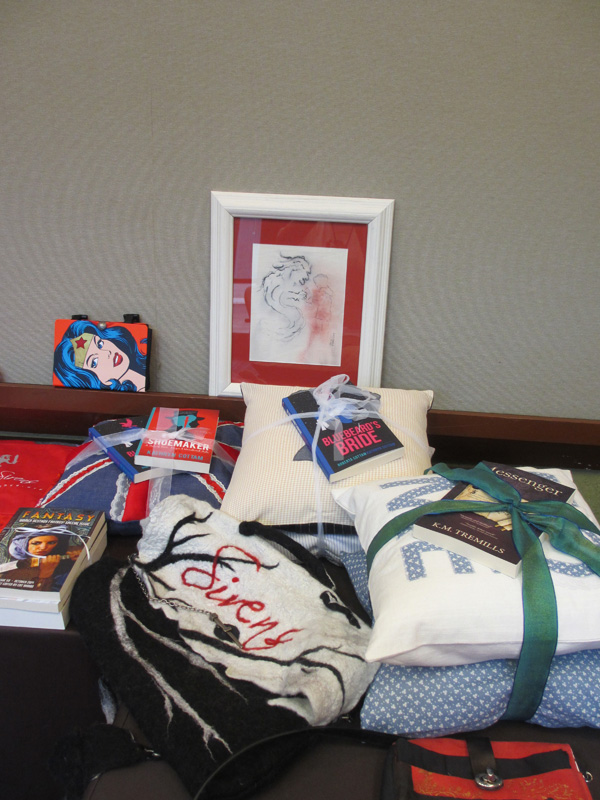 The Sirens auction has become an unexpected source of a significant amount of revenue in recent years, and one that we especially love: while raising money for Sirens, we're also providing attendees the opportunity to obtain amazing items and services. Our auction includes both a silent component, culminating at our Insurgents' Ball, and a live component, which provides an always-raucous element to our final breakfast.
All items in our auction are donated by individuals: Sirens staff, Sirens attendees, and other Sirens supporters. These items are frequently fun, sometimes one-of-a-kind, occasionally startling, and often a terrific deal on professional services. We've featured everything from unique articles such as t-shirts, pillows, journals, and jewelry; to professional services such as manuscript editorial letters to synopsis drafting; to art pieces such as custom digital artwork, character naming rights for upcoming books, and original watercolors. The sky's the limit, and if you are interested in donating an item or two for our auction, please email us at (donate at sirensconference.org).
Narrate Bookstore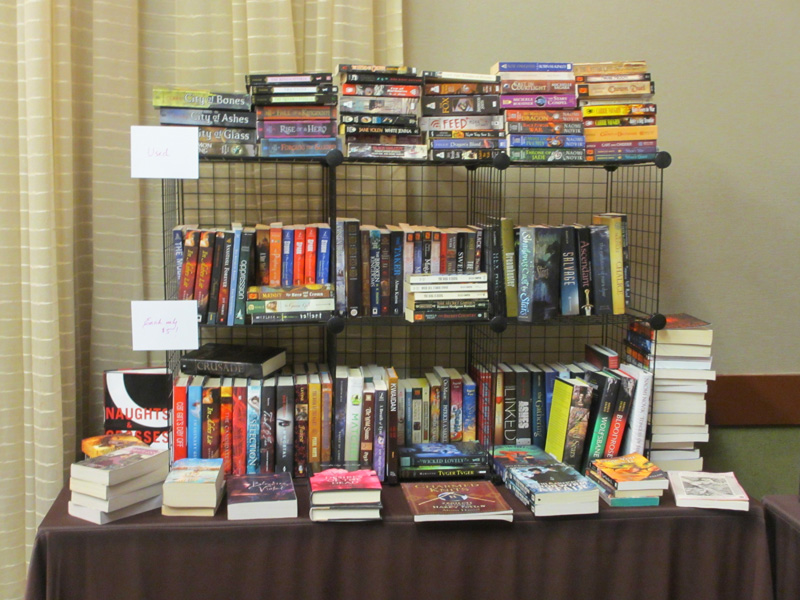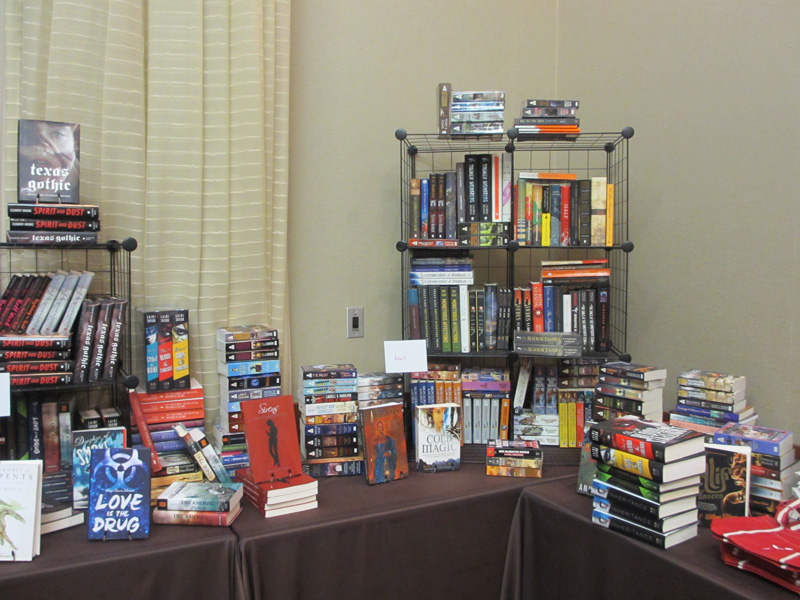 A few years ago, Narrate Conferences, Inc., the presenting 501(c)(3) charitable organization behind Sirens, began operating the Sirens bookstore as a fundraiser. This gives us the opportunity, in many ways in defiance of the commercial market, to stock our bookstore exclusively with fantasy books written by, or featuring, amazing women. But more than that, this gives us the opportunity to fill a bookstore with books that we—and the Sirens community—love.
In many ways, our bookstore operates like any other bookstore: we acquire new books for sale just like anyone else. But in two ways, our bookstore is different. First, we frequently have attendees donate new books, just to make sure that the bookstore includes them in its inventory; sometimes these attendees work for publishers, but more often, these attendees are simply Sirens supporters who want to make our bookstore as amazing as possible. Second, we have a used section of our bookstore where we offer gently used fantasy books for $5 each. That section of our bookstore is stocked entirely through donations.
If you would like to donate books to our bookstore, please send your books to this address, to arrive no later than September 19, 2015. (And remember, if you're shipping only books, the USPS media mail option is terrifically cheap, but terrifically slow, so please leave time for your package to arrive.)
Sirens
c/o Narrate Conferences
P.O. Box 149
Sedalia, CO 80135
Tax Deductions
Narrate Conferences, Inc., the presenting organization behind Sirens, is a 501(c)(3) charitable organization. Therefore, all donations to Sirens are eligible for tax deduction in accordance with U.S. law.
Regardless of whether you are able to support us financially or with in-kind donations or not, and if you do donate, regardless of the type or amount of your donation, we thank you for your support of Sirens. This community means the world to us, and we're both honored and humbled to say that we're presenting our seventh year of Sirens less than two months from now.