We're excited to bring you a roundup of interesting links and September book releases of fantasy by and about women.
As always, we'd love to hear from you. If you've sold a fantasy work, read a great recently-released story, discovered a fantastic link that we missed, or if you've got a book or story review to share, please get in touch. Send news to (help at sirensconference.org).
ON THE BLOG: SEPTEMBER 2015
Five Fantasies of the Roaring Twenties from the New Gilded Age
Sirens Newsletter—Volume 7, Issue 11 (September 2015)
Testimonials: Write about something that happened at Sirens
Fantasy Works Featuring Women Who Fight Back
YOU'RE EXCITED ABOUT…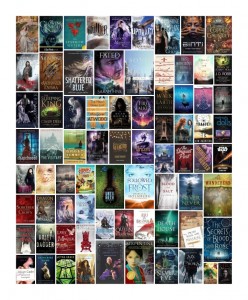 Click the image for a closer look at the covers.
September 1:
Archangel's Enigma, Nalini Singh
Catacomb, Madeleine Roux
Chapelwood, Cherie Priest
The Copper Gauntlet, Holly Black and Cassandra Clare
Crucible Zero, Devon Monk
Dark Ghost, Christine Feehan
The Death House, Sarah Pinborough
The Drafter, Kim Harrison
Dragon Heart, Cecelia Holland
Firewalker, Josephine Angelini
Ghost Summer: Stories, Tananarive Due
The Glowing Knight, Jodi Meadows
Hunter, Mercedes Lackey
Jillian Cade: (Fake) Paranormal Investigator, Jen Klein
Lady of Magick, Sylvia Izzo Hunter
Midnight Dolls, Kiki Sullivan
Midnight Hunter, Kait Ballenger
Queen of Shadows, Sarah J. Maas
A Red-Rose Chain, Seanan McGuire
The Secrets of Blood and Bone, Rebecca Alexander
Shades of Doon, Carey Corp and Lorie Langdon
The Shadow Behind the Stars, Rebecca Hahn
Smoked, Mari Mancusi
Sorcerer to the Crown, Zen Cho
Star Wars: Lost Stars , Claudia Gray
The Sparrow Sisters, Ellen Herrick
Updraft, Fran Wilde
The Wanderers, Kate Ormand
September 3:
Lament for the Afterlife, Lisa L. Hannett
September 8:
The Boy Meets Girl Massacre (Annotated), Ainslie Hogarth
Dark Shimmer, Donna Jo Napoli
Darken the Stars, Amy A. Bartol
Drift & Dagger, Kendall Kulper
Serpentine, Cindy Pon
The Sleeping King, Cindy Dees and Bill Flippin
The Suffering, Rin Chupeco
Sweet Temptation, Wendy Higgins
September 15:
The Appearance of Annie van Sinderen, Katherine Howe
Ash & Bramble, Sarah Prineas
Awakening the Mare, Jacqueline Druga
The Battle for Oz, Jeyna Grace
The Dead House, Dawn Kurtagich
Hook's Revenge: The Pirate Code, Heidi Schultz ill. John Hendrix
Maid of Wonder, Jennifer McGowan
Mirrored, Alex Flinn
Untamed City: Carnival of Secrets, Melissa Marr
Shattered Blue, Lauren Bird Horowitz
The Weight of Feathers, Anna-Marie McLemore
September 22:
Binti, Nnedi Okorafor
Blood and Salt, Kim Liggett
Dance with the Devil, Angela Dennis
Followed by Frost, Charlie N. Holmberg
This Monstrous Thing, Mackenzi Lee
Never Never, Brianna Shrum
The Scorpion Rules, Erin Bow
Silver Eve, Sandra Waugh
The Summer Marked, Rebekah L. Purdy
Ungodly, Kendare Blake
The Visitant: A Venetian Ghost Story, Megan Chance
Walk on Earth a Stranger, Rae Carson
September 24:
Shadows at Midnight, Amanda Bonilla
September 29:
Autumn Moon, Jan DeLima
The Bloodforged, Erin Lindsey
Brazen, Christina Farley
Daughters unto Devils, Amy Lukavics
Down the Rabbit Hole, J. D. Robb, Mary Blayney, Mary Kay McComas, and R. C. Ryan
Fated, Sarah Fine
The Heart Goes Last, Margaret Atwood
Last Song Before Night, Ilana C. Myer
A Mad Zombie Party, Gena Showalter
Madly, Amy Alward
Menagerie, Rachel Vincent
Six of Crows, Leigh Bardugo
The Unquiet Past, Kelley Armstrong
Until Beth, Lisa Amowitz