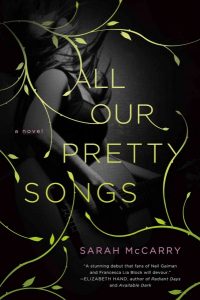 Read Along with Faye is back for the 2017 Sirens Reading Challenge! Each month, Sirens communications staff member Faye Bi will review and discuss a book on her journey to read the requisite 25 books to complete the challenge. Titles will consist of this year's Sirens theme of women who work magic. Light spoilers ahead. We invite you to join us and read along!
Happy January, dear Sirens. This month, I chose to read Sarah McCarry's All Our Pretty Songs, which I knew very little about, but found quickly able to absorb the lush prose and evocative setting of the Pacific Northwest. Featuring an intentionally (I think) unnamed narrator, McCarry's novel is a modern Orpheus and Eurydice retelling fused with sex, drugs and rock and roll—but is ultimately about friendship and love, though not the way one might suspect.
Our narrator has spent her whole life taking care of her best friend Aurora, whose rock star father à la Kurt Cobain died in a drug overdose. While the narrator believes herself unremarkable and tomboyish, Aurora is volatile as she is beautiful, the "it" party girl. We spend a lot of time learning the backstory of these two friends-practically-sisters. The unconventional family unit of Aurora, our narrator and their mothers (who have an incredible amount of painful baggage) was fascinating to read. When a talented musician named Jack enters their lives, he draws the attention of an otherworldly, skeleton-like music mogul named Minos who can grant him the success of his dreams. Our narrator falls in love with Jack; Aurora also attracts Minos's attention—Minos who may also have had something to do with her father's suicide.
One thing I can appreciate about All Our Pretty Songs is the way it blurs reality and metaphor. What is real, what is myth, and what is drug-induced hallucination? I confess I spent much of it lost in the prose, which was full of detail, oftentimes vague and occasionally meandering. I also confess this is a type of book I don't connect personally with, having grown up as a goody-two-shoes with overbearing parents. I'm not sure that "scrappy, gritty YA" is something I can judge either, as I don't know what's authentic or what's trying too hard, with its pulsing party scene (drinking, drugs, casual sex)—maybe this doesn't even matter.
But the easy thing to appreciate about All Our Pretty Songs is the characterization. Our narrator's relationship with Cass, her mother is superbly fraught and complicated. I can't decide if the narrator's friendship with Raoul is mutually flourishing or not, but he was so great I don't even care. But most of all, ballsy narrator is ballsy in doing her best to rescue Jack and Aurora in this trance-y otherworldly underworld. (Spoiler, this is an Orpheus and Eurydice retelling; it doesn't end happily). But this is easily one of the best passages:
I came here for my lover and the girl who is my sister, and they were mine before anyone else tried to take them from me, before this bony motherfucker showed up on my stoop and let loose all the old things better left at rest. Jack I will let go; Jack is on his own, now. But I will die before I leave Aurora down here.
That kind of sentiment deserves a fist pump don't you think? And what's great is that it seems to be a running theme in the other two books in the Metamorphoses series. Dirty Wings explores the story of Maia and Cass, Aurora and our narrator's mothers, and I've heard extraordinary things about About A Girl. Time to get to it.
Next Month: Revenge of the Mooncake Vixen by Marilyn Chin

---

Faye Bi works as a book publicist in New York City, and is a member of the Sirens communications team. She's yet to read an immigrant story she hasn't cried over, and is happiest planning nerdy parties, capping off a long run with brunch, and cycling along the East River.