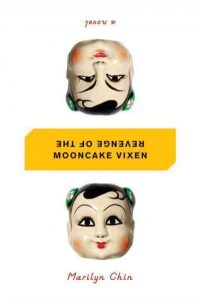 Read Along with Faye is back for the 2017 Sirens Reading Challenge! Each month, Sirens communications staff member Faye Bi will review and discuss a book on her journey to read the requisite 25 books to complete the challenge. Titles will consist of this year's Sirens theme of women who work magic. Light spoilers ahead. We invite you to join us and read along!
Marilyn Chin's Revenge of the Mooncake Vixen's subtitle is A Manifesto in 41 Tales, and I suppose we could start there—it's a collection of short stories, vignettes, and parables loosely interconnected featuring Moonie and Mei Ling Wong, the Double Happiness Twins, and their fierce, cleaver-wielding grandmother from Hong Kong. Inspired by Buddhist and Taoist texts and Chinese ghost stories and folklore, mixed with a dollop of hilarious satire (OMG, that parody of pretentious academics killed me) and stylized violence of some manga, Revenge is a brilliant and irreverent musing on the Chinese first-generation immigrant experience… and a total surprise.
The first short story, "Moon," sets the tone in the first five pages. We're introduced to one twin, Moonie, a fat young girl, who just wants the attention of the two trashy-but-irresistible blond boys out on the beach. With (obviously) shady motives, they invite her on their boat, only to purposely tip her over so she falls in the water. Sniggering and laughing until the boys realize Moonie is drowning (and now twice as heavy now that she's wet), they save her and expectantly wait for their reward as she regains consciousness. When she does not, in fact, feel gratitude towards them, they humiliate her further by ripping off her clothes and urinating on her. Fast forward to years later, Moonie, with mad kung-fu skills starts stealthily killing blond men in southern California until she finds the original culprits, vigilante-style.
"Your interpretation of this denoument," Chin admits, "mostly depends on your race, creed, hair color, social and economic class and political proclivities—and whether or not you are a feminist revisionist and have a habit of cheering for the underdog." Reader, I fucking cheered. I say this as someone who is completely squeamish about physical and sexual violence, but somehow revenge stories light a fire in me in a way that nothing else does. I fantasize about horrible murderers and rapists getting their due, crushed up under a semi or flayed alive by a bear.
Did I feel a bit bad about cheering? A little. Chin does this over and over again, in her book following Moonie and Mei Ling as they deliver Chinese-American food from their Grandmother's restaurant. The two sisters can't be more different, with Moonie the no-nonsense, possibly asexual tomboy with fists and Mei Ling the hypersexualized vixen (to call her promiscuous would be polite), as they navigate growing up and eventually settle and into their careers as academics at top universities. Some stories also centre around Grandmother Wong, whose history and character encapsulates the most crazy, wonderful, frightening matriarch personality you'll find in a book. And can I tell you it's funny? It's so funny. Besides the really violent parts, the really thoughtful parts (there are some parables directly inspired by Zhuangzi and Buddha), the really ragey parts, and the really dirty parts (you might give tofu the side-eye after reading this), I could not stop cracking up.
With all that said, it may not be to everyone's taste. It's meandering, non-linear and to some, possibly confusing—the structure is loose, and the rough story is told in dream sequences, sexual encounters, fables, dialogue and poems. Much of it is whimsical, or depending how you look at it, nonsensical. You might not be happy with how Moonie's weight or possible asexuality is dealt with, or the duality of Moonie and Mei Ling's characters (personally, I had come to accept they would be caricatures and larger than life to make a point, just like Grandmother Wong). If you like the magical realism of the Latin Americans, you may like the intergenerational conflict between grandmother and granddaughters and the surreal occurrences that pass by without question.
For me, Revenge touched upon some deep-seated emotions of being one kind of Chinese immigrant in the United States—one whose family emigrated to escape hardship and toiled in the restaurant business or took otherwise low-paying jobs, was pushed to achieve academic success and then to eventually become successful, assimilate and validate the sacrifice of your forebears. Reading it made me confront the ridiculousness, guilt, hilarity, triumph and unbearable sadness that comes along with the territory of living perpetually in between identities.
Next Month: All the Birds in the Sky by Charlie Jane Anders

---

Faye Bi works as a book publicist in New York City, and is a member of the Sirens communications team. She's yet to read an immigrant story she hasn't cried over, and is happiest planning nerdy parties, capping off a long run with brunch, and cycling along the East River.