By Catherine Lundoff (@clundoff)
The earliest female buddy stories in fantasy were often, but not always, portrayed the pairing of a warrior and a sorceress. This pairing was fairly common in 1980s fantasy novels well before Xena first aired in 1995 with its own spin on the trope. These novels, the Sword and Sorceress anthologies and related works, broke some new story telling ground by portraying female protagonists as colleagues, comrades in arms, BFFS and sometimes, as lovers. Some of them were very definitely products of their time (biological essentialism tends to turn up a lot, for one thing, as do rape and revenge plots), but here's a few that I remember fondly and occasionally reread.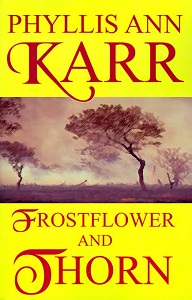 1. Frostflower and Thorn by Phyllis Ann Karr (originally published in 1980), begins with the titular characters making a bargain wherein the celibate sorceress Frostflower magically accelerates warrior Thorn's unwanted pregnancy so that she can have the child. Wacky hijinks ensue and they go on the run from evil priests and sundry villains out to thwart their efforts to build their alternative not-quite family. The two are never a couple in the romantic sense but they do go on to have several more books worth of adventures.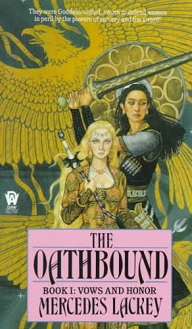 2. Vows and Honor series by Mercedes Lackey. (Published between 1988-1989. The series that launched a thousand ships. Kethry the sorceress has a sword that compels her to come to the aid of women in need. It drives her to find and help the warrior Tarma and they become allies. And together, they fight crime! Or more specifically, crimes against women! They become platonic soulmates (remember that it was late 1980s) as well as comrades in arms and adventure. This was the most popular female buddy series of its time and a lot of later stories were modeled on it. If you read and liked Lackey's other Valdemar books, you'll probably like these too. If you haven't read the others, you might give these a try as a starting point and see if they speak to you.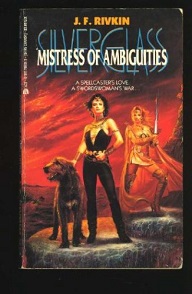 3. The Silverglass novels by J.F. Rivkin were a four volume series (remember that books were shorter in those days so we're not talking doorstops here), published between 1986 and 1991. Rivkin was a pseudonym for several authors writing together and separately – their identity has never been revealed. The books themselves are lively sword and sorcery tales featuring the mighty warrior Corson brenn Torisk and her employer, the sorceress Lady Nyctasia. They engage in a fast-paced series of adventures in which they are comrades, occasionally lovers and occasionally foes. I remember loving them when I originally ran across them because they were the first fantasies that I had encountered with bisexual women protagonists and they're a fast and jolly read, by and large, though they bog down a bit on plot coherence in the later books.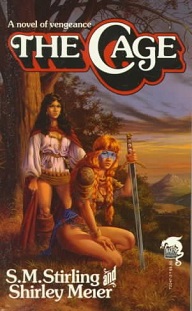 4. The Cage by S.M. Stirling and Shirley Meier (1991) is one of the Fifth Millenium series by the same authors and others. I know I read the others, but this was the one that I reread and recommended to others. Megan and Shkai'ra are comrades and lovers caught up in a complex plot to extract revenge on Megan's erstwhile subordinate and rapist, Habiku, who has also stolen her trading empire. This book originally stood out for me because both women are bi and they create a polyamorous family as the series moves along. But it was also memorable because the story is an interesting and relatively sympathetic take on one character's (understandable) obsession with vengeance following extreme trauma and the effect it has on her and her loved ones. Bit of a tip of the hat to Dumas' The Count of Monte Cristo.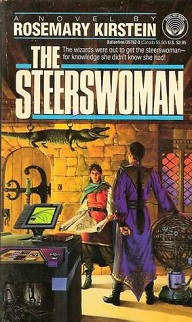 5. The Steerswoman series by Rosemary Kirstein. 1989-present (new book coming soonish). Maps, cartography, walking (so much walking!), friendship and the fantasy equivalent of cultural ethnography! Also, fighting evil magicians while doing all the other stuff! Rowan the cartographer and Bel, the warrior from the Outskirts, travel their fantasy land making maps, finding new groups of people to talk to and discovering what may or may not be magical or alien artifacts. If you need to shut this world off for a while and get lost in a different one, I heartily recommend this series. I heartily recommend it anyway because it's pretty good and it's kind of unique in the genre.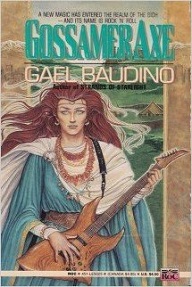 6. Gossamer Axe by Gail Baudino (1990). Because sometimes the only possible answer is to form a magical heavy metal band with your gal pals to break your girlfriend and One True Love out of Faery. This is definitely a music-lover's book and it has some lovely scenes in it. It can also be quite…preachy and has some issues. But I really enjoyed it the first few times I read it, and you might too. Plus, it's kind of a classic of queer fantasy and will give you stuff to talk about at potlucks, once those make a comeback.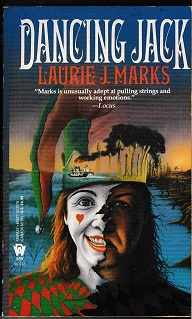 7. Dancing Jack by Laurie Marks. I pretty much just love this novel and therefore everyone should read it. Ash is a magic user and recovering revolutionary who joins forces with a female riverboat captain on a quest to stop a civil war. They become friends and partners, then lovers, and the writing is up to Mark's usual standard. Damned good fantasy that should be better known.
---
Catherine Lundoff is a Minneapolis-based award-winning writer and editor. Her stories and articles have appeared in such venues as Respectable Horror, The Mammoth Book of the Adventures of Professor Moriarty, The Mammoth Book of Jack the Ripper Stories, The Cainite Conspiracies: A Vampire the Masquerade V20 Anthology, Callisto: A Queer Fiction Journal, Tales of the Unanticipated, Nightmare Magazine: Queers Destroy Horror and SF Signal. Her books include Silver Moon, A Day at the Inn, A Night at the Palace and Other Stories, and Out of This World: Queer Speculative Fiction Stories. Website: www.catherinelundoff.com