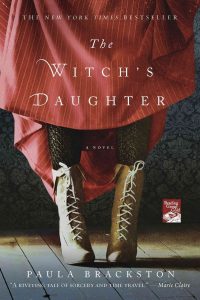 Each year, Sirens chair Amy Tenbrink posts monthly reviews of new-to-her books from the annual Sirens reading list. You can find all of her Sirens Book Club reviews at the Sirens Goodreads Group. We invite you to read along and discuss!
A decade ago, I read the entire Twilight series. The whole thing: the creepy sleep-watching, the blank chapters, the suicide attempts, the imprinting, the popsicle sex. Not because I loved it, because I didn't. No, I read Twilight because they were zeitgeist books. Millions of women read those books. Millions of girls loved those books. Millions of men (and other women) judged them for it. There were Twi-hards and Twilight conventions and, unlike a lot of series, the entire Twilight series made it into theatrically released movies.
I didn't really get it. And I don't really get it now. And while I don't care so much about not getting it – not everyone loves everything – I often want to understand why, if you will, the zeitgeist. So every year I pick up books that maybe I otherwise wouldn't read simply because the general public – the not-necessarily-fantasy-loving general public – seems to like them a lot.
Which is why The Witch's Daughter, by Paula Brackston, made the Sirens Book Club this year. You've all seen it. You probably recognize the cover. It's a New York Times bestseller. It made the tables at the big bookstores. It's the first in a series. This is one of those books – like Big Little Lies, maybe, or Gone Girl – that was the right book at the right time to capture a lot of readers' attention. But why?
The Witch's Daughter is one of those sweeping historical novels: We start in modern-day England, more or less, but then jump back to several periods in England's history: the witch-burning period, Jack the Ripper, a world war. Those of you looking for historical accuracy, however, should look elsewhere. While Brackston makes some attempt at differences in dialogue in different periods, this isn't going to make even an armchair historian happy.
The crux of The Witch's Daughter isn't history, however; it's fantasy. We're in a world where magic is something between a skill and a talent: it's somewhat unclear, but it seems that a powerful witch can turn anyone with the slightest propensity into a witch, though perhaps not an especially powerful witch, and then if that witch practices, they become more powerful. One of my greatest frustrations with this book is actually that lack of clarity. I couldn't tell what the criteria are for becoming a witch, why some witches are more powerful than others, or how much more powerful you could become with practice. Which is to say that I spent a lot of this book thinking, "Why don't you just…?" And, "But what about…?"
Our protagonist, Elizabeth, is both the titular witch's daughter and a witch herself. She wasn't born a witch, but we learn relatively early on in the book how she became a witch. SPOILER Back in witch-burning England, the plague came. After losing two children and her husband, Elizabeth's mother traded God-knows-what to Gideon, an arrogant, power-mad male witch (trigger warning: rape), in exchange for the power to heal Elizabeth. Facing execution for witchcraft and knowing that the hysteria will call for her daughter's death next, her mother tells Elizabeth to seek out Gideon for protection. Following her mother's death, Elizabeth does. Gideon teaches Elizabeth magic and, thinking she'll be his immortal soulmate, makes a deal with the devil to grant Elizabeth great power. (Only in a certain type of book does procuring great magic for your soulmate involve having a threesome with two other women.) Elizabeth witnesses the ritual and, terrified, horrified, she flees.
And spends the next few centuries continuing to flee. The Witch's Daughter jumps back and forth between modern-day, as Elizabeth meets and then trains local-girl Tegan in witchcraft (or Wiccan; the book doesn't seem to differentiate between fantastic witchcraft and real-world Wicca, which is obnoxious), and history, as she changes her name and occasionally encounters Gideon (who is, of course, Jack the Ripper). BIGGER SPOILER Eventually, you learn than Tegan's older boyfriend is also Gideon and that we're going to have a showdown. A showdown that, ultimately, I found unsatisfying.
Should you read it? I think that ultimately comes down to a couple questions: Do you like reluctant, even passive heroines? Do you love the witch oeuvre so much that you'll happily read even flawed books? Is it going to drive you insane when Elizabeth doesn't seem to try very hard to evade or defeat Gideon? Are you going to be mad when Elizabeth reconciles herself to being less powerful than Gideon, even though she's made very little effort to develop her skill?
I wouldn't recommend this book to myself. I like my heroines to drive the action, not react to it, and what interests me most about women who work magic is their embrace of power, their ambition, and their willingness to put in the work to augment that power in service of that ambition. Elizabeth isn't that woman. But there are many, many aspects of women who work magic, and she might be your woman.
Amy

---

Amy Tenbrink spends her days handling content distribution and intellectual property transactions for an entertainment company. Her nights and weekends over the last twenty years have involved managing a wide variety of events, including theatrical productions, marching band shows, sporting events, and interdisciplinary conferences. Most recently, she has organized three Harry Potter conferences (The Witching Hour, in Salem, Massachusetts; Phoenix Rising, in the French Quarter of New Orleans; and Terminus, in downtown Chicago) and seven years of Sirens. Her experience includes all aspects of event planning, from logistics and marketing to legal consulting and budget management, and she holds degrees with honors from both the University of Southern California's Thornton School of Music and the Georgetown University Law Center. She likes nothing so much as monster girls, Weasleys, and a well-planned revolution.