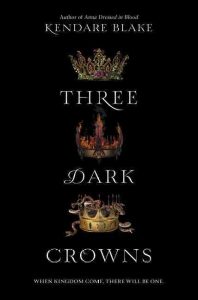 Each year, Sirens chair Amy Tenbrink posts monthly reviews of new-to-her books from the annual Sirens reading list. You can find all of her Sirens Book Club reviews at the Sirens Goodreads Group. We invite you to read along and discuss!
It has taken me seven days to realize that the reason that I can't find my way into this book review is because I couldn't find my way into this book. Which is not to say that I didn't like this book. Like, really like it. Because I did.
And thus began the world's most conflicted book review ever.
I don't, usually, love books unreservedly. I'm generally a quite critical reader, and I rarely find books where I don't struggle with something: plot, world-building, characters, magical systems, pacing, logic, cliff-hangers, something.
But I do, quite commonly, love pieces of books: a character, a fictional political system, surprise plot twists, a beautifully crafted narrative voice. And I, also quite commonly, extrapolate love for the entire book from love for pieces of the book. Does that make any sense? I really love The House of Shattered Wings, despite that I loathe books about angels, because of how de Bodard handles colonialism in an alt-reality fantasy book. I love The Rabbit Back Literature Society, despite its so-very-vague ending, because of my great love of basically everything else in that book. I love Throne of Glass, despite its overwhelming YA sparkliness, because Assassin Barbie is all that. And I love Silver on the Road, despite its molasses pacing, because being the Devil's Left Hand is that interesting to me.
Which is to say, through a rather circuitous route, that as long as I can find something about a book that I love – a way in, if you will – I often love the book itself.
But I don't think that I've ever before loved a book when I didn't love any of its pieces. Enter Three Dark Crowns.
Three Dark Crowns is the incomparable Kendare Blake's first foray into high fantasy. Many of you will remember Kendare from Sirens in 2014, when she was a Guest of Honor and I made everyone read Anna Dressed in Blood because I heart it so.
Three Dark Crowns takes place on Fennbirn, an island protected from the mainland by mysterious mist, an island whose people have magic, an island that crowns magical queens once every sixteen years. But Fennbirn's traditions are so much more than that: Every generation, the then-current queen bears triplets, all girls, all magical: one a poisoner, one a naturalist, one an elemental. Upon birth, the queen cedes her right to the island, and leaves, with her king-consort (never king, always king-consort), to live happily ever after (or whatever) on the mainland. Meanwhile, her daughters are raised separately, within the seats of their respective power on Fennbirn – and when they turn sixteen, will spend the year trying to kill each other to take the crown.
Yes, you read that right: sixteen-year-old sisters are raised to kill each other. No, Three Dark Crowns doesn't really explain why that is the case.
We open, of course, on the sisters' sixteenth birthday, four months before Beltane, when the killing can start. And you spend the first 180 pages on, basically, world-building and character development. You meet Katharine, a poisoner, whose gift is weak, but who is expected to take the crown for the poisoner line that has held it for a century. Her training, especially given her weakness, is thinly veiled abuse and readers might have a hard time with her chapters. Then you meet Arsinoe, a naturalist, whose animal familiar refuses to appear – but whose best friend (with her cougar familiar) is the most powerful naturalist in over half a century. Finally, you meet Mirabella, an astonishingly powerful elemental, who is controlled by the Temple, Fennbirn's priestesses who want, in equal parts, to stop the poisoner control of the island and put in place a queen who will do their bidding. The presumption, as Three Dark Opens is that Mirabella will easily dispatch her sisters to claim the crown.
Beginning about page 180, though, the plot thickens. (Or starts. Whatever.) It's not too much of a spoiler to tell you that a fleeing Mirabella saves Arsinoe's friend's boyfriend from drowning – and with that, the first unplanned contact between the players in this toxic game, things become a lot more interesting. Murder isn't allowed yet, but positioning, gamesmanship, and misunderstood communications certainly are.
So here's the thing about Three Dark Crowns: The world-building, magical systems, and politics were opaque, the characters were mostly boring and dithering, the pacing was ridiculously slow, the book has three main point-of-view characters so it took a long time to learn to care about any of them, the book probably needed a good edit for metaphors, and the bloody thing ends on a cliffhanger.
BUT. Somehow, improbably, I loved it anyway. I think because Kendare, in many ways more than a lot of authors that I read, takes risks that I respect. She built a world in which powerful women kill each other for a throne – regularly, as part of a tradition, a beloved tradition. She built women who are unlikeable, who make stupid decisions, who fail and pick themselves back up and try again. She made poison, of all things, a magical trait. She wrote a suffocating book that, simply because it's about deadly women with ambition seeking power, has something remarkable to say.
And not to spoil things too much, but by the end of this book, when these women finally do find both their power and their resolve, Kendare hooked me for round two: One Dark Throne.
Amy

---

Amy Tenbrink spends her days handling content distribution and intellectual property transactions for an entertainment company. Her nights and weekends over the last twenty years have involved managing a wide variety of events, including theatrical productions, marching band shows, sporting events, and interdisciplinary conferences. Most recently, she has organized three Harry Potter conferences (The Witching Hour, in Salem, Massachusetts; Phoenix Rising, in the French Quarter of New Orleans; and Terminus, in downtown Chicago) and seven years of Sirens. Her experience includes all aspects of event planning, from logistics and marketing to legal consulting and budget management, and she holds degrees with honors from both the University of Southern California's Thornton School of Music and the Georgetown University Law Center. She likes nothing so much as monster girls, Weasleys, and a well-planned revolution.