In this issue:
PROGRAMMING PROPOSALS DUE MAY 8
Only 12 days left to submit programming proposals for this year's conference! As you all know by now, programming for Sirens is crafted, proposed, and if accepted by our independent vetting board, presented by attendees. We just finalized our vetting board for this year, and they're eagerly anticipating your proposals!
Remember, we're looking for papers/lectures, workshops, roundtables, panels, and even afternoon classes teaching common fantasy-literature skills like archery or knitting. Further, there's no requirement to become a presenter: anyone and everyone is welcome to propose programming. Not sure where to start? Want to strengthen your abstract? Need advice? We invite you to look over our Annual Programming Series:
If you need inspiration, check out our #SirensBrainstorm hashtag on Twitter, with fresh ideas free for the taking! Everything else you need to know is on our Programming and Proposals pages on the Sirens website, but if you have questions, please contact our programming team at (programming at sirensconference.org). Again, the deadline for proposals is May 8, 2017.
SCHOLARSHIPS REMINDER
Thanks to the generosity of the Sirens community, we fully funded ALL NINE scholarships for 2017. Pat yourself on the back (or on your fairy wings)! If you'd like to attend the conference this year and need a scholarship, we highly encourage you to apply.
Con or Bust will award three Sirens scholarships to people of color in accordance with their policies.
Those who submit exemplary programming proposals can also apply for one of three scholarships as part of their proposal submission by May 8. These will be determined by our scholarship committee.
The final three scholarships are designated as financial hardships scholarships, open to anyone. A short application is required, and due by May 8. Recipients will be chosen randomly.
NEW YORK CITY MEET-UP THIS WEEKEND
If you're in New York City area this Sunday, April 30, please join us for a casual Sirens meet-up! We'll be at Radiance Tea House & Books from 2–4 p.m. Bring your friends, your book recommendations, and your questions! See here for more information.
DENVER MEET-UP MAY 25
If you're planning to be in the Denver area on Thursday, May 25, hold that date! Sirens is planning a Denver meet-up for drinks and dinner that evening, with more details to come!
AMY'S BOOK CLUB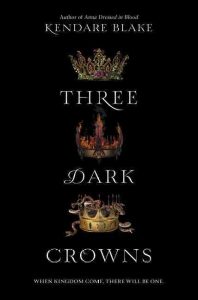 For April, Sirens co-founder Amy Tenbrink read the Kendare Blake's Three Dark Crowns and really liked it, but "couldn't find her way into this book." Check out what she calls "the world's most conflicted book review ever" over on the blog and on Goodreads.

READ ALONG WITH FAYE
For the Reading Challenge this month, Faye read Marjorie Liu's and Sana Takeda's Monstress Vol. 1, which she's excited to share ALL HER THOUGHTS in her review, coming later this week, on the blog and Goodreads.

IN CASE YOU MISSED IT…
---
Questions? Concerns? Please email general queries to (help at sirensconference.org) and questions about programming to (programming at sirensconference.org).