Each year, we select a variety of popular, controversial, and just plain brilliant books related to our annual theme—and we invite attendees to bring their breakfast on Friday and Saturday mornings during Sirens to discuss them. Over the years, this program has highlighted the depth and breadth of each year's theme and given early risers both company and book talk.
The Sirens theme for 2017 is women who work magic. We're delighted to announce our book selections early so that participants interested in Books and Breakfast can read them in time for this year's conference. We'll also be featuring three Books and Breakfast titles per month to get these books on your radar!

2017 BOOKS AND BREAKFAST SELECTIONS
Friday, October 27
All the Birds in the Sky by Charlie Jane Anders
The Bear and the Nightingale by Katherine Arden
The Girl Who Drank the Moon by Kelly Barnhill
Slice of Cherry by Dia Reeves
This Strange Way of Dying by Silvia Moreno-Garcia
Three Dark Crowns by Kendare Blake
Saturday, October 28
A Feast of Sorrows by Angela Slatter
Bayou Magic by Jewell Parker Rhodes
The Bone Witch by Rin Chupeco
The Land of Love and Drowning by Tiphanie Yanique
Nimona by Noelle Stevenson
Silver on the Road by Laura Anne Gilman

JUNE SPOTLIGHT
This month we're spotlighting Kelly Barnhill's The Girl Who Drank the Moon, Dia Reeves's Slice of Cherry, and Tiphanie Yanique's The Land of Love and Drowning. Do you plan on picking these up soon? Definitely let us know by tweeting at @sirens_con and/or using the hashtag #Sirens17!

The Girl Who Drank the Moon by Kelly Barnhill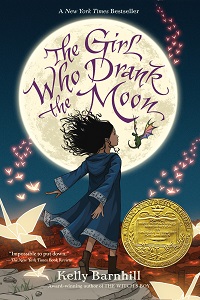 Every year, the people of the Protectorate leave a baby as an offering to the witch who lives in the forest, hoping this sacrifice will keep her from terrorizing their town. But the witch, Xan, is kind, rescuing the abandoned children and delivering them to welcoming families on the other side of the forest, nourishing the babies with starlight on the journey.
But when Xan accidentally feeds a baby moonlight instead of starlight, filling the ordinary child with extraordinary magic, she decides to raise her as her own. Xan keeps the child—whom she calls Luna—safe by locking her magic deep inside her until her thirteenth birthday. But when a young man from the Protectorate is determined to free his people by killing Xan just as Luna starts coming into her powers, it is up to Luna to protect those who have protected her–even if it means the end of the loving, safe world she's always known.
The Girl Who Drank the Moon is compulsively readable: it both hearkens back to well-known fairy tales and presents something new, feminist, and inclusive. It's a story about growing up and growing older and making hard choices and choosing whom to become. And besides Xan and Luna, the book features a friendly swamp monster, a very tiny dragon, a fearless girl, a boy with a conscience, a woman with a tiger's heart, and a story told all wrong.

Slice of Cherry by Dia Reeves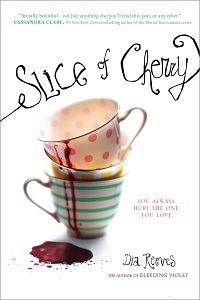 Kit and Fancy Cordelle are sisters of the best kind: best friends, best confidantes, and best accomplices. The daughters of the infamous Bonesaw Killer, Kit and Fancy are used to feeling like outsiders, and that's just the way they like it. But in Portero, where the weird and wild run rampant, the Cordelle sisters are hardly the oddest or most dangerous creatures around.
It's no surprise when Kit and Fancy start to give in to their deepest desire—the desire to kill. What starts as a fascination with slicing open and stitching up quickly spirals into a gratifying murder spree. Of course, the sisters aren't killing just anyone, only the people who truly deserve it. But the girls have learned from the mistakes of their father, and know that a shred of evidence could get them caught. So when Fancy stumbles upon a mysterious and invisible doorway to another world, she opens a door to endless possibilities.
If you've ever read Bleeding Violet, you know about Portero; if you haven't, well, it's more of less Buffy's Hellmouth times a hundred. The people of Portero are tough to figure out—and surprisingly, Kit and Fancy are just as tough to crack as Bleeding Violet's unreliable narrator, Hanna. While Hanna's story was so much about her and her personal relationships, Slice of Cherry asks larger questions about power, vigilante justice, and how to figure out when you've gone too far.

The Land of Love and Drowning by Tiphanie Yanique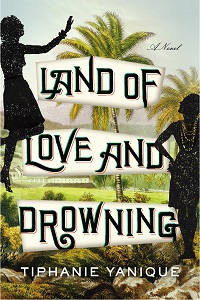 In the early 1900s, the Virgin Islands are transferred from Danish to American rule, and an important ship sinks into the Caribbean Sea. Orphaned by the shipwreck are two sisters and their half brother, now faced with an uncertain identity and future. Each of them is unusually beautiful, and each is in possession of a particular magic that will either sink or save them.
Chronicling three generations of an island family from 1916 to the 1970s, Land of Love and Drowning is a novel of love and magic, set against the emergence of Saint Thomas into the modern world. Following the Bradshaw family through sixty years of fathers and daughters, mothers and sons, love affairs, curses, magical gifts, loyalties, births, deaths, and triumphs, Land of Love and Drowning is a gorgeous, vibrant debut.
Land of Love and Drowning is one of those books in which you can lose yourself on a quiet afternoon. It's complicated and complex, with magic that turns up in the strangest of places. It's reminiscent of both Cristina Garcia's Dreaming in Cuban and Daína Chaviano's The Island of Eternal Love, not only for its multi-generational timeline and quiet magic often worked by women, but for its close look at the culture, traditions, and legends of an island in the Caribbean.