In this issue:
2017 MILESTONES SO FAR
Last week, Sirens co-founder Amy Tenbrink wrote about Sirens's unprecedented growth, elaborated on this year's conference theme of women who work magic, and waxed poetic on our nine-years-in-the-making community: "One that's becoming increasingly brilliant, increasingly inclusive, increasingly confident, increasingly vocal. One that believes in itself and each of its parts. A once-a-year respite, where you can repair your armor, replenish your magic, and remember how truly remarkable the women of fantasy literature—from queens to readers—are." Read the full post here.
INCLUSIVITY AT SIRENS
This month, we also kicked off an important series of posts addressing diversity, inclusion, and intersectionality at Sirens in order to highlight voices that are both vital to our community and are too often unheard. In our first post, Faye Bi shares her Sirens experience and offers some food for thought for new and returning attendees: "[Sirens] doesn't feel like battle, when so much of my daily life does. That's a feeling to ponder, but also one to protect." Read the rest of her post here.
REGISTRATION UPDATE
At this point in time, Sirens is sold out for 2017.
To individuals who have submitted programming proposals, a reminder that you have until July 9, 2017, to register and be paid in full for this year's conference, after which the registration that we are holding for you will be made available to the public.
We'll continue to post updates on registration availability on this blog, on our Twitter, and on our Facebook page. If you are still seeking a registration, we recommend that you check back on July 10. Please also watch our Twitter for announcements of any individuals seeking to sell their registrations.
PROGRAMMING
After the presenter registration deadline of July 9, we'll be revealing this year's presentations in small batches on this blog and on the Accepted Programming page! If you proposed programming and missed the email with the result of your proposal, please email (programming at sirensconference.org) right away. Thank you again to everyone who proposed programming this year!
HOTEL
This year, we have already had to ask the Hotel Talisa to make additional rooms available at the discounted Sirens rate twice! We are pleased to report that, as of last Monday, there are again discounted rooms in our block—but we strongly recommend that you book yours as soon as possible. You can find reservations information here.
ATTENDING AUTHORS
If you are a published author attending Sirens this year, let us know! We'd like to make sure we have your books available in our bookstore—and if you'd like, a place for you in our author signings. Please email Amy at (amy.tenbrink at sirensconference.org).
BOOKSTORE DONATIONS
Speaking of our bookstore, a few years ago, we began operating our own bookstore as a fundraiser for Sirens. This gives us the opportunity, in many ways in defiance of the commercial market, to stock our bookstore exclusively with fantasy books written by, or featuring, amazing women.
In many ways, our bookstore operates like any other bookstore: we acquire new books for sale just like anyone else. But in two ways, our bookstore is different. First, the Sirens community frequently donates new books, just to make sure that the bookstore includes them in its inventory; sometimes these attendees work for publishers or are donating books that they've written, but often, these attendees simply want to help make our bookstore as amazing as possible. Second, we have a used section of our bookstore where we offer gently used fantasy books for $5 each. That section of our bookstore is stocked entirely through donations.
If you would like to donate books to our bookstore, please send your books to the following address, to arrive no later than August 1, 2017. (And remember, if you're shipping only books, the USPS media mail option is terrifically cheap, but terrifically slow, so please leave time for your package to arrive.)
Sirens
c/o Narrate Conferences
P.O. Box 149
Sedalia, Colorado 80135
BOOKS AND BREAKFAST
Sirens veterans know that we select a variety of popular, controversial, and just plain brilliant books related to our theme—and invite attendees to bring their breakfast on Friday and Saturday mornings of the conference to discuss. Here are this year's selections:
Friday, October 27
All the Birds in the Sky by Charlie Jane Anders
The Bear and the Nightingale by Katherine Arden
The Girl Who Drank the Moon by Kelly Barnhill
Slice of Cherry by Dia Reeves
This Strange Way of Dying by Silvia Moreno-Garcia
Three Dark Crowns by Kendare Blake
Saturday, October 28
A Feast of Sorrows by Angela Slatter
Bayou Magic by Jewell Parker Rhodes
The Bone Witch by Rin Chupeco
The Land of Love and Drowning by Tiphanie Yanique
Nimona by Noelle Stevenson
Silver on the Road by Laura Anne Gilman
For 2017, we're spotlighting three books per month, so you can plan your reading and join us! Check out our post on The Girl Who Drank the Moon, Slice of Cherry, and The Land of Love and Dreaming here.
AMY'S BOOK CLUB
For June, Sirens co-founder Amy Tenbrink read Nalo Hopkinson's Sister Mine. Read her review, coming out later this week, over on the blog and on Goodreads.
READ ALONG WITH FAYE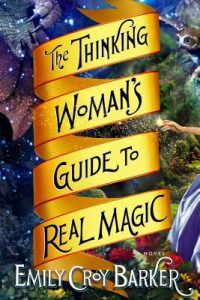 This month, Faye read Emily Croy Barker's The Thinking Woman's Guide to Real Magic in pursuit of the 2017 Reading Challenge, which she recommends for readers who "like reluctant heroines…[and] can stomach unlikable protagonists." Check out her review on the blog and on Goodreads.

IN CASE YOU MISSED IT…
---
Questions? Concerns? Please email general queries to (help at sirensconference.org) and questions about programming to (programming at sirensconference.org).