This month, we're spotlighting three more popular, controversial and just plain brilliant Books and Breakfast titles related to our 2017 theme of women who work magic! You can check our highlighted titles for June (which also includes the full list) and July.
Read the descriptions below of Katherine Arden's The Bear and the Nightingale, Silvia Moreno-Garcia's This Strange Way of Dying, and Jewell Parker Rhodes's Bayou Magic. Thoughts? Let us know on Twitter at @sirens_con and at the hashtag #Sirens17.
The Bear and the Nightingale by Katherine Arden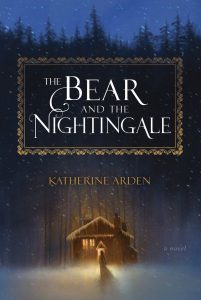 At the edge of the Russian wilderness, Vasilisa spends her winter huddled around the embers of a fire with her beloved siblings, listening to her nurse's fairy tales. She loves the tale of Frost, a blue-eyed demon, who appears in the frigid night to claim unwary souls. Wise Russians fear him, her nurse says, and honor the spirits of house and yard and forest that protect their homes from evil. After Vasilisa's mother dies, her father goes to Moscow and brings back a devout new wife, who is vehemently against the family's honoring household spirits. But as crops begin to fail, evil creatures of the forest creep nearer and misfortune stalks the village, Vasilisa must find her own power to protect her family from a threat that seems pulled from her nurse's most frightening tales.
Even in fantasy literature, the word "witch" is so often a slur. The Bear and the Nightingale, beautifully crafted and set in a Russia bound by tradition, picks relentlessly at this trope: gendered expectations that limit women to marriage, children, and faith; how quickly society cries "witch" when women defy those expectations; and what it means when those allegations, so rooted in ignorance and fear, are actually true.
This Strange Way of Dying: Stories of Magic, Desire and the Fantastic by Silvia Moreno-Garcia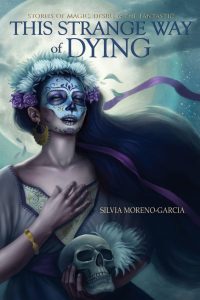 Spanning multiple time periods and the genres of fantasy, science fiction and horror, Moreno-Garcia's collection of short stories is infused with Mexican folklore, yet firmly rooted in a reality that transforms into the weird and fantastical. The stories lift the veil of the everyday to expose the realms of what lies beyond, with creatures that shed their skin and roam the night, vampires in Mexico City that struggle with disenchantment, an apocalypse with giant penguins, legends of magic scorpions, and tales of a ceiba tree surrounded by human skulls.
This Strange Way of Dying is full of wild, beautiful prose and with Mexican folklore and myths—and Moreno-Garcia shines when she's writing about liminal spaces and being caught between identities such as heritage, class, and race. And we think you'll love the bold, empowered Jaguar women who go after what they want.
Bayou Magic by Jewell Parker Rhodes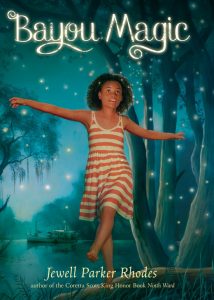 It's Maddy's turn to have a bayou summer with her grandmother. At first she misses life back home in New Orleans, but soon she grows to love everything about her new surroundings—the glimmering fireflies, the glorious landscape, her grandmother's famous gumbo—but then there's something else, deep within the water, that only Maddy sees. As her grandmother shares wisdom about sayings and signs, Maddy realizes she may be only the sibling to carry on her family's magical legacy. And when a disastrous oil leak threatens the bayou, she knows she may also be the only one who can help.
Bayou Magic is all about a girl finding her power. Set in the wake of the Gulf oil spill, Maddy's grandmother's community and the bayou are practically tangible, and how a bayou summer changes Maddy is equally vivid. Bayou Magic celebrates hope, friendship, and family with a clear conservationist bent.