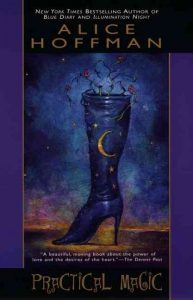 Each year, Sirens chair Amy Tenbrink posts monthly reviews of new-to-her books from the annual Sirens reading list. You can find all of her Sirens Book Club reviews at the Sirens Goodreads Group. We invite you to read along and discuss!
We're always a product of our time, aren't we?
While Practical Magic takes place in three acts, the setting changes significantly between the first and second. The book opens in a small town in Massachusetts, one that, if you're the right age and grew up reading the right books, you can see with very little textual assistance: old houses, wrought-iron fences, trees that turn riotously orange in the fall, only to have their leaves fall and cover the sidewalks, because, heavens yes, there are sidewalks and everyone walks to school and Halloween is blustery as clouds skid across the sky and summers are endless and full of sunny promise. I could go on, but if you're the same age as I and read the same books, you don't need me to.
Reading the first act of Practical Magic was, for me, sentimentally wistful. Strange, since I've never read Alice Hoffman before, and I've never lived in Massachusetts or even New England, and I've never lived in town, let alone a town with old houses and wrought-iron fences. But I must have read a hundred books with that exact setting as a kid, enough to produce a sort of sentimental wistfulness for a place where I've never lived and rarely visited, a place that is profoundly different from my rural childhood, where my mile-long block had exactly six houses and four kids.
Do books that do depict the rural Midwest, settings with more animals than people and Halloweens with snow and summer vacations to rundown lake houses, produce the same wistfulness? Not even a little bit.
Which goes to show, I suppose from my very small sample size of one, how very much books affect our hearts and our subconscious. How even now, at 41, the first act of a book with the right setting can produce a nostalgia not so much for a place I've never lived, but for the reading experiences of my childhood that transported me, time after time, to a quaint New England full of blowing leaves and black cats and cracked sidewalks. Memory is a powerful thing, even when – or especially when – it's playing tricks on you.
When Practical Magic opens, in that small Massachusetts town, Sally and Gillian Owens are kids, living with their "ancient" aunts after their parents' deaths. Their aunts, like all Owens women, are witches, which the town both loves and loathes: they're terrified and contemptuous of the Owens women, but then seek them out, under the cover of night, for spells for the lovelorn. Sally and Gillian grow up secretly watching their aunts perform those spells, and they solemnly swear that that sort of nonsense will never happen to them.
Enter boys.
As Gillian blossoms, she goes from being shunned to having a string of boys, one of whom she runs away with while still a teen. Sally stays home, shocked by her sister's seeming betrayal, and vows never to marry. But of course she does, and has two girls before her husband is hit by a car. Sally, stifled by her family history, her lost husband, and the town's expectations, takes her girls and moves to a New York suburb. Where some years later Gillian turns up with a dead boyfriend in the passenger seat.
The second and third acts of Practical Magic are set in that banal suburb, where the juxtaposition of that studied banality with the thin veneer of the Owenses' magic is itself a commentary about everyday lives and small magics. Hoffman's brand of magic is a sort of magical realism, not with the same passion and grandeur that you might expect from Laura Esquivel, but with a more measured inevitability. No matter how normal they try to be, no matter how many times Sally avoids conversations with her daughters, no matter how determinedly Gillian avoids both her aunts and her hometown, the Owens' women are witches. Things are bound to happen.
The beauty of Practical Magic is that it's about a bunch of women – a coven, in a different sort of book – all doing the best they can. Sometimes solutions are magic, sometimes they're determination, sometimes they're taking your fears in hand and charging forward, and sometimes they're calling your aunts and asking them what to do about the dude you buried in your backyard who just won't bloody well stay buried. Mistakes abound, people get angry, a frog vomits a really ugly ring, and life goes on. Life, with your girls, goes on.
And so often, you just do the best that you can do with what you've got. Even when you're a witch.
Amy

---

Amy Tenbrink spends her days handling content distribution and intellectual property transactions for a media company. Her nights and weekends over the last twenty years have involved managing a wide variety of events, including theatrical productions, marching band shows, sporting events, and interdisciplinary conferences. Most recently, she has organized three Harry Potter conferences (The Witching Hour, in Salem, Massachusetts; Phoenix Rising, in the French Quarter of New Orleans; and Terminus, in downtown Chicago) and eight years of Sirens. Her experience includes all aspects of event planning, from logistics and marketing to legal consulting and budget management, and she holds degrees with honors from both the University of Southern California's Thornton School of Music and the Georgetown University Law Center. She likes nothing so much as monster girls, Weasleys, and a well-planned revolution.