Welcome to the last of our spotlights for this year's Books and Breakfast! We have three more popular, controversial and just plain brilliant titles related to our 2017 theme of women who work magic. You can also check our highlighted titles for June (which also includes the full list), July, and August.
Read the descriptions below of 2014 Guest of Honor Kendare Blake's Three Dark Crowns, Angela Slatter's A Feast of Sorrows, and Noelle Stevenson's Nimona. Thoughts? Picked out your books for each morning? Let us know on Twitter at @sirens_con and at the hashtag #Sirens17.
Three Dark Crowns by Kendare Blake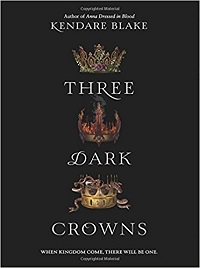 Every generation, three triplets on the island of Fennbirn are raised to compete for the crown. Each possesses a coveted magic: Mirabella is a fierce elemental, able to spark hungry flames or vicious storms at the snap of her fingers; Katharine is a poisoner, one who can ingest the deadliest poisons without so much as a stomachache; Arsinoe, a naturalist, is said to have the ability to bloom the reddest rose and control the fiercest of lions. Raised apart, the sisters are fated to not only fight to become Queen, but to kill her sisters to do so. The night that Mirabella, Katharine, and Arsinoe turn sixteen, the battle begins.
Three Dark Crowns is a brave book. Kendare crafted three heroines: three difficult, conflicted, resentful heroines struggling to reconcile expectations and likely death with what they might want for themselves. Kendare also crafted a world of people who view the sisters as objects, not to be loved, but to be used to gain power. Stick with this one until its cliffhanger end: the sisters will surprise you.
A Feast of Sorrows by Angela Slatter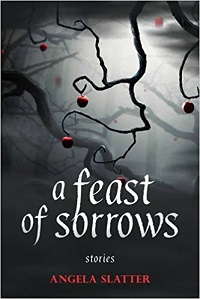 This collection of short fiction features twelve of the World Fantasy and British Fantasy Award-winning author Angela Slatter's finest, darkest fairy tales. In them are women and girls—fearless, frightened, brave, bold, frail, and fantastical—who take the paths less travelled, accept (and offer) poisoned apples, and embrace transformation in all its forms. You won't just find princesses and ghosts, but the gamut of artisans as well: bakers, quilters, crafters, spinners, and coffin-makers. Never have the feminine arts been so magical or so deadly.
Reminiscent of Angela Carter and Emma Donoghue, or even Aimee Bender's The Color Master, Slatter's work is both timeless and fresh: fascinating, feminist reflections from the enchanted mirrors of fairy tales and folklore. This one is to be savored, one story, one revelation, and one smart, determined woman at a time.
Nimona by Noelle Stevenson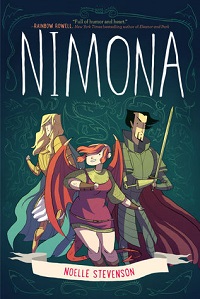 Noelle Stevenson's award-winning webcomic became an award-winning graphic novel. Nimona is an impulsive young shapeshifter with a knack for villainy. Lord Ballister Blackheart is a villain with a vendetta. Their mission: prove to the kingdom that Sir Ambrosius Goldenloin and his buddies at the Institution of Law Enforcement and Heroics aren't the heroes everyone thinks they are. But as small acts of mischief escalate into a vicious battle, Lord Blackheart realizes that his sidekick's powers are as murky and mysterious as her past. And her unpredictable wild side might be more dangerous than he is willing to admit.
Brilliant, witty, and subversive, Nimona includes everything from dragons to science, archnemesis and secret lovers, assassination attempts and nerdy references all over. But more than that, it's a terrific exploration of feminine ambition and agency in the all-too-masculine world of superheroism and supervillainy.