Each year, we select a variety of popular, controversial, and just plain brilliant books—and then, during Sirens, invite our attendees to bring their breakfast and discuss them. Over the years, this program has highlighted the depth and breadth of each of our annual themes and given attendees yet another opportunity to deconstruct, interrogate, and celebrate what women and nonbinary authors are doing in fantasy literature.
This year, our Books and Breakfast program will feature eight books, with two dedicated to each of the themes of our past four years: hauntings, rebels and revolutionaries, lovers, and women who work magic. The complete list of our selections is below, but we'll also be featuring these books over the next few months so you can pick which ones you might like to read before Sirens!

2018 BOOKS AND BREAKFAST SELECTIONS
Hauntings
The Memory Trees by Kali Wallace
An Unkindness of Ghosts by Rivers Solomon
Rebels and Revolutionaries
Children of Blood and Bone by Tomi Adeyemi
Her Body and Other Parties by Carmen Maria Machado
Lovers
A Crown of Wishes by Roshani Chokshi
Passing Strange by Ellen Klages
Women Who Work Magic
The City of Brass by S. A. Chakraborty
Spellbook of the Lost and Found by Moïra Fowley-Doyle

SPOTLIGHT ON HAUNTINGS
Our two Books and Breakfast picks focused on hauntings are Kali Wallace's The Memory Trees and Rivers Solomon's An Unkindness of Ghosts. Do you plan on picking these up soon? Let us know! Tweet @sirens_con or use the hashtag #Sirens18!

The Memory Trees by Kali Wallace
Sorrow Lovegood spent the first eight years of her life in an orchard in Vermont, wrapped in not only the love of her mother, grandmother, and older sister, but also the suffocating history of her matriarchal ancestors. The women of her family have lived in this same orchard for twelve generations, despite their harrowing misfortune and a legendary feud with the neighbors.
Then, something awful happens, Sorrow's heart shatters, and she's sent to live with her father in Miami. Eight years later, Sorrow, frustrated by her hazy memories of her childhood, returns to the orchard to confront her lost memories, her family's history, and her haunted heart. What she learns, with the orchard's help, is both revelatory and devastating: the truth of a tragedy centuries in the making.
The Memory Trees is, in turn, going to shatter your heart. Wallace's decision to make Sorrow, with her lost memory, the narrator was a smart choice: Sorrow's heart rends over and over again as she discovers incremental details about what happened eight years ago, and Wallace is such a skilful craftsperson that, every time Sorrow's heart breaks, so does the reader's. Much like The Monsters of Templeton, Wallace also uses an unusual narrative structure to convey information in bite-size chunks: She alternates contemporary chapters from Sorrow's point of view with historical chapters depicting Sorrow's female ancestors and the origins of the family's neighborhood feud and perhaps related misfortune. The result is a harrowing portrait of grief, loss, and the very best of what a hauntings book can be—even sans ghosts.

An Unkindness of Ghosts by Rivers Solomon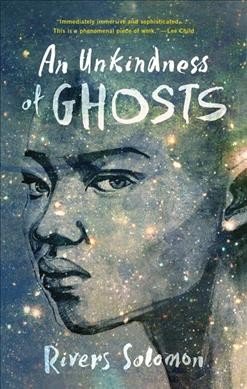 While Sirens is a fantasy conference, sometimes we can't help ourselves. Thus, An Unkindness of Ghosts, an Afrofuturist science-fiction novel set on the HSS Matilda, a leviathan of a space vessel that has been shuttling its inhabitants to a mythical Promised Land for the past thousand years. The Matilda strongly resembles the antebellum South, with the wealthy, white Sovereign and similar inhabitants both occupying the upper levels of the ship and imposing vicious regulations and hash indignities on the inhabitants—people of color, queer people, neuroatypical people—who live on the levels below. Indeed, many of those lower-level inhabitants even farm the land of the colossal vessel under the authority of cruel overseers.
In case you were wondering if An Unkindness of Ghosts would be pulling any punches, it opens with Aster, a healer on the ship and our protagonist, amputating the foot of a child, an extreme surgery made necessary by nonsensical and dehumanizing rules, but a surgery that Aster, the child, and the child's grandmother nevertheless take in stride. Brutality can make the extraordinary seem ordinary, even when that means carrying an amputated foot around in a cooler. This normalcy of Solomon's world makes us immediately check our assumptions, our expectations, and our humanity.
An Unkindness of Ghosts is, as you might anticipate, a deconstruction of our society, an interrogation of our values, and a cautionary tale. After all, please remember that its fundamental premise is an Afrofuturist spaceship that replicates the antebellum South. Historical trauma looms large in this book, and Solomon's examination of race, slavery, and prison is just as incisive as, say, Jesmyn Ward's in Sing, Unburied, Sing. Similarly, Solomon considers issues of power and control through the lenses of gender, sexual identity, race, class, and ability. As Aster realizes that she can better her world, but only if she's willing to foment a civil war, we're all in.