Each year, Communications Director Faye Bi attempts to read the requisite 25 books to complete the Sirens Reading Challenge. In 2018, a Reunion year, she'll be reading books from the past four years' themes: hauntings, revolutionaries, lovers, and women who work magic. Light spoilers ahead. If you'd like some structure—or company—on your own reading goals, we invite you to read along!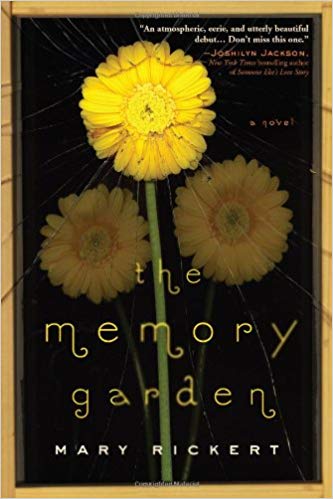 As in much capital-L Literary fiction, Mary Rickert's The Memory Garden is light on plot but heavy on atmosphere. Let's set the scene. In a nondescript (Midwestern?) town, people believe the old woman in the cottage with the wild garden may, or may not be, a witch. Nan's garden is described absolutely beautifully: wild, a life of its own, full of thriving plants that shouldn't really thrive, in orphaned shoes thrown by passers-by. Each chapter begins with a flower or herb, as well as their practical, magical or medicinal use.
Though well-past her childbearing years, Nan has a teenage daughter, Bay, who she chose to raise when Bay appeared on her doorstep in a shoebox as a baby. And as Nan turns 79 at the outset of The Memory Garden, she invites two very old friends, Ruthie and Mavis, for a visit. The reason is unclear… but it's evident that all three are haunted by what happened to their girlhood friend, Eve, and they have not seen each other in a really, really long time.
And here, dear reader, is where I interject with, maybe I'm just too young to appreciate this book as it deserves. In my review of Her Body and Other Parties, I talk a little bit about landmark books: the books that influence and shape you because you found them at just the right time in your life. Maybe I'm too early with The Memory Garden, because while Bay is only fourteen or so, she was my lens into this story. She also has no idea why, after all these years, her mother has invited these old friends over. She knows her mother is acting oddly—grappling with guilt and memories—but she doesn't really know what's going on, except that Ruthie is really good at cooking and Mavis is really imposing and confident. She hears the line, "How do the girls with dreams as big as the world end up old women with regrets?" but doesn't quite understand why it's so heartbreaking… yet. Or when she deduces what actually did happen to Eve, only to have Nan tell her, "You young people know so much more about these things than we did."
But The Memory Garden is told from Nan's perspective, not Bay's. And I did love having Nan's point of view. She's so incredibly guarded and complex as a character, and the number of secrets she keeps from the reader (besides what happened to Eve), like: Who is Mrs. Winters? Is Bay actually a witch? means that the novel is structured much like a mystery. And while I did find it somewhat difficult to connect with Nan, Ruthie, and Mavis, I still cheered for them, felt sad for them, and wanted them to forgive, grow, and heal. I wanted Mavis to get to go to Africa! I wanted Ruthie to open her restaurant and get revenge on her bastard husband! (She did.) I wanted Nan to make peace with her decisions—not all of them good ones—but knowing that they were in good faith. I definitely fist-pumped Mary Rickert's author's note where she sets out to reclaim the word "witch" as a positive one, as witches are maligned throughout history for being eccentric, old, outsider women with power.
While I very much enjoyed Rickert's poetic language, plant symbolism, strong female relationships, rich descriptions of food, and subtle hints of magic, I can't help but shake this feeling of determined neutrality. It was fine! It was good! It was… familiar, and not precisely in an exciting way. It was slow-going at first and somewhat confusing—with the multiple uses of present tense in various timelines—but once the mystery began to unravel I found myself racing until the end. It did not feel particularly intersectional. I hear that fans of Alice Hoffman's Practical Magic and Sarah Addison Allen will enjoy this, but having read little of either I can't make an official recommendation. Maybe ask me in a few decades, and I might have a different answer.
Next month's book: Girls Made of Snow and Glass by Melissa Bashardoust
---
Faye Bi is a book-publishing professional based in New York City, and leads the Sirens communications team. She's yet to read an immigrant story she hasn't cried over, and is happiest planning nerdy parties, capping off a long run with brunch, and cycling along the East River.