The Sirens Review Squad is made up of Sirens volunteers, who submit short reviews of books (often fantasy literature by women authors) they've read and enjoyed. If you're interested in sending us a review to run on the blog, please email us! Today, in honor of Violet Kupersmith's Guest of Honor week here at Sirens, we welcome a review from Alyssa Collins on Violet Kupersmith's The Frangipani Hotel.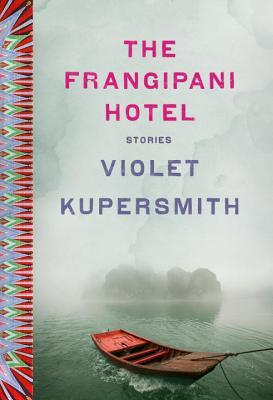 In "Boat Story," the first story of Violet Kupersmith's The Frangipani Hotel, a granddaughter asks her grandma for a story she can use to complete a school history project. Over an overripe papaya, grandmother and granddaughter have the following exchange:
"What kind of story did you want me to tell you, con?"

"I'm after the big one."

"Oh dear."

"Leaving Vietnam. The boat journey. That's what I want to write about."
For me, this exchange frames the entire collection. Eventually Grandma does tell a story, just not the right one. By the end of the telling (and I won't spoil it for you) Grandma has introduced her first rule of Vietnam and consequently the first rule of The Frangipani Hotel: "it always gives you what you ask for, but never exactly what you want." This slight of hand is the magic of the work. In nine vignettes, Kupersmith builds a world that expands outward from her mother's homeland of Vietnam across the Pacific to the urban United States, and back again. Yet, just like Grandma, Kupersmith resists giving readers stories they expect. For the majority of US readers (of which I am a part), any working knowledge of Vietnam and Vietnamese culture is wrapped up in a history of colonialism and conflict. To tell that story, the story we ask for would be to limit a place and its people. Telling the expected story locks Vietnam into a historical moment and a geographic place, but for Kupersmith's characters, Vietnam is always simultaneously central and peripheral, past and present, whole and fragmented, a place to escape from and to return to. It is always with you and impossible to know if one is truly free of it. And it's within the movement between these binaries of place and time that ghosts, magic, and horror blossom.
I really loved this collection! The beauty of it is that the stories are literary popcorn. While reading, I wanted to dip in for just one more mouthwatering story. And there a moments that are literally mouthwatering. (Everyone eats in these stories, making it my kind of book!) Kupersmith uses dishes, like bánh mì, bún bò, and egg rolls, to anchor the unfolding of stories. Thus, the telling and consumption of stories (and by extension of history, culture, and ancestral knowledge) is inexplicably intertwined with the preparation and consumption of food. The moreish quality doesn't end with the descriptions of delicious food and its consumption; it's also built into the shape of the tales with stories building to or past climaxes in unexpected ways. Violence and monsters lurk in the wings of the stories just as often as they feature on the page. The storytellers in Kupersmith's stories stop and start, or divert their stories in surprising directions, and often it's the anticipation of action that fills out the dénouement. This structure drew me in over and over even as the stories themselves would end.
The particular wonder of this collection, for me, is that unlike a light and salty snack these stories are laden with questions about being, history, and pain. They grapple with what it means to carry intergenerational trauma, to deal with the remnants of foreign invasion and colonialism, to immigrate and assimilate. But the stories are never heavy; they move quickly, aching with equal bouts laughter and horror. We easily move from the urban hunting grounds of a parched river spirit with a hankering for white men ("Reception"), to the rural bamboo backyard of cursed twins ("The Red Veil"), to the clever nursing home machinations of a mother trying to convince her busy daughter to visit ("Descending Dragon"). And that's to say nothing of the folkloric elements. The monsters in Kupersmith's folktales are often just as bewildered, as unstuck in time and place, and as angry as their human counterparts. They are difficult to summarize, but leave quite an impression. The one image that has stayed with me is of a woman surrounded by black flies. She has white markings on her fingers and is carving bread for the perfect bánh mì. Covered in flies, she continues to cook, hanging between worlds, neither fully living nor fully dead.
---
Alyssa Collins is a Ph.D. candidate in the English department of the University of Virginia and a 2016-17 Praxis fellow in the digital humanities. Her work explores the intersections of race and technology as depicted in 20th century and contemporary African American literature, digital culture, and new media. When she's not writing her dissertation she writes about race, superheroes, television, and embodiment around the internet.