Success! After not meeting my goal last year, I'm proud to share that I've completed this year's Sirens Reading Challenge: 26 books. Because it's a reunion year, I had more books to read than a usual Sirens year—often, I've already read a few of the books on the required theme list and can get a bit of a boost. But with four themes to revisit, I was forced to abide by the asterisked rule per category: books I'd read previously, and authors I've read previously, were ineligible. That Amy Tenbrink, she's sneaky.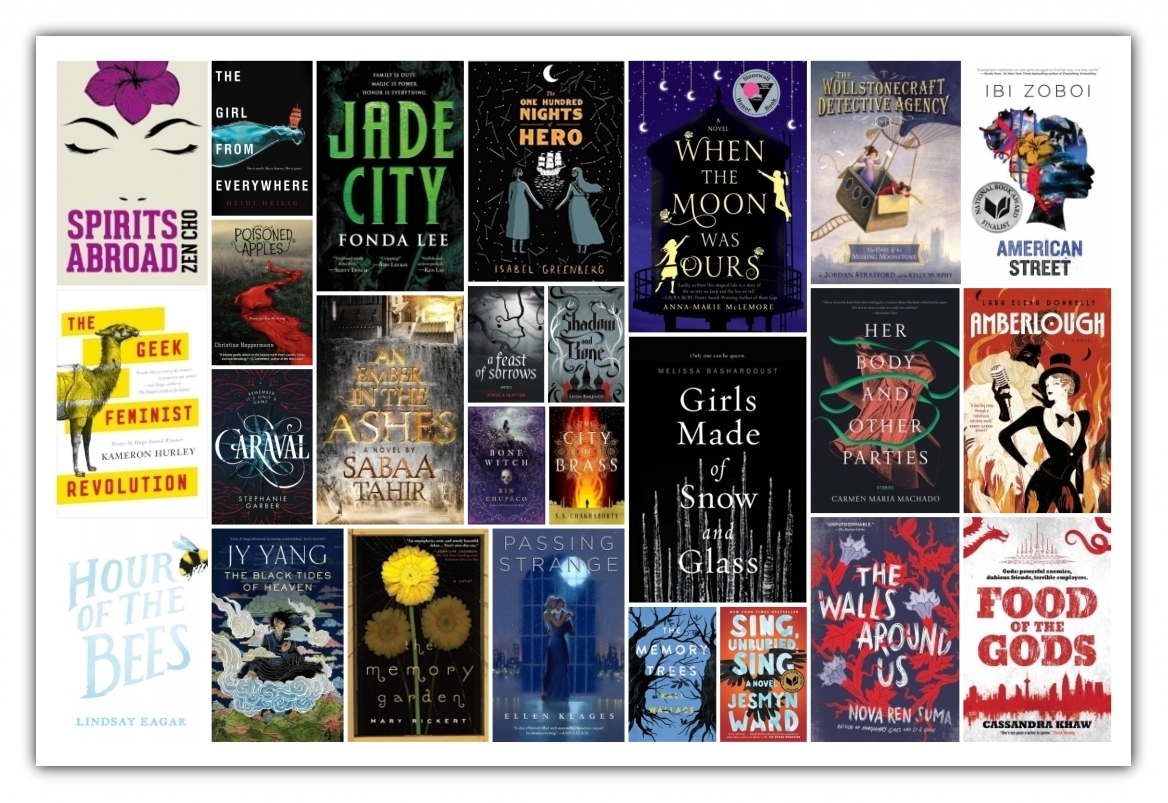 *Unpictured: Violet Kupersmith's The Frangipani Hotel, as I made this list prior to the change. But I have read it, though!
Here are some stray observations I offer to you, fellow readers, which you are welcome to discuss with me in the comments or in person at Sirens:
Novellas reign supreme in adult fantasy and science fiction. I like reading them, and publishers seem to like publishing them. Perhaps readers like myself—and publishers putting them out—are catching on that you don't necessarily need a doorstopper to get a great fantasy book. It's no surprise I chose to read them for this challenge; they're quicker to read, are the perfect length to truly explore a concept and focus on craft, and you can really sink into it over short stories (some of which are over too quick!). Some of my favorite reads this year were novellas: Passing Strange and The Black Tides of Heaven.

I'm hard to impress in YA. YA has been rough for me for the past few years now. I refuse to lower my standards for YA books, having worked in children's publishing for the last eight years. I have my favorite standbys, Laini Taylor and Megan Whalen Turner, who are ineligible for the challenge. Contemporary YA has been really exciting lately; I think I'm looking for diversity, worldbuilding, and craft in fantasy YA, and I couldn't quite find a book this year—by a new author eligible for my challenge—that hit all three.

More pictures, please. One of the best books I read this year was The One Hundred Nights of Hero, which I'm a little surprised seems under the radar (or maybe it isn't and I need new book friends?) But I didn't get as much graphic novel love as I did last year, and I miss it.

I need to pace my reading for next year. What happened, inevitably, is that I inhaled all the books I was looking forward to reading at the beginning of 2018, and then stalled, and stalled, until late August when I realized I still had ten books left to go, none of which I was super looking forward to (though there were some surprises!). Because if I had, I would have read them earlier. It made for a pretty frantic last month.
The quick five-question survey, modified for reunion year.
Favorite Book: Carmen Maria Machado's Her Body and Other Parties, which matches the rage I so often feel, especially this last week. Probably the best book I've read in the last five years, if I'm being honest.
Favorite Reunion Category: This is a tough one. Rebels and revolutionaries is my favorite theme that we've ever had, but this year, all the hauntings books I read were pretty great: The Walls Around Us, The Memory Trees, and Sing, Unburied, Sing. Followed by lovers, a category that was never really my favorite—but I loved The One Hundred Nights of Hero and Passing Strange.
Favorite New (Or New-to-You) Author: Angela Slatter and her collection A Feast of Sorrows. This is how you write a collection of fairy tales!
Favorite Female/Nonbinary Character in a Book: Mary and Ada in The Case of the Missing Moonstone, because they complement each other beautifully and are so freaking awesome. Also known as the Most Delightful Duo.
Book that wasn't what you expected: Food of the Gods was certainly the biggest surprise, as it's the most absurd. I also had expectations going into Girls Made of Snow and Glass, Poisoned Apples, and Caraval, which none of them really met. I was also a bit surprised by The Geek Feminist Revolution, which I very much enjoyed, but seemed to be written primarily for a writerly audience that I am not part of.
Here's the full list of what I read:
Guest of Honor Books: Required
Kameron Hurley, The Geek Feminist Revolution
Violet Kupersmith, The Frangipani Hotel (read in a previous Sirens year)
Anna-Marie McLemore, When the Moon Was Ours (read in a previous Sirens year)
Leigh Bardugo, Shadow and Bone (read previously)
(also Zen Cho, Spirits Abroad)
Hauntings Books: Pick Three
Nova Ren Suma, The Walls Around Us
Kali Wallace, The Memory Trees
Jesmyn Ward, Sing, Unburied, Sing
Revolutionaries Books: Pick Three
Lara Elena Donnelly, Amberlough
Sabaa Tahir, An Ember in the Ashes
Christine Heppermann, Poisoned Apples: Poems for You, My Pretty
Lovers Books: Pick Three
Isabel Greenberg, The One Hundred Nights of Hero
Heidi Heilig, The Girl from Everywhere
Ellen Klages, Passing Strange
Women Who Work Magic Books: Pick Three
S. A. Chakraborty, City of Brass
Rin Chupeco, The Bone Witch
Mary Rickert, The Memory Garden
Middle Grade/Young Adult Books: Pick Five
Melissa Bashardoust, Girls Made of Snow and Glass
Lindsay Eagar, Hour of the Bees
Stephanie Garber, Caraval
Jordan Stratford & Kelly Murphy, The Case of the Missing Moonstone
Ibi Zoboi, American Street
Adult Books: Pick Five
Cassandra Khaw, Food of the Gods
Fonda Lee, Jade City
Carmen Maria Machado, Her Body and Other Parties
Angela Slatter, A Feast of Sorrows
J. Y. Yang, The Black Tides of Heaven
Now please excuse me as I read all of the sequels and author favorites in the next month before the 2019 challenge comes out!
---
Faye Bi is a book-publishing professional based in New York City, and leads the Sirens communications team. She's yet to read an immigrant story she hasn't cried over, and is happiest planning nerdy parties, capping off a long run with brunch, and cycling along the East River.