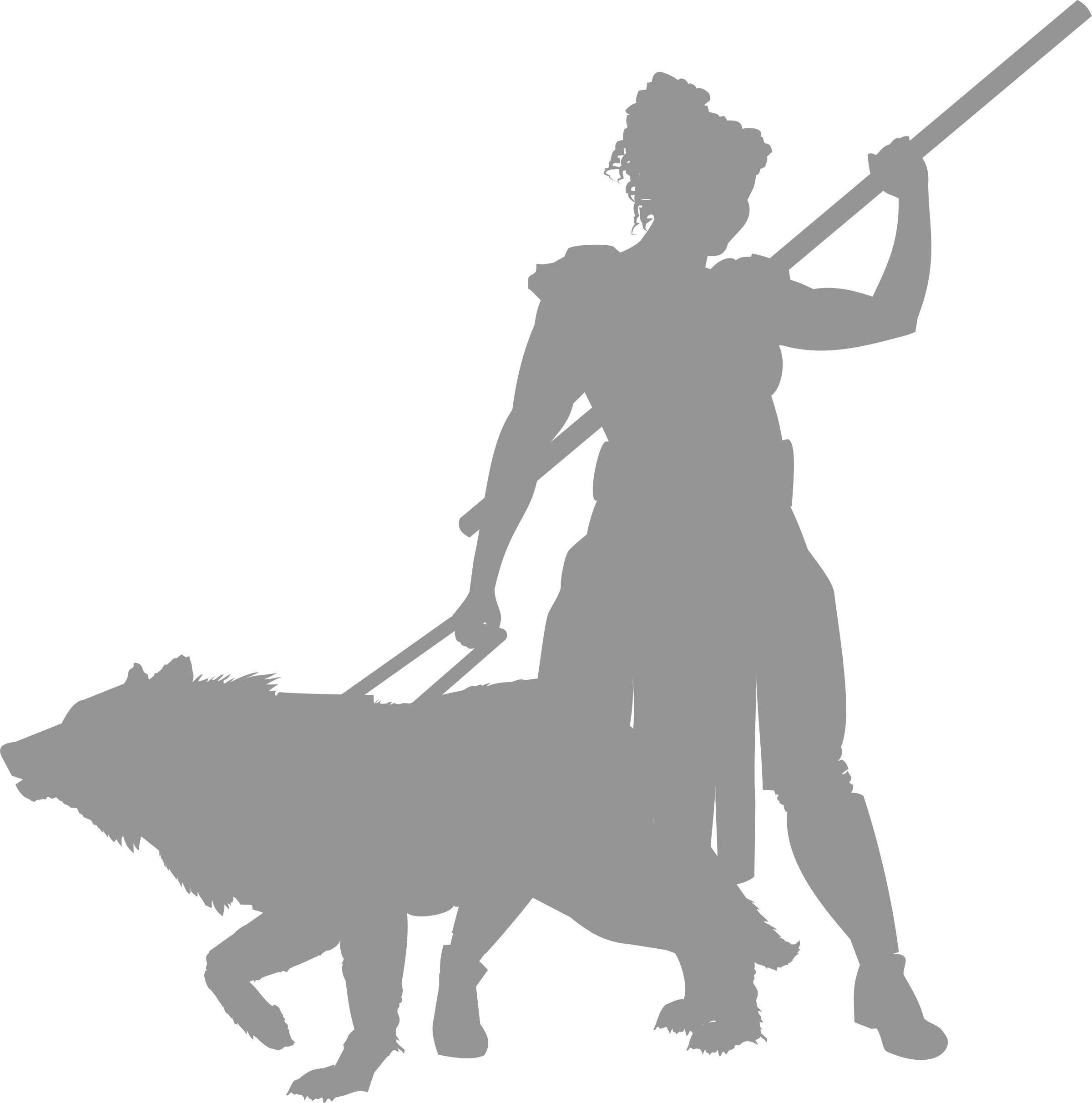 Who do you picture when you think of a hero?
A boy pulling out a sword from a stone? An orphan receiving a letter telling him he's a wizard? A king with the fate of the realm in his hands? A scientist with a secret to save humanity? A playboy billionaire who wears a flying robot suit?
If you're a cisgendered man, becoming a hero is a pretty straightforward thing.
The steps are simple: Become stronger, smarter, or more powerful than everyone else. Meet an avuncular older mentor with a beard. Learn to wield a deadly weapon. Go through some kind of physical, spiritual, or monomythical bullshit. Perform some hypermasculinity. Vanquish evil. Save the cheerleader, save the world.
And if you're a cisgendered man, society is all-too-happy to point you down the path to heroism. From birth, and likely with little effort on your part, you are told that you're special. Important. The illustrious warrior. We look to you for leadership. We like your muscles, your cocksure attitude, your damsel-saving, and your evil-vanquishing.
But if you're a woman? Or nonbinary? Things are a lot more complicated.
Our concept of heroism is impossibly, hopelessly entangled with societal expectations about gender.
We like guys who are heroes. We don't like sword-wielding, damsel-saving, evil-vanquishing, green-and-angry women. We don't like muscle-bound, confident, dragon-slaying nonbinary people, even if they built their own flying robot suits with their billions.
What will it take for women and nonbinary people to be seen as heroic?
Perhaps the pretty, passive, silent girls of folktales come to mind. Girls—nearly always girls—who chatted with birds and just wanted to stop doing housework for two seconds so they could go to the ball. Girls in red cloaks who sought armed, burly men's help when a wolf preyed on their innocence. Well-behaved, bookish girls who martyred themselves for their fathers' freedom, only to save a beast with their improbable love. Girls who made the slightest of ripples, all while reinforcing the worst of our societally imposed gender limitations: Be good. Be chaste. Be silent. Be kind. These girls—in stories collected and passed down by men—weren't heroes so much as cautionary tales.
Eventually the girls and women who wield swords, just like the men, became our next generation of heroes. They have enemy armies to battle and evil mages to defeat, just like the men. But of course, this often-pale imitation of heroism is permitted only for cisgendered, heterosexual white women who pretend they're boys and don't kill anyone along the way. Fantasy literature has a legion of these girls, grudgingly allowed a place somewhere in the vicinity of the male hero pantheon, who behave like boys, wield swords like boys, work a thousand times harder to prove themselves as heroic as boys, and ultimately, when asked, step aside for boys. After all, there are rules for the girls allowed in the hero club.
Be good. Be chaste. Be silent. Be kind. Put down the sword, Brienne. Step aside, Natasha. Stop bossing, Hermione. No, you cannot have pants, Wonder Woman.
Our heroism is far greater than that.
So, for Sirens in 2019, we present these questions:
Who is seen as a hero, and what attributes make them heroic?

How do we, as a society, define heroic behavior and action?
We demand heroes who don't fulfill the hypermasculine stereotypes of our societal construct of heroism. We demand heroes who don't choose the same paths as cisgendered, heterosexual male heroes, or the same provocations, or the same weapons, or the same outcomes.
We demand heroes of all genders, all sexualities, all races, all faiths, all sizes, all abilities.
We demand heroes like Mishell Baker's Millie (Borderline), whose dysphoria and rebuilt body help make her heroism possible. We demand heroes like Ausma Zehanat Khan's Arian (The Bloodprint), whose faith is her strength and her courage. We demand heroes like Rebecca Roanhorse's Maggie (Trail of Lightning), who fights monsters while thinking that she is, herself, monstrous. We demand heroes like Roshani Chokshi's Aru and Mini (Aru Shah and the End of Time), whom everyone doubts, but no one should. We demand heroes like Dr. Suzanne Scott, whose passion and research and scholarship (Fake Geek Girls) focus on inclusive heroism across popular culture and fandoms.
The 2019 Sirens theme is heroes because we demand a revolution—and evolution—of what it means to be a woman or nonbinary person and a hero.