The Sirens Review Squad is made up of Sirens volunteers, who submit short reviews of books (often fantasy literature by women or nonbinary authors) they've read and enjoyed. If you're interested in sending us a book list or review to run on the blog, please email us! Today, we welcome a book list from Lani Goto.
These are recent or currently running comics I've really enjoyed, all by creators who both write and illustrate the works. There's a wide range of styles, both visual and narrative, which gives a small sampling of some of the amazing variety in sequential art. If you want to expand your horizons beyond spandex and punching, here are some books that offer excellent options.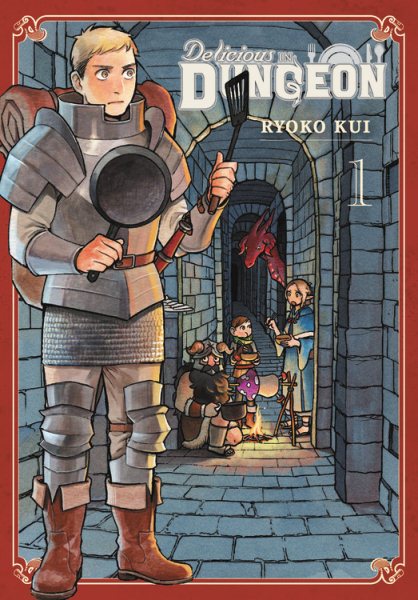 1. Delicious in Dungeon by Ryoko Kui
This fantasy series follows a team of adventurers as they descend into a magical dungeon full of traps and monsters. It sounds like a very standard setup, except that along the way, they find that the best means to survive is to cook and eat the creatures they encounter. For some—like Laios, the excitable human fighter—this is a dream come true, as each beast provides a new culinary delight. But for others—like Marcille, the skeptical elven magician—this is super gross and very, very weird. No matter their views on food, though, the adventurers must hurry to rescue one of their own before it's too late. And as they go deeper into the dungeon, unusual provisions might be the least of their worries.
The effortless humor and incredible art (not to mention the surprisingly realistic recipes) set this apart from many other D&D-inspired works. Although the series does play with fantasy tropes, it's much more than an RPG parody. As the plot continues, Kui deftly raises the stakes, but the comedy never takes a back seat to the thrills. The well-rounded characters and engaging story made me laugh, gasp, and eagerly look forward to the next volume. (As of this writing, six volumes have been released in English.) It also made me really hungry, so plan to read these books with plenty of snacks on hand.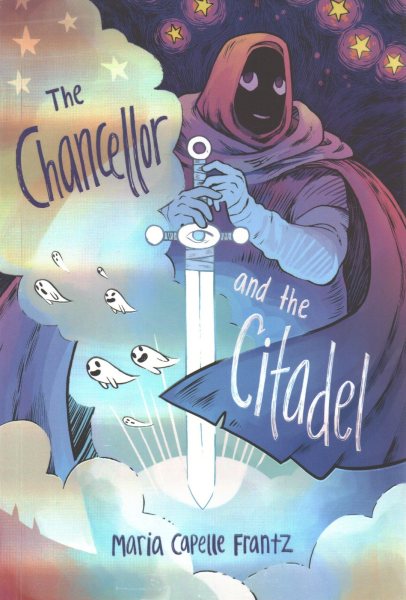 2. The Chancellor and the Citadel by Maria Capelle Frantz
This is a short but lovely read, set in a ruined world after a nameless catastrophe, where the Chancellor is the mysterious guardian of civilization's last stronghold. Though she tries her best to protect everyone, things go awry, and her friend Olive might have to help despite not having the Chancellor's power. But it's no easy task when the precarious safety of the Citadel is threatened from outside… and within.
Frantz's richly textured art creates an immersive realm of light and dark, bringing nuance to her story of fear, trust, and community. There's a kind of coziness and charming strangeness in the setting, which draws you in even as Frantz leaves much to the imagination: What are the tiny ghost-like creatures that swarm curiously around? If the residents of the Citadel aren't human, what are they? What exactly happened to the world? But these elements add to the interest, and encourage you to spend time enjoying the details of her evocative drawings.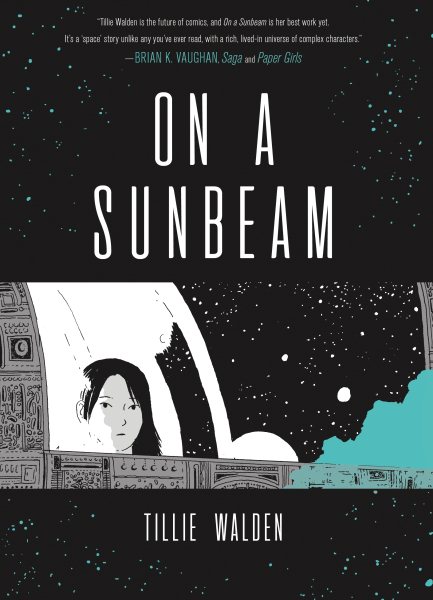 3. On a Sunbeam by Tillie Walden
In this queer coming-of-age story, two timelines unfold the experiences of uncertain teen Mia, one when she meets her friend Grace at an interstellar boarding school, and the other, five years later, where she joins a space-faring crew for her first job. Both threads follow Mia's developing relationships with Grace and her crewmates, and eventually the two come together as Mia reaches a new point in her life.
On a Sunbeam was originally serialized as a webcomic, but reads as a seamless whole in its collected book form. Walden's gentle storytelling is beautifully complemented by her atmospheric and meditative art. She presents a surreal setting—vast halls floating in glittering space, fish-shaped ships swimming through the darkness, a total but unremarked-on absence of men—with simple matter-of-factness. And like how the extraordinary is juxtaposed with the mundane, Walden matches dreamlike visuals with vivid, relatable emotions. As Walden explores familiar themes of loss, belonging, and growing up, she provides a quietly fantastical space to give shape to the way a young girl finds herself.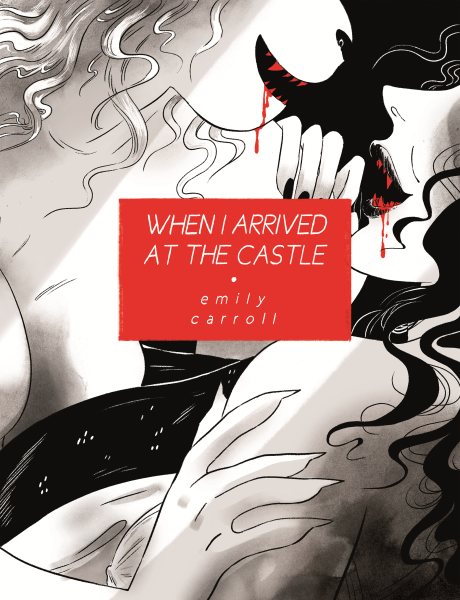 4. When I Arrived at the Castle by Emily Carroll
It begins with a dark and stormy night, but nothing else about this book is cliche. A catlike woman comes to the lair of a dangerous Countess, and the ensuing encounter rapidly descends into a seductive nightmare of guilt, fear, and rage. (Content warning for some gore/body horror—while not excessive, this comic might not be for the more squeamish.)
Carroll's latest book is a prime example of her gorgeous, fairy tale-inflected horror. Her lush art spills across the pages, mostly in black and white, except for interjections of visceral red. As Carroll blends the erotic and the macabre, the imagery veers from decadent elegance to grotesque monstrousness. It's the perfect medium for this sensual, unnerving story where ambiguous relationships and fractured histories make for a disorienting yet relentlessly eerie mood. There are no clear roles, the sense of urgency wanes into lassitude then flares back to dire intensity, and in the end, we're left unsure of the outcome. Yet while there's no tidy conclusion, there is still a certain grim satisfaction in knowing that something has changed, and the story could continue, but in a different way.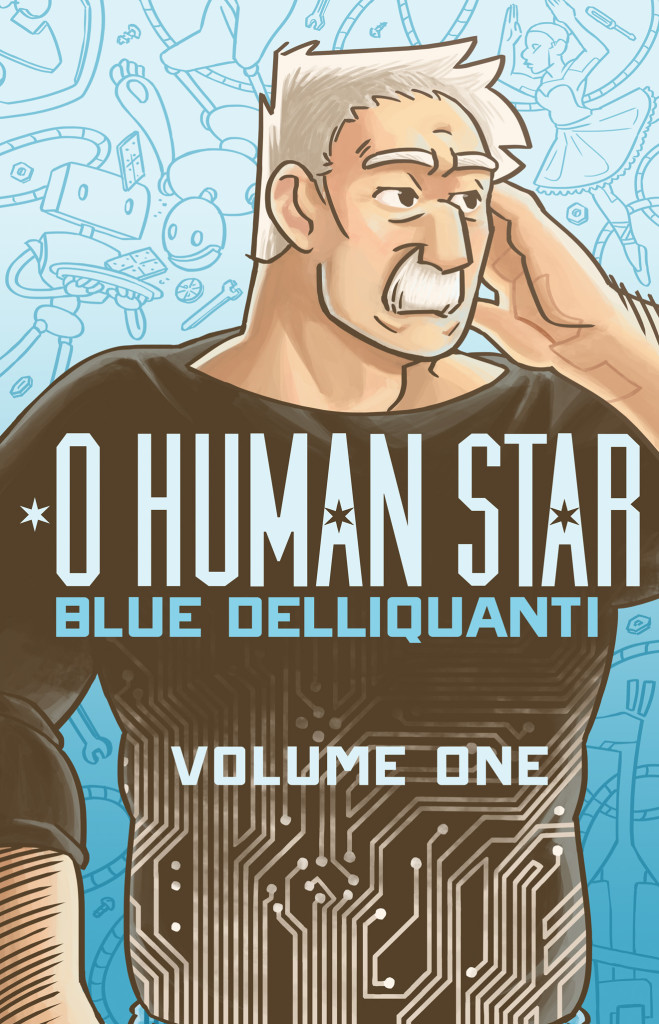 5. O Human Star by Blue Delliquanti
Al was an inventor who died before he could see his pioneering work in robotics come to fruition. But sixteen years after his death, he wakes up in a synthetic body exactly like his old one, and finds that humans and robots live in society together. As Al tries to figure out what has happened to him, he reunites with his former partner Brendan, now a respected inventor in his own right. Meeting Brendan also introduces Al to Sulla, a robot girl who closely resembles Al. As they work to uncover the mystery behind Al's new life, they learn more about themselves and their relationships with each other.
This long-running webcomic is approaching its conclusion online, so now is a good time to get caught up; there are two books which collect chapters 1 through 5. (As of this writing, chapter 7 is underway, and the forthcoming 8th chapter will be the last.) Delliquanti has carefully crafted a suspenseful, intriguing story with two timelines—the past, where Al is still alive, and the present, where he is resurrected as a robot—building and reflecting on each other as they gradually converge. The clean, expressive art makes it easy to follow the sometimes complex plot, and conveys the emotional depth necessary for a work that examines identity in a profound and personal way. Delliquanti's story delves into issues of sexuality and gender, not shying away from heartaches and struggles, but also warmly celebrating the joys of self-discovery. Along with the solid writing, the thoughtful character development and worldbuilding make this one of my favorite ongoing comics.
---
Lani Goto grew up on a steady diet of fantasy books, but now it's more like a mix of some fantasy, lots of science fiction, and a bit of horror. In addition to reading, they enjoy cooking, hanging out with animals, and yelling at movies. They have a degree in art, and another in comics, though they currently work with engineering teams at the Wikimedia Foundation.