The Sirens Review Squad is made up of Sirens volunteers, who submit short reviews of books (often fantasy literature by women authors) they've read and enjoyed. If you're interested in sending us a review to run on the blog, please email us! Today, we welcome a review from Bethany Powell on Yoshiki Nakamura's
Skip Beat! Volume 1.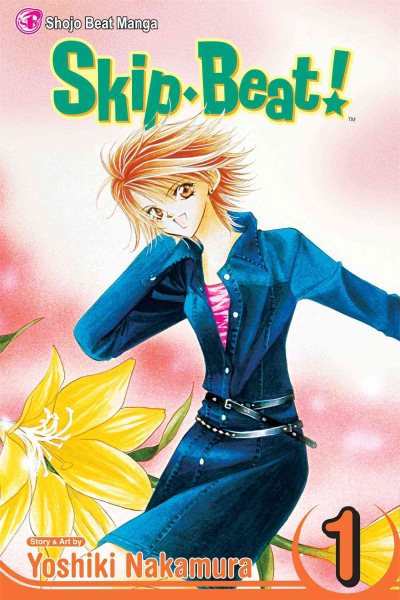 I started reading Skip Beat! about a decade ago with the same sort of sheepish self-indulgence that I picked up most shojo manga. I'm drawn to manga both for nostalgia value (I didn't read manga as a teen, but I lived in Japan as a teen) and for the kind of unstinting wish fulfillment that fuels it. Now I'm unafraid to say the series is one of my favorite long-form stories ever. It doesn't avoid the tropes that make manga so fluffy and readable, by any means. Superficially, it's a delightful story of a girl fighting to succeed in show business, and everything I love about a showbiz story can be found here. Skip Beat! embraces tropes with the kind of loving attention that elevates them. The real core of the story, however, is about a girl discovering her own darkness and the power it can give her.
The first volume of Skip Beat! commences as it will go on: with a surface-level recognizable trope swiftly layered with something more complex. Kyoko Mogami greets customers and competently takes their orders at "Mozburger" with the kind of cheery compliance that promises a worthy heroine. This is, of course, only one of her multiple part-time jobs, further suggesting her hard-luck status. As she changes to get to her second food-service gig (which indicates the kind of grit this girl has) she overhears with pleasure a coworker admitting to switching idols for the emerging musician Sho. Her fangirl pride, however, is swiftly overridden by a darker energy when she finds out there was a poster giveaway for the album. She bought two copies, and got zero posters. The escalation of her desire and panic frightens her coworkers, unsettling in the prosaic world of part-time locker rooms.
Kyoko tears across Tokyo, commandeering a gangster's bicycle through sheer spiritual intensity, and rushes to the music store in half the time it should have taken. She frightens the staff of the store as she drags herself in like a vengeful spirit, only to transform back again into the effervescent girl as soon as she touches her posters. Even so, the image of her crazed determination lingers. Is this just an exaggerated portrait of a fan? Or does Kyoko have something else going on?
By the end of this chapter, the latent powers suggested in this sequence are released by a betrayal that cuts so deep, she swears off love forever. Much more importantly, she vows to have vengeance with an unholy energy that propels the rest of the story, complete with little demonic manifestations. And I love this.
Kyoko isn't asked by this narrative to overcome her hatred, or to put her scary dark power away. She isn't here to learn to love again. She has begun a journey toward something much scarier: realizing her own power in that darkness. To eventually find love for herself, darkness and all. Even that is only once she chooses it, and is many volumes down the road. For now, Kyoko has freed her demons to fuel her, as she chases something for herself for the first time ever. Sure, the current impetus is to humiliate someone who has wronged her, but we all have to start somewhere. Why can't a girl's journey to self-actualization be kicked off by swearing to achieve some as-yet-undetermined celebrity?
I love any story where the protagonist has to face up to the uglier emotions of being human, and move on from there. This is one of the core facets of Skip Beat! that I keep reading for. I also am constantly delighted by the way no character is left as a two-dimensional trope. For example, Kyoko's first rival is a young woman who is arrogant and unlikeable, trying to push Kyoko down on her way to the top. After they both fail an audition, they develop an unlikely alliance and later become true friends. Kyoko is someone who can learn from her enemies as well as friends, and many of her friends are former enemies.
Nor does this story forget the girl Kyoko used to be. This might be another reason this story has my heart—despite her grudge-demon activated powers, Kyoko is also still the girl who had a masterful customer service facade. (One that later gets a lot more significance from her background.) That cheerful tenacity and tendency to be polite are still valued, even as she cultivates the powers of her hatred, too. It's way more relatable that she still has both sides, even though she has dedicated her life to achieving fame to prove her nemesis wrong.
Skip Beat! continues to unfold a story where emotions have power, none of them are shameful, and integrating them offers the ability both to go on after heartbreak and to improve as a performer. If a girl and her demons are both determined enough, even the toughest showbiz challenge can't keep them down.
---
Bethany Powell stumbled into speculative verse on the isolated plains of Oklahoma and has been in a fateful relationship with it ever since. Poems from this union have recently appeared in Asimov's, Liminality, and the solarpunk anthology Sunvault. More are forthcoming, and all can be found at bethanypowell.com Bethany is also a certified health coach who specializes in writers—helping them finesse their lifestyles and habits to support creativity long-term. Learn more at unlockcoaching.com