The Sirens Review Squad is made up of Sirens volunteers, who submit short reviews of books (often fantasy literature by women authors) they've read and enjoyed. If you're interested in sending us a review to run on the blog, please email us! Today, in honor of Rebecca's Guest of Honor week here at Sirens, we welcome a review from Casey Blair on Rebecca Roanhorse's Trail of Lightning.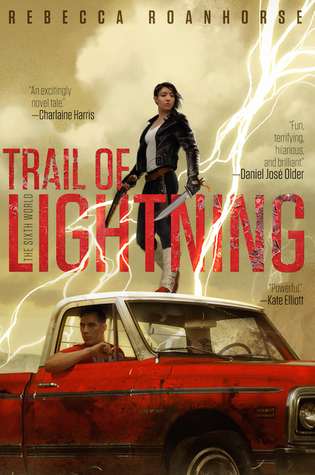 Buckle up, friends and neighbors, because if you haven't already read Rebecca Roanhorse's Trail of Lightning, you desperately need to check it out. Reading Trail of Lightning with Sirens's mission of engaging with the remarkable, diverse work of women and nonbinary people in fantasy literature in mind, all the while knowing that this year's conference theme is heroes, was, in complete honesty, a revelation.
In short, Trail of Lightning is the first of Roanhorse's Sixth World series, a post-apocalyptic urban fantasy adventure centering on Diné / Navajo characters and culture with magic drawn from its mythos. It stars Maggie Hoskie, a woman monster hunter living in Dinétah, the ancestral homeland of the Navajo tribe, which encompass parts of what was Colorado, Utah, Arizona, and New Mexico. Dinétah has been isolated from the rest of what's left of the United States, protected by magical walls after climate change and rising sea levels have flooded much of the country. But we're going to go long here, because even in that abbreviated conception, this bears unpacking. Roanhorse is so intentional about what she's doing in this book that I am still reeling.
First, and I feel that it's important to lead with this—Trail of Lightning is an enormously fun read. It's everything I want from urban fantasy: adventure, magical battles, mystery, and banter; it's fast-paced and action-packed. And while packing in the physical punches, Roanhorse manages to get in the emotional punches at the same time without ever slowing down.
It also, in the true sense of "urban" fantasy, explores a situation tightly predicated on its setting. While Trail of Lightning doesn't only occur in one specific city or even a specific urban landscape, it's a story so embedded in its setting that it literally couldn't take place anywhere else. And this is where Roanhorse's take on post-apocalypse really shines, because as she points out in the novel, the Diné can survive and thrive in this world in part because indigenous peoples on this continent have already experienced an apocalypse.
This is not a world that Roanhorse could have chosen just any cultural history for: it's uniquely and intentionally centered on native experiences, which is what distinguishes it from other post-apocalyptic fiction. Surviving and thriving, and surviving versus thriving, are concepts that recur throughout the book—on both the cultural and individual level. Roanhorse offers those of us who aren't Diné a window into Navajo culture, which is so rarely centered in mainstream fiction. I love that she doesn't hold the reader's hand through unfamiliar words or concepts—everything we need is on the page, and if we want more background about the tales she's drawing from? Her task isn't to educate the reader; it's to tell a story, and she does a fantastic job of it.
But that very centering—and not catering to a "default" white audience—is political, and Roanhorse doesn't shy away from that. Whether she's weaving depictions of microaggressions to build an impression of their combined weight, or taking on the inevitability and scope of climate change at a time when it's more relevant than ever, she doesn't soften or obfuscate her intentions. That matters.
Trail of Lightning is also one of the best takes on monstrous women I've ever read. Maggie Hoskie has awesome powers, but they are powers predicated on combat and death, subverting a historical stereotype of women's magical powers in fantasy to be associated with life (healing, fertility and growth, bringing people together, etc.). In her eyes, if she has such abnormal, destructive powers, it must be that she is a naturally destructive person.
Maggie believes she's a monster. We see throughout the book why, and how she feels about that—but we also see why other people believe she's either better or worse than she is. We see the power of community to punish or lift up, and specifically how, in this world with communities that survived an apocalypse, it affects this powerful, devastated woman's ability to thrive. We see the trap of Maggie's survivorship trauma from the inside and out, as Roanhorse forces us to consider: what is a monster, what makes a person a monster, how people learn to believe that they're monsters, how they internalize that belief and become complicit in maintaining and passing it on, what that allows them to do—and can people change? If so, how? And does it even matter?
How do the stories that we hear, that we tell ourselves, and that we forget, define who we are? And can we choose to tell different stories that still feel like truth?
We can't always prevent disasters and apocalypses, be they personal or on a grand scale, but for better or worse we can reshape and redefine ourselves and our worlds in their wake. As Maggie's sense of self and her power break past the cage she was induced to help build for them, what does that mean for the larger-than-life men who try to control her, whether through treachery, sweet promises, or literal branding?
No spoilers, but…let's just say that doesn't work out how they planned. And it is so very, very satisfying to watch Maggie learn to fight, fight to rise, and not just survive, but thrive.
Maggie's adventures continue in Storm of Locusts, which came out this past April, and trust me: you want to know where Roanhorse takes her next.
---
Casey Blair is an indie bookseller who writes speculative fiction novels for adults and teens, and her weekly serial fantasy novel Tea Princess Chronicles is available online for free. She is a graduate of Vassar College and of the Viable Paradise residential science fiction and fantasy writing workshop. After teaching English in rural Japan for two years, she relocated to the Seattle area. She is prone to spontaneous dancing, exploring ancient cities around the world, wandering and adventuring through forests, spoiling cats terribly, and drinking inordinate amounts of tea late into the night.