The Sirens Review Squad is made up of Sirens volunteers, who submit short reviews of books (often fantasy literature by women authors) they've read and enjoyed. If you're interested in sending us a review to run on the blog, please email us! Today, we welcome a review from Amy Boggs on April Daniels's
Dreadnought.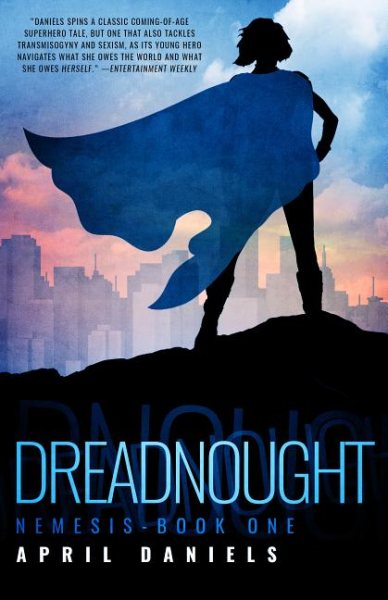 Dreadnought is the angry, hurt, determined, super-powered girl book my soul desperately needed, offering fierce hope to combat a world where it's so easy to get overwhelmed into apathy.
As a trans girl who is not out to her family, 15-year-old Danny Tozer has a plan: keep quiet, survive, and get out at 18. But when the world's most powerful superhero transfers his powers to her before dying in her arms, everything changes. Part of Dreadnought's powers is their body becomes their ideal self. Other Dreadnoughts got taller or broader; Danny has her dream transition. She also has all the powers any superhero fangirl could want.
But things aren't that simple. Dreadnought's superhero team is divided about accepting Danny, her family is trying to "fix" her, and even her best friend is acting weird. Danny realizes just because your dreams come true, doesn't mean the world will celebrate you. On top of that, Dreadnought's killer is still on the loose, and any supervillain able to take out the world's greatest superhero is bound to hit a new one like a hurricane.
Dreadnought is the very best of what the realist superhero genre can offer, delving into heroism, trauma, and acceptance both within and without. The story never takes the easy way out. Often a narrative of overcoming is portrayed as one sweeping upward arc. Here, however, Danny revels in her power and self-love in one scene, only to have her father harangue her into a ball of self-hate the next. Just because you've claimed your self-worth doesn't mean you always feel worthy, and it's beautiful to have a book recognize that so clearly. A note: Transphobia shows up in many forms in the book, from violence to microaggressions, but by centering Danny, it feels like the author is reaching to trans readers to show they are not alone and their experiences are not trivial.
The exploration of Danny's powers is similarly nuanced. Slingshot from helpless and hurt to one of the most powerful people on the planet, she faces dangerous temptations and a great mental toll, although those themes are more deeply explored in the book's sequel, Sovereign. (As is the romance, but no spoilers about that.)
Dreadnought also delivers what I love most about sci-fi/fantasy: tremendous world-building. In the book, powers have been around a while but in 1944, Dreadnought appeared with greater powers than ever seen, becoming the first superhero. More followed, and then, as is wont to happen, supervillains. But this isn't just backstory duct-taped to our world. It is woven into modern society. There are government-licensed superheroes with support and funding based on success-rates, and vigilantes technically breaking the law but largely ignored in the face of super villains. There are also people with abilities who look at life-endangering superhero work and decide to take a job as a well-paid flying courier instead. Sirens go off when a super-powered battle goes on so people can flee to shelters, and there's a semi-annual superhero convention in Antarctica. There are also the little realistic details, like when Danny doesn't use a car like a baseball bat because modern cars are designed to crumple as gently as possible. (Rip the engine out, though, and you've got yourself a proper weapon.) It feels like the tip of the iceberg we see on the page is tiny compared to the amount of thought and research that went into it, really focusing on the consequences of these changes to our world.
Add in some of the best fight scenes in the superhero genre, and that includes movies. I'm particular about my fight scenes: they must be tied to the plot, they must have an emotional impact or drive, and they must make enough sense that even if you pick apart every move slowly, it's believable. Dreadnought is brilliant at this. (I did feel the sequel got a little glutted with fight scenes, but honestly it was all worth it for the final battle.)
The book is YA, but the kind that people who don't normally like YA might love. And the kind some devoted YA readers might balk at. This goes double for the sequel, which dives out of high school and deeper into the world of professional superheroism. But much like the duology's determined protagonist, Dreadnought doesn't care what boxes you try to shove it in. It is exactly what it is meant to be, and that is glorious.
This is April Daniels' debut novel and she has made me an eager fan. She is reportedly working on the third book, and I'll be ready to pre-order.
---
Amy Boggs currently works in contracts and previously was a literary agent. She is a devoted fan of fantasy, science fiction, and all the wibbly-wobbly of speculative art. In her spare time, she tiptoes through fandom and rants about media on Twitter @notjustanyboggs.