The Sirens Review Squad is made up of Sirens volunteers, who submit short reviews of books (often fantasy literature by women authors) they've read and enjoyed. If you're interested in sending us a review to run on the blog, please email us! Today, we welcome a review from Darla Upchurch on Anthea Sharp's
The Dark Realm.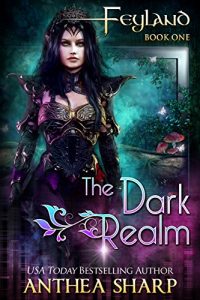 This summer, I am utterly addicted to LitRPG and Gamelit books. Each one draws you into a new and imaginative game world while usually managing to maintain an intriguing non-game-world, or "real-world," story at the same time. Anthea Sharp's first in her Feyland YA series, The Dark Realm, blends all of the fun gamelit elements with a game world of fairies.
In the beginning of The Dark Realm, the protagonist Jennet loses her mortal essence to the Dark Queen of Feyland in a prototype of the sim game her father is developing. When he relocates them to a new town for his job, Jennet is desperate to find a fellow gamer to help her reach the Dark Queen in-game for a rematch to reclaim her soul. Of course, the best gamer at her new high school is Tam, a guy from the wrong side of the tracks.
Throughout the real-world story, the little rich girl in a blue-collar town motif is used to good effect. The juxtaposition between Jennet's life of privilege and Tam's life of struggle is explored as the two try to navigate and understand each other's worlds. The game serves to bring them to a common ground where they can work together in ways that they can't in their real lives. In-game, he is given some preferential treatment (with strings attached) by the Queen, while Jennet has been stripped of even the basic right to level alone, essentially swapping their real-world socio-economic power dynamic, which gives each an insight into how the other lives in real life. Although neither character ruminates on it in this book, their in-game experiences affect their interactions in and out of game with more empathy. This introduces their potential in later books to change how they confront the roles their society thrusts upon them.
The real-world story is also populated with interesting side characters. Tam's daily struggles include interacting with his special needs little brother and drug-addicted mother. And Tam's best friend Marny delivers some fabulous lines: "I don't want to look like somebody's idea of the perfect woman. I want to look like me." If only we could all have that kind of confidence in high school, or adulthood! I hope to see more of her in the rest of the series.
The game world in The Dark Realm is based on a ballad collected in the 1800s and is rich with fairies, magic, and an evil queen intent on crossing over to the real world. This part of the book is intriguing, and I found myself only wanting more of it. I wanted the levels of the game to be longer, and I wanted more of them. But overall, the stakes rise in-game as they heighten in the real world, which crescendos the pace of the entire book till I found myself flipping pages past my bedtime to see what happened.
The game world story does lack big stat blocks, detailed character creation, and skill and stat advancement, so if that's your thing, this might not be the book for you. But if you're in it for the story, this one is delightfully fun all the way through. The author strikes a good balance intertwining the plot of the real world with that of the game world, and my only complaint really is that I wanted more of it all!
---
Darla Upchurch has been in love with magic and fantasy in literature since she stumbled upon Mary Stewart's Merlin trilogy at the library as a kid. Today she remains an avid reader and works as a copy editor. She dabbles in writing horror, romance, and fantasy under various pen names, and when she's not drinking coffee and typing furiously with a cat in her lap, she also enjoys Jazzercise, jogging, and catching up on Forged in Fire episodes.