The Sirens Review Squad is made up of Sirens volunteers, who submit short reviews of books (often fantasy literature by women authors) they've read and enjoyed. If you're interested in sending us a review to run on the blog, please email us! Today, we welcome a review from Tere Mahoney on Mona Awad's
Bunny.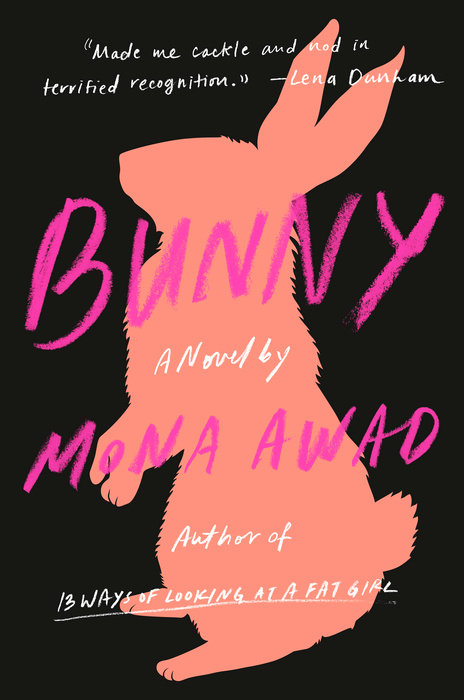 Many modern novels attempt to explore identity1 in ways that are heavy-handed and moralistic. While I don't take issue with these themes, I have often been disappointed with the execution of them in novels. However with Mona Awad's new book Bunny, I found an author whose literary chops and subtle hand allowed me to enter into the gestalt of women's relationships with each other, and discover how imagination can play a role in finding one's agency in a world that capitalizes on Otherness, through isolating us from each other. It is the best novel I've read all year.
At first I couldn't understand how the protagonist—a poor graduate student named Samantha Heather Mackay (nod to the 1988 musical Heathers)—could fall for the shallow enticement of belonging to the mean-girl clique in her creative writing program at a fictional Ivy League university. I persevered because of the gorgeous descriptive language and biting wit, and the fact that I began to suspect that the phantasmagorical Alice-in-Wonderland-like weird and disturbing events playing out weren't real, but actually metaphorical—imagination run amok, as it were. No spoilers, but I will say that Awad presents us with characters who will stop at nothing to gain entrance to—or maintain—their membership in the upper echelons of writerly elitism. Everybody gets blood on their hands.
The treatment of Awad's twee female foursome (all having named themselves a homogeneous Bunny) are given little individual character development or depth. They are instead the "blob of peach-colored flesh wearing a pastel rainbow dress." This group of antagonists (perhaps significantly a group of white women) is a symbol of a well-established competitive femininity that moves in packs and takes no prisoners. As Awad develops them throughout the novel we discover why and how this kind of femininity is systemically sustained in our society, making us our own worst enemies sometimes. Says Samantha,
I look up at the blob. It laughs softly with all its mouths.
"Bunny, this isn't high school."
"This isn't even undergrad, Bunny."
"Or an eighties movie."
"Or even a nineties movie."
"We're all educated adults here."
"…That's the beauty of being friends with us, Bunny."
"There don't have to be words sometimes."
"You could text us a whale tomorrow afternoon and we'd be like, We know. We'd know exactly what it is you were feeling."
The blob nods its four heads vigorously. Then it rises from its many thrones.
Awad reveals for us the quagmire of academic creative writing programs that require students to "dig deep" and "process" and open themselves up to "wounds" that "bleed" in order to do the "work," but how teachers in such programs do nothing to support students in the vulnerabilities they inevitably uncover in these reaches. Perhaps worse, academia is oblivious to the Othering dynamics it creates through coercing students to critique each other's work and "kill your darlings" (advice to writers by William Faulkner to avoid the overuse of favoured elements).
But what if your "darlings" are actually pieces of your identity? This is where Awad shines. She shows us what it means to belong to "tribes" without sacrificing the very elements that make us us. Throughout the novel Awad gives many witty, subtle references to privilege, exceptionalism and whiteness, bringing humour and depth to her character's choices. For example, if one replaces the word "cohort" with "tribe" in the following passage where Fosco, a self-important instructor, attempts to constrain Samantha's identity, one gains a visceral understanding of ingroup/outgroup dynamics (otherwise known as bullying):
"I always say your cohort is your life-support system while you're here….You need them as much as you need solitude. Too much solitude, Samantha, can just lead to the worst kind of paranoia and navel- gazing….Learning from each other, growing with each other, on the other hand"…
But I can't even answer her for the laughter bubbling out of my own throat. Laughter is a rabbit hole and I'm falling, falling like Alice. There is no way up or out. The only way is down, down, down. The only way out is to keep falling. Succumb.
With Bunny, Awad has written a Gothic horror novel in the style of Mary Shelley, and it is rich and delectable in its descriptive use of language and setting. Like Shelley, the author uses allegory to explore how the power invested in established institutions eats the most marginalized in its midst alive. To provide a concrete example of how the novel plays with the literary versus the literal, Awad notes early on that creative writing programs discourage dependence on "the time-space continuum aka plot." So Awad gives us the rare novel that is not completely plot driven, instead focusing on characters (or a group of characters!) and on seeing how the system itself reinforces the intersectional outsider's wasteland that binds us. One that is infused with loneliness. But one which we can free ourselves from, when we use our imagination.
In the end Awad gets the last laugh, because she takes every last crumb of creative writing instruction and packaged literary device, and through great storytelling recycles them all to create a novel that exposes the academy's (the system's) shallow underbelly. In this way she doesn't just use Samantha to take down the blob with her indisputably superior imagination, she fashions a literary jujitsu of the power structures among the intelligentsia and its "soft-serve" foundations by producing this well-received and important book. This is what ultimately makes Bunny such a tremendous and satisfying read: success is the ultimate revenge.
1identity: who a person is, or the qualities of a person or group that make them different from others; what the reputation, characteristics, etc. of a person or organization is that makes them viewed by the public in a particular way; usually referred to in terms of race, gender, class and/or sexual orientation.
---
Tere Mahoney is a communitarian and a former policy analyst living in Vancouver, Canada, having worked in both grassroots and policy development capacities with marginalized social groups. She now coaches, facilitates, and mediates, currently working as a conflict resolution specialist—because conflict often gets in the way of diverse and collaborative possibilities in communities. Tere also happens to have an undergraduate degree in English Literature, and is a long-time reader and lover of fiction.