Each year, Sirens chair Amy Tenbrink posts monthly reviews of new-to-her fantasy books by women and nonbinary authors. You can find all of her reviews at the Sirens Goodreads Group. We invite you to read along and discuss!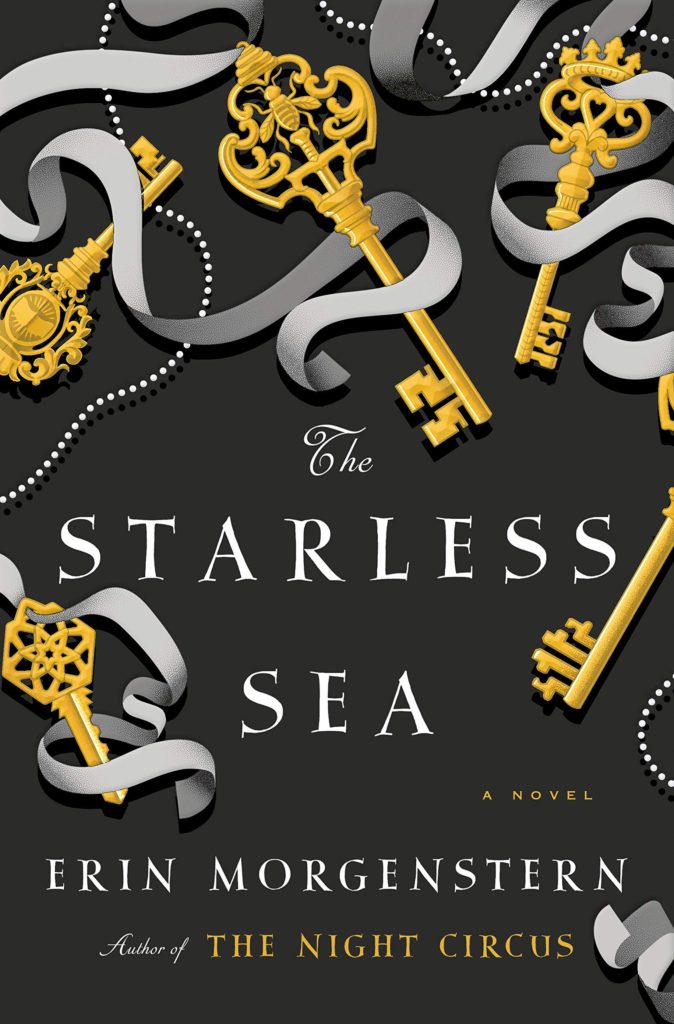 A few years ago, I burned through The Night Circus in a day.
I adored Erin Morgenstern's nighttime world, where glass-shard ruthlessness saves a love story from being sticky sweet. I loved the in-world-game-as-antagonist construct, the wonder of the gameplay transformed into love letters, the lush language. It's the sort of book I've never revisited, for fear of shattering that singular, perfect reading experience.
On December 14, 2019, I started The Starless Sea, Morgenstern's newest. On January 7, 2020, I finished The Starless Sea. I took so long to read The Starless Sea that it had three boarding passes in it before I was through.
I could make many excuses: work, the holidays, exhaustion, not the right time or the right place—though, please, a plane is always the right place. But let's get real: I read three books a week. If I'd loved The Starless Sea, or even liked The Starless Sea, I would have finished it in December. The middle of December.
Curioser and curioser.
The Starless Sea is Morgenstern's paean to readers. To those who love stories. To those who take a book everywhere. It's about the power of stories—but not stories qua stories, rather the power of stories as given to them by readers.
Every ounce of power in this book—every decision, every act, every love—is clasped in the hands of someone who loves to read books.
Zachary Ezra Rawlins is a master's student in the field of video games, with a focus on video games as storytelling devices. His mother is a fortune teller; his father is absent. He lives, as far as one can tell, a completely unremarkable, issue-free life. He studies video games, teaches his students, spends a lot of time in the library.
As far as Zachary Ezra Rawlins is concerned, his story starts with a book he stumbles across in the library, a very old book, with a chapter about him—and a painted door he encountered, but did not try to open, as a child. But the story is much, much older than that, as Zachary Ezra Rawlins is about to discover. And thus, begins a portal fantasy to end all portal fantasies—if only because it references Narnia, Wonderland, and all the rest. It's a very self-aware sort of paean.
So Zachary Ezra Rawlins—so sorry to belabor the point of his cumbersome name, but the book does and so, by God, shall I—starts a DaVinci Code-style adventure, following keys and bees and amorphous clues to a party in New York where he meets a woman dressed as Max, King of the Wild Things, and a man in the dark who makes Zachary Ezra Rawlins's world turn upside down. And unlike the painted door encountered in his youth, adult Zachary stumbles through a new painted door, into a vestibule with an elevator, and down down down to a foyer with a cup that says, inevitably, "Drink Me." There are also dice. Zachary rolls the dice. You think this means something, and it probably does, but it's never quite clear.
And so Zachary enters the Harbor, a labyrinthine, library-filled maze of stories in books and stories on ribbons and stories on shrouds and stories in candies and stories whispered in hallways and also cats. Ancient history is hinted at, clues continue to appear, and as a reader, you're vaguely annoyed—as is Zachary Ezra Rawlins—at being pulled away from all these things to read.
Where the book lost me is exactly where the book should have snatched me up by the throat and held me captive to its wonder and delight.
Interspersed with chapters about Zachary Ezra Rawlins and his floundering quest to, ultimately, save the Harbor (this is not a spoiler because, in a world populated with supreme knowledge of both Narnia and Wonderland, what else would this book be about?) are smatterings of tales. About Time and his love of Fate. About the Moon and the Sun—and their secret meeting at an inn. About the Owl King, or several Owl Kings, sometimes it's hard to tell. About bees. So many bees.
And as we journey along with Zachary Ezra Rawlins and Max and the man in the dark, of course this is all a single tale: Zachary meets Fate and Time and the Moon and the Owl King. And the bees. And, of course, there's a happy ending for Zachary and his man in the dark.
But I cared about so very little of it. I wish on a thousand blown dandelions that Morgenstern had told the entire story of Fate and Time and the rest up front, or in larger pieces between her acts, and not in the tiniest of confusing snippets between every two-page chapter of Zachary Ezra Rawlins stumbling through life not dissimilarly to how I stumbled through this book: confused, overwhelmed, and vaguely annoyed. (SPOILER) And when Zachary Ezra Rawlins dies toward the end of the book, by his love's own hand, I could only think: Thank God. But of course two pages later he's hanging out with the bees and by the end, there is a happy ending. (END SPOILER)
Ultimately, The Starless Sea drowned under the weight of its own storytelling. Is the pirate a pirate or a metaphor? Is Max a monster or a woman? Why has the inn moved to God-knows-where in the ancient layers of the Harbor? How do you sail a boat through honey? I just…couldn't.
But I kept reading all the way to the end, lured on by love of The Night Circus and my certainty that surely, surely a woman who loves reading so much as to write a book about the power of readers would have an earth-shattering, starlight-beautiful denouement. But there…wasn't. The point was the journey, not the mystery or the resolution. The point was the description-laden prose. The pirate-as-metaphors. The exquisite world in the dark by the honeyed, starless sea. The stories on ribbons and shrouds and candies.
In hindsight, what I really wanted was the story of Fate and Time, in this lush world of wonder. In a novella.
---
By day, Amy Tenbrink dons her supergirl suit and practices transactional and intellectual property law as an executive vice president for a media company. By night, she dons her supergirl cape and plans Sirens and reads over a hundred books a year. She likes nothing quite so much as monster girls, Weasleys, and a well-planned revolution.