We're pleased to bring you the first in our 2020 series of candid, in-depth interviews with this year's Sirens Guests of Honor, covering everything from inspirations, influences, and research, to the role of women in fantasy literature, and discussing our 2020 theme of villains! We hope these conversations will be a prelude to the ones our attendees will be having in Denver this October. Today, Sirens Communication team member Faye Bi speaks with publisher and comics creator Joamette Gil, this year's Sirens Studio Guest of Honor
FAYE BI: You introduce yourself on your website as a "queer Afro-Cuban cartoonist and publisher from the Miami diaspora." To me, each descriptor feels intentional and integral to your identity as creator and business professional. Can you tell us a little bit about your background and what inspired you to start making—and publishing—comics? In what ways do these descriptors affect, or not affect, your work?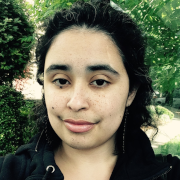 JOAMETTE GIL: As a creator, I'm primarily socially motivated: I want to be seen, I want others to see themselves, and I want my work to benefit the world. I publicly list my politicized and cultural identities because I want to be found by anyone who might be looking for me (or looking for themselves in me).
These descriptors affect every part of my life from top to bottom, my work especially, in that they inform my experiences and values. Everything I write or publish must fulfill a desire born when I was twelve years old, watching Sailor Moon on stolen cable: "I want to spend my life making people feel the way this makes me feel." What I felt then was wonder, passion, and catharsis.
I grew up in poverty in Miami, Florida, where being a member of the politically dominant Cuban majority there offers about as little benefit to Afro-Cubans (like my mother) as being American offers African-Americans. Social programs and ingenuity-born-of-necessity kept us as housed, clothed, fed, and healthy as they could. I excelled at school, taking on more and more advanced programs through adolescence, while playing surrogate mother to my siblings when caregiving with untreated mental illnesses became too much for my mother and stepfather. Anxiety, isolation, scarcity, constant problem-solving, avoidance of my own emotions: these are why I ultimately left for the opposite coast as soon as I was eighteen.
Through it all, to this day, cartoons were there to soothe me and help me dream. I love comics, in particular, as the most universal of the storytelling forms. It can be created, read, and shared across language barriers, even sans the ability to read or write words. I use the medium to express everything I did not formerly have the luxury nor space to express, and to empower others to have their own voices heard in an industry that struggles to compensate anyone well, let alone marginalized creators breaking barriers with their stories.
FAYE: You are a one-human operation at P&M Press, the publisher of Power & Magic: The Queer Witch Comics Anthology and Heartwood: Non-binary Tales of Sylvan Fantasy. You recently finished funding the Power & Magic: Immortal Souls (volume two) on Kickstarter. Was your plan always to start your publishing journey on their platform as opposed to traditional publishing, and what is it like working with their publishing team? What has been surprising about the process when it comes to the curation, production, and fulfillment? And can I please geek out about the beautiful foil and gilded edges on Heartwood?

JOAMETTE: Yes, Kickstarter was always the idea. (And please do—I'm still geeking out about Heartwood's production values myself!) Even prior to 2016 (when P&M Press was born), comics were very much a DIY space in my mind. Some of my first interactions with comics were online, during the 2000s era of webcomics, when people were figuring out monetization of works without publishing deals. I was probably part of the first generation of creators who would see self-publishing as the dream, not an alternative or a consolation route or a daring experiment. By the time I was in college, C. Spike Trotman was planting the seeds for Iron Circus Comics, the first (and to my knowledge, still only) comics publisher with mainstream, international distribution that started on Kickstarter. By the time I found my way to publishing others, revolutions in what was possible in comics had been fought and won ahead of me, creating a clear, new path.
As far as surprises, every campaign presents a new one! These are the sorts of things you don't read about if you Google "how to run a Kickstarter campaign," such as how Kickstarter earnings impact your eligibility for social programs, the various life scenarios that could lead to a fluctuating creator line-up throughout production, and just how many packages are "too many" to take to a post office on a single day.
FAYE: In both "As the Roots Undo" (your story in Power & Magic) and "Finding Alex" (your story in Heartwood), the forest is a place of growth, self-discovery and transformation. What draws you to these fairytale motifs and inspires you to keep returning? I noticed you are based in Portland, Oregon, home of many beautiful forests—do you have any favorite sylvan spots?
JOAMETTE: I'm drawn to the forest as a setting for its intercultural significance as a liminal space. While a false dichotomy, we do tend to draw a line between the places where people live and conduct their business and the places that are meant to be visited, then swiftly exited, for fear of what we could lose if we stay there too long. Forests, the sea, outer space, the bush—these places force us out of our comfort zones. Whenever I'm in the woods, I feel that discomfort, that loss of footing, and it makes me starkly aware of my own body. My thoughts become sharper, my breath calmer. My early life was the opposite of rosy, so the prospect of a place between here and there, where anything is possible, where nothing is written, where "becoming" awaits, is my favorite idea to consider!
For sylvan spots, the witch's burned-out castle in Forest Park is one of my favorites. It's exactly what it sounds like.
FAYE: In your portfolio's Lettering section, you share that lettering is only second to your love of storytelling: "The marriage between text, balloons, and illustrations can make, break, or even elevate a comics work." I often feel that when lettering is good, it's viewed as almost invisible and so obvious, like the reader can't imagine this layout or placement any other way, allowing the work to shine for itself—though of course, it's only because it's good that it's unnoticeable. Can you tell us more about your lettering and share some instances (of your own work or work you admire) where the lettering matches the art and text perfectly?
JOAMETTE: I would say good lettering is either seamless and invisible, or seamless and load-bearing. "Seamless" is the common quality, like you said about not being able to imagine the letters any other way. I would describe my lettering for Jamila Rowser and Sabii Borno's Wobbledy 3000 as "invisible": the balloons are colored in the same distinctive pastels as the artwork, and the typeface balances legibility with a swirly quality that echoes Borno's line work. Meanwhile, I would describe the lettering in something like Emily Carroll's Through the Woods collection as "load-bearing" because the letters fundamentally inform the story being told. It can't stand without them, and it isn't meant to. Her particular horror tone would shift dramatically if she'd chosen to render the text on the page in any other manner than the one she chose: handwriting that is subtly stilted and scratchy, like a journal scrawling, placed directly onto the artwork without caption boxes. The text size fluctuates based on the height of emotion called for in each moment, and the odd white dialog balloon is lopsided, frayed, or even melting.
FAYE: In a previous interview, you've discussed sourcing creators for both of your anthologies and building a network through social media, acquaintances, and databases like the Queer Cartoonists Database. Both collections have such a rich range of art styles and stories, ranging from heartwarming to devastating, philosophical to visceral, and beyond. Since many of these artists are underrepresented in mainstream comics in various ways, how has it been to work directly with so many of them? What is the next step for you in expanding this amazing community you've built?
JOAMETTE: In short, a dream! I want nothing more than to connect with people, and creativity is the way I do that best. It's been my privilege to work with over 100 creators from all over the world, of every race and countless ethnicities, most of them queer women and non-binary people, since 2016. Their talents, skills, and passions continually humble me, and there's a bittersweetness in witnessing firsthand just how much our marginalized communities have to offer (because so little of it is ever validated by mainstream access). To date, we've centered our books around queer women of color and non-binary people overall, and our forthcoming book centers Latinx creators of all genders and backgrounds. My hope is to continue expanding P&M Press until we can properly compensate solo creators for original graphic novels, creating space for more in-depth expressions by the people we publish.
FAYE: Sirens is about discussing and deconstructing both gender and fantasy literature. Would you please tell us about a woman or nonbinary person—a family member, a friend, a reader, an author, an editor, a character, anyone—who has changed your life?
JOAMETTE: That would have to be my best friend, who shall remain nameless for their own privacy, haha! My best friend is an AMAB non-binary trans fem who's been in my life for over a decade. She was my primary support during my own coming out at as queer and as a non-binary woman. She's someone who I've known long enough to see struggle, fail, grow, succeed, and come into her own—and vice versa. Our twenties would have been much harder without one another to call queer family.
---
Joamette Gil is the head witch at P&M Press, an independent comics micro-press specializing in speculative fiction by creators of color, LGBTQIA creators, and creators at the intersections. Best known for her Prism Award-winning publication Power & Magic: The Queer Witch Comics Anthology, she also made the James Tiptree, Jr. Literary Award's 2018 Honor List and received nods from the Ignatz Awards and Lambda Literary Awards over the course of P&M Press's three-year existence. Her newest titles are Heartwood: Non-binary Tales of Sylvan Fantasy and Power & Magic: Immortal Souls. Another new title, Mañana: Latinx Comics from the 25th Century, is forthcoming in 2020. Joamette's own comics work has been featured by IDW, Margins Publishing, EverydayFeminism.com, TheNib.com, Oni Press, Lion Forge, and Abrams ComicArts. She also contributed to the Eisner Award-winning Puerto Rico Strong anthology benefitting hurricane disaster relief on the island. When she's not inhaling graphic novels, she's off plotting silly play-by-post scenarios or watching horror movies with her friends and familiars in Portland, Oregon.
For more information about Joamette, please visit her website or her Twitter.