The Sirens Review Squad is made up of Sirens volunteers, who write reviews and books lists of fantasy and related works by women or nonbinary authors. If you're interested in sending us a book list or review for publication, please email us! Today, we welcome a review from Chelsea Cleveland on The Power by Naomi Alderman.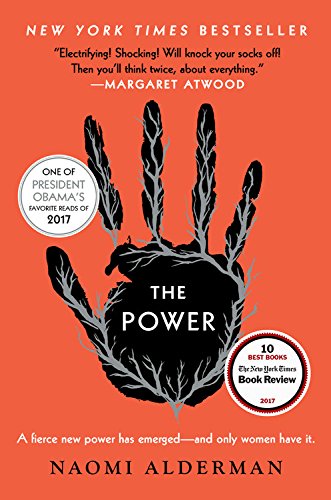 There is a certain type of book that I call a "chicken noodle soup" book. It's a delicious escape; a beautiful little world that you want to return to when you catch a cold or a wave of homesickness. From a quick glance at the book flap, you might think Naomi Alderman's The Power is that sort of title. It is not. But—in an entirely different way—it's just as nourishing of a read.
Alderman's latest comes out of the gate with a premise fit for any YA blockbuster. Something strange is happening, not just here, but around the globe. At first, it just seems like a rumor. A mad internet fad. Videos edited with special effects. But it isn't long before the truth becomes impossible to ignore. More and more young women are developing a remarkable new power: an ability to generate electrical charges. And they're not just creating electricity. They're learning to use it.
We see the resulting shifts in the social and political landscape primarily through the eyes of four characters: Roxy, the illegitimate child of a UK crime boss and one of the first few to experience the power; Margot, a midwestern mayor and the mother of a teenage daughter with a secret; Tunde, a Nigerian college student who documents the growing turmoil from behind the lens of a camera; and Allie, a young woman who receives guidance from a voice in her head.
While the plot centers around these four individuals, the real story—and truly the most fascinating part of the book—is the author's exploration of power and gender.
With the simple twist of giving women the ability to create electricity with their hands, Alderman overturns a key differentiator between men and women: physical power. And this one change affects everything.
I don't want to say too much more about what happens. It's best if you discover it yourself. I will say that while this isn't the first title I've come across where supernatural abilities were attributed to one gender, I have never seen it done with such gut-punching impact or specificity. It's a specificity that actually makes me think of Margaret Atwood's The Handmaid's Tale.
There's no denying Atwood's influence on The Power. Even if you didn't know Atwood and Alderman had been paired though a mentorship program, the literary giant's book blurb—a cheeky "Electrifying!"—is prominently displayed on the novel's cover. I was particularly reminded of The Handmaid's Tale in a couple of ways: the intimacy of the book's setting (a breath away from present day) and the manner in which the most shocking fictional events were clearly and purposefully inspired by things that have really happened. It's something Atwood has talked about as a guiding principle and as a reader, you can feel how the truth in these details gives a speculative work a terrifying sense of realism.
The Power is not a title that I would recommend anyone turn to for comfort. On the contrary, it's at once foreign and yet unsettlingly all-too familiar. Instead of finding myself reading straight through until sunrise as I often do, this was a book that I frequently closed, put aside, and contemplated. It's a book with ideas that inspire discussions and debates outside the context of the characters and events. It's intriguing and conceptually satiating. Rather than chicken noodle soup, I'd call it something else. Maybe quinoa or kale. It's a nutrient-rich brain food that sticks with you and keeps you thinking things over long after the last pages have been turned.
---
Chelsea Cleveland is a Seattle-based marketer and copywriter. She has particular experience in the fields of books, design, travel, and technology. Her other passions include standing on tall things, feeding animals (human and otherwise), collecting art supplies, and discussing movies. She writes short stories, largely because it's very difficult to finish long ones.