For two years now, Sirens has published an ongoing series of essays that showcase the brilliance of our community—and give those considering attending a look at the sorts of topics, perspectives, and work that they are likely to encounter at Sirens. While we've postponed our in-person program to 2021, and we are gathering safely online this weekend, we wanted to take this opportunity to feature the exemplary work that the Sirens essayists have presented over the past two years. We hope that you find these works thoughtful, bold, and brilliant.
A Mirror, Distorted: A Brief Meditation on When Real-Life Events Inspire Speculative Fiction
by Ren Iwamoto
In 2012, the movie Chernobyl Diaries hit theatres. Its most distinctive feature is that, objectively, it's terrible. Its director, Bradley Parker, had never directed a feature film before. It's ninety minutes of mutant threats just out of sight (presumably because the movie was produced on a budget of only US$1 million), and a drab, emotionless script. Jesse McCartney is in it, but did not sing "Beautiful Soul" even once.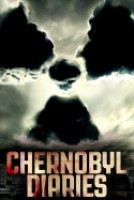 What can be said about Chernobyl Diaries is its awareness of Chernobyl in the western mass consciousness. Chernobyl hangs like a cloud of "what if" in North America: What if our own nuclear projects go terribly wrong, too? What would the fallout look like? What creatures would it create? Nuclear radiation is a deep source of both anxiety and narrative imagination in North America.
When Americans are exposed to radiation, they become heroes. When foreign bodies – the Russians, the Japanese – are exposed to radiation, they become monsters; true "foreign bodies."
Bradley capitalizes on this unconscious assumption, and the uncertainty of what these un-American monsters might be or do, and does so well enough to generate a sharp disparity between critics' and regular consumers' reviews of the film, which were notably more favourable.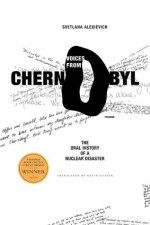 Fifteen years before Chernobyl Diaries, in 1997, the first edition of Svetlana Alexievich's Voices from Chernobyl: The Oral History of a Nuclear Disaster was published in Russian. Alexievich was a journalist living in Minsk under the Soviet Regime in Belarus at the time of the accident, and her efforts in recording the aftermath of Chernobyl, amongst other wonderful writings, including her first monograph, The Unwomanly Face of War (1985), earned her the Nobel Prize in Literature in 2015.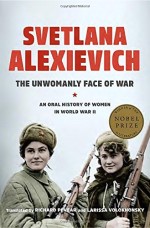 The Chernobyl accident occurred on April 26, 1986, at the Chernobyl nuclear power plant, which lay just outside the town of Pripyat, Ukraine. Alexievich, in the opening pages of her novel, shares a transcript of a monologue given by the wife of one of the first responders at the plant:
He [my husband] started to change. Every day I met a brand-new person. The burns started to come to the surface. In his mouth, on his tongue, his cheeks—at first there were little lesions, and then they grew. It came off in layers—as white film…the colour of his face…his body…blue…red…grey-brown. And it's all so very mine! It's impossible to describe! It's impossible to write down! And even to get over. The only thing that saved me was it happened so fast; there wasn't any time to think, there wasn't any time to cry. (Alexievich, 1997, 11-12)
We can clearly see here the transformative aspect which is so prevalent in nuclear fiction—the literal, grotesque shedding of the old self.
But the body is not a cocoon meant to be shed to give way to heroism, to something stronger and more complete. A body is a body; we belong in it and to it, and when it is stripped away, we die.
This story, which is only twenty pages long, moved me to tears three times. I put the book away for a while. But I could not stop thinking about it, and with my thinking, I recalled Bradley Parker's Chernobyl Diaries. It seemed unbelievably ugly to me, that an American film maker could use Chernobyl as a springboard for a horror movie, and have not even the decency to make it a good horror movie. The young husband in the passage above died an ugly death – an objectively ugly, bodily death – and when he died remained nonetheless human. To seize upon the remainder, which is not the corpse, but the story of his life, and twist it into a B-list horror is a quiet and long-reaching appropriation difficult to see unless one thinks to look for it.
It would be extremely disingenuous, however, to say that all horror, sci-fi and fantasy "inspired" by real-life events are poorly done or made to capitalize on cultural trauma. R.F. Kuang's The Poppy War (2018) engages directly with the horrors of the Sino-Japanese conflict during the twentieth century, particularly the infamous Nanking Massacre.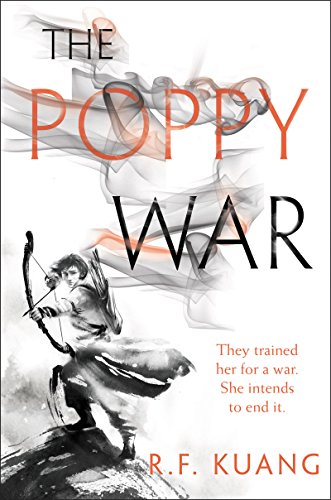 In the Western mass consciousness, Japan has been rendered impotent. Its military, under the post-WWII constitution, can only exist for defensive purposes. Its global exports include franchises like Sanrio (the parent company of the ultra-cute Hello Kitty), anime, video games, and instant noodles. Stereotypes of meek, submissive women and quailing men run amok. But Japan committed some of the worst war crimes ever prosecuted, many of which are continually disputed by Japanese nationalists, who simultaneously wish to erase Imperial Japan's atrocities and reinstate Japanese supremacy.
As a diasporic Japanese person, this knowledge was not readily available to me. Japan's role on the global stage included: Pearl Harbour, the atomic bombings, and the North American concentration camps. I knew nothing about Nanking until I was in post-secondary, and took an introductory history class on the World Wars. Even then, Nanking was only mentioned in passing. The Poppy War has intrinsic value purely for bringing attention to the Nanking Massacre, which has dodged a deserved place next to the Holocaust in the western mass consciousness. (Why Chernobyl, widely accepted as a genuine accident, supersedes Nanking as an atrocity in the minds of many is an entire paper unto itself.)
That said, Kuang is herself a Chinese person.
The novel's mere dedication – "This is for Iris," referring to the late Iris Chang, author of The Rape of Nanking: The Forgotten Holocaust of World War II, the first monograph published in English that truly exposed the details of the Nanking Massacre to a broader Western audience – implies a closeness to the subject matter, a personal entanglement I can confidently guess Bradley Parker lacked with the Chernobyl incident. It may be argued it is her prerogative to internalize, reshape, and share a version of the Nanking massacre and the less obvious, but nevertheless present and important broader strokes of the Sino-Japanese conflict, including human experimentation and forced prostitution. My love for this book stems, I think, from this: the villains from the Federation of Mugen are human beings. They are not Parker's mutants, rendered physically monstrous and mindlessly malignant.
In being "inspired" by atrocity, Kuang has maintained the most crucial aspect of the Nanking Massacre, which is that it was perpetrated by humans. It was humans who slaughtered and raped and stole and then tried to pretend it never happened, and it would be a disservice to reality to absolve human beings of that.
Anyway.
There is an unending supply of fiction "inspired" by real events, but speculative fiction in the posttraumatic context holds a particular place in this category, made famous by such literary giants as Gabriel García Márquez and Salman Rushdie. The fantastic has long been a way writers can access atrocity without necessarily reliving it: Ghosts allow the dead to speak, allow forgotten and repressed memories to come to the surface. Beasts and monsters make convenient stand-ins for real-life oppressors, internal disorders of human empathy rendered bodily: fanged, clawed, winged and horned. A secondary-world brimming with magic obfuscates how closely faceless militaries mimic their real-life counterparts. South and Central America, Africa, the Indian subcontinent, and even the former Soviet Union have all produced novels engaging with the unreal as analogue to oppression, and in doing so legitimize speculative fiction as a genre capable of contending with and representing the real, and do so even more effectively than a genre like historical fiction. Historical fiction is, after all, a mirror, distorted, or perhaps a superimposition. In order to be "good," the narrative must hold tightly to "the facts," diverging only slightly, quietly and plausibly.
To be "inspired" by real-life events in speculative fiction is often to be in dialogue with conflicts both lesser and greater, and all the various manners in which humans are deficient in empathy and sagacity. That's okay, I think. But some events feel like they belong to some people more than others – Chernobyl, Nanking, the Holocaust, the transatlantic slave trade, residential schools, and on and on.
But is it fair to ask the colonized, oppressed, traumatized to rehash the details of their suffering over and over, just so western academics like me can be pleased with how knowledgeable and introspective we are? So we can look down on people who don't know, because they were never taught, and say, "How can you believe colonialism is over? Racism is over?" Even in the speculative context, to recreate a trauma for consumption is a deeply unpleasant and deeply vulnerable position. I can only imagine myself in, for example, Kuang's place: carefully demarcating the violence and dehumanization endured by the Chinese people and re-contextualizing it in a fantastic setting, a simultaneous reliving and distancing not everyone can or wishes to do themselves.
To tell a story is to be responsible for its effect, regardless of whether or not said effect was as intended. To tell a speculative story is the same, but with an added layer of nuance afforded by the fantastic.
When your trespassing American tourists are hunted by Russian mutants, whose real-life counterparts were good people who lived and died as human beings, what are you saying? When your villains mirror quite exactly the villains you know to exist in reality, despite the magic of the world around them, what are you saying?
What are you saying?
What are you saying?
What are you saying?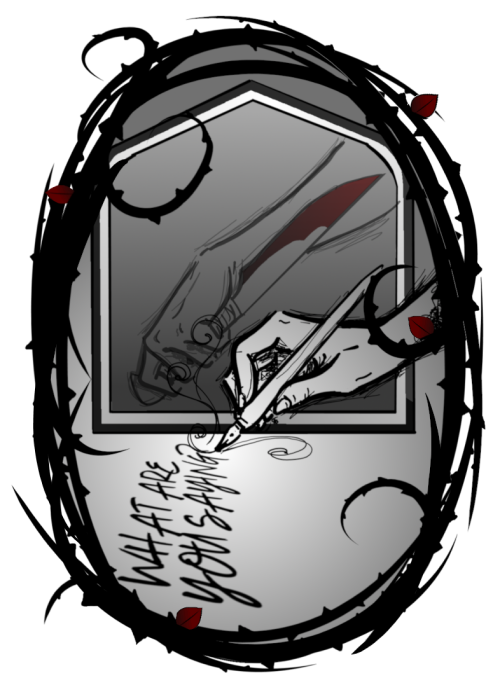 ---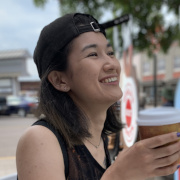 Ren Iwamoto is a Japanese-Canadian grad student from the tenth dimension. Her areas of interest include studies in death, gender, memory, grotesquerie, and post-colonialism; she is in eternal search of the thesis topic that combines all of the above. Her poetry has been featured in multiple publications.