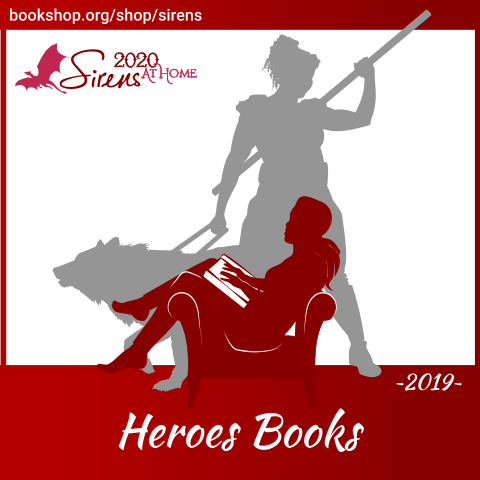 In 2019, Sirens examined heroes in all their forms, but especially what it means to be a hero when you have multiple marginalized identities—and we did so with Guests of Honor Mishell Baker, Ausma Zehanat Khan, Rebecca Roanhorse, Suzanne Scott, and for the first time, a Sirens Studio Guest of Honor, Roshani Chokshi. As we interrogated what it means to be a hero, and explicitly rejected the traditional, hypermasculine notions of heroism, we discovered a pantheon of more revolutionary, but no less valuable, BIPOC, LGBTQIAP+, disabled and neurodivergent, and other heroes worthy of discussion and celebration.
In 2019, we suggested a number of books that portrayed this new definition of hero. For Sirens at Home, though, we want to feature 10 books that we think have something to say about what it means for anyone to be a hero, but especially those who haven't been privileged as such in the past. Here are those books, as well as their opening words—and we've included links to those works at Bookshop in the titles. Bookshop supports both Sirens and independent bookstores, so if you're looking to purchase any of these titles, they're a great option!
"Commander Rosa Martín Rivas pasted another smile onto her face as she wove through the crowds and headed for her ship at the far end of the hangar. She and the rest of the members of Zuma's Ghost had weathered the post-Games interviews with as much grace as a losing team could, answering question after question about how it felt to come within three points of beating Commander Carmichael's SEAL team without ever breaking expression. That wasn't entirely true. Jenks had slipped once, muttering a curse and giving the reporter a flat look."
"It feels redundant to be at the pool on a rainy Saturday, even though it's spring, and even though it's Portland, but maybe I'm just more of a California snob than I want to be. Back home I went to the beach on more than one cloudy day. I'd stand on the cold sand, burrowing my toes beneath the surface as though there'd be some warmth there, and I'd listen. Just like I'm doing now."
"The problem with growing up around highly dangerous things is that after a while you just get used to them. For as long as she could remember, Aru had lived in the Museum of Ancient Indian Art and Culture. And she knew full well that the lamp at the end of the Hall of the Gods was not to be touched."
"It was midmorning on a Monday when magic walked into my life wearing a beige Ann Taylor suit and sensible flats. At the time I had more money than sense, and so I had been languishing at the Leishman Psychiatric Center in Silver Lake for just over six months. The Center had a rigid routine, and there was a perverse comfort in knowing what misery of boredom to expect and when."
"I keep an ocean in a jar on my nightstand and a handful of coffee beans in my pocket. My roommate Imani once held the Pacific Ocean hostage in our living room, but that was before she died and I followed her down to the Under-Ath to fix the mess she left."
"Sometimes keeping secrets was the hardest thing in the world. Sheetal Mistry decided to make a break for it. Right past the mirrored walls that reflected one another until the swanky banquet hall expanded into infinity—a horribly overcrowded infinity made of noisy kids, successful aunties and uncles, and gossiping grandparents. Everyone watching, everyone talking and laughing."
"Seven. Eight. Six. Arian traced the numbers in the sand. She was crouched behind a dusty ridge, surveying the land ahead. The wide, flat plains extended in every direction, broken in places by sparse shrubs, the faintest traces of greenery and life. She passed her field glasses to the coal-skinned woman perched to her right. 'Do you see it?'"
"The muezzin's call pierces the thinning night air, extracting Fatima from dreams of fire and blood. Her eyes open to the darkness, and for a moment, she is caught in the dark space between sleep and wakefulness. This space is filled with beautiful snarling faces, fear as vast as the night sky, and grief only just realized."
"Hope had abandoned them to the wrath of all the waters."
"The monster has been here. I can smell him."
For more information about our 2019 conference, including the programming presented that year, please see our 2019 archive page.