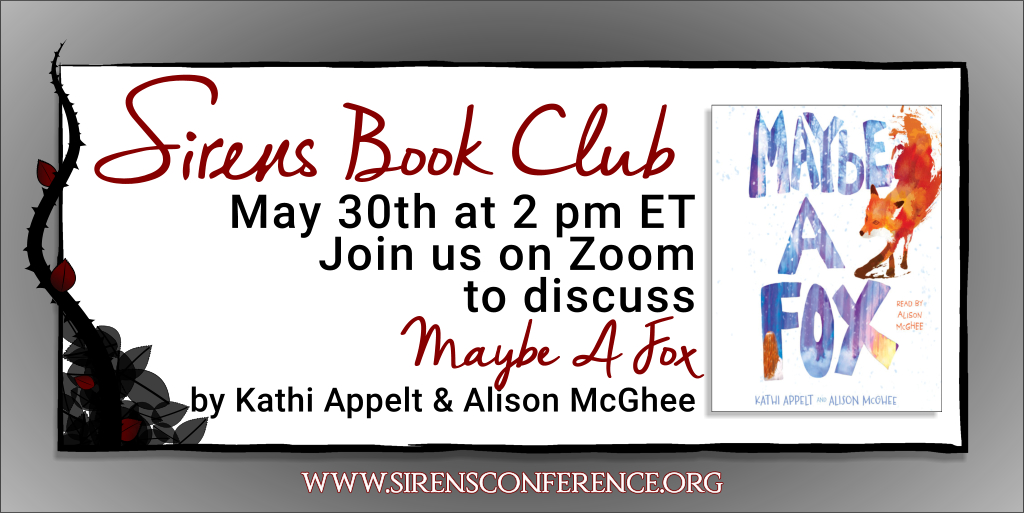 The Sirens Book Club meets monthly to discuss a book from our 2021 Reading Challenge, which includes 50 works by women, trans, and nonbinary authors that imagine a more inclusive, more empathetic, more just world.
In May, we're reading Kathi Appelt and Allison McGhee's stunning novel for young readers, Maybe a Fox. Jules and Sylvie are sisters and, even better, best friends. But when their mother passes away, they each deal with their grief a little bit differently—Jules hunkering down, Sylvie running away. One morning, when Sylvie races to throw one more wish rock in the river before school, she disappears; at the same time, a fox is born, one that seems destined to protect Jules as she searches with an ever-thinning thread of hope for her missing sister. Maybe a Fox is a delicate reflection on what it means to grieve and, ultimately, what it means to find hope again.
The next book club will be on Sunday, May 30 at 12:00 p.m. Mountain time (2:00 p.m. Eastern) over Zoom. If you'd like to join us, please email us at (help AT sirensconference.org) to be added to our list; for safety and security reasons, we'll be emailing the link out to interested folks closer to the discussion date.
We hope to see you there.