As we look to welcome new and returning attendees to our postponed conference this October, we'd like to reintroduce our Books and Breakfast selections, now revived for 2021! Sirens showcases the breadth and complexity of our annual theme through Books and Breakfast, where we select a number of popular, controversial, and just plain brilliant books that address aspects of our theme. On the Friday and Saturday mornings of Sirens, attendees bring their breakfasts and join a table to discuss one of those books—another chance to deconstruct, interrogate, and celebrate the work that women and nonbinary are doing in fantasy literature!
For this year's conference, we'll still be examining gender and villainy, and relatedly, redemption—fraught topics full of artificial constraints and defied stereotypes. We've chosen eight works that broaden that examination, full of questions, but few answers; dastardly villainy, and occasional redemption; and a number of female and nonbinary villains who may, despite or because of their villainy, be someone worth celebrating.

2021 BOOKS AND BREAKFAST SELECTIONS
We'll be highlighting all eight of these titles, which we hope will allow you to make your choice and tackle your reading before Sirens (in case you didn't get to it last year!). Here are our list of selections and reviews of our two graphic novel selections:
A Feast of Sorrows by Angela Slatter
Girls Made of Snow and Glass by Melissa Bashardoust
Monstress: Awakening by Marjorie Liu and Sana Takeda
Nimona by Noelle Stevenson
Queen of the Conquered by Kacen Callender
Slice of Cherry by Dia Reeves
The Mere Wife by Maria Dahvana Headley
Wilder Girls by Rory Power
Monstress: Awakening by Marjorie Liu, illus. by Sana Takeda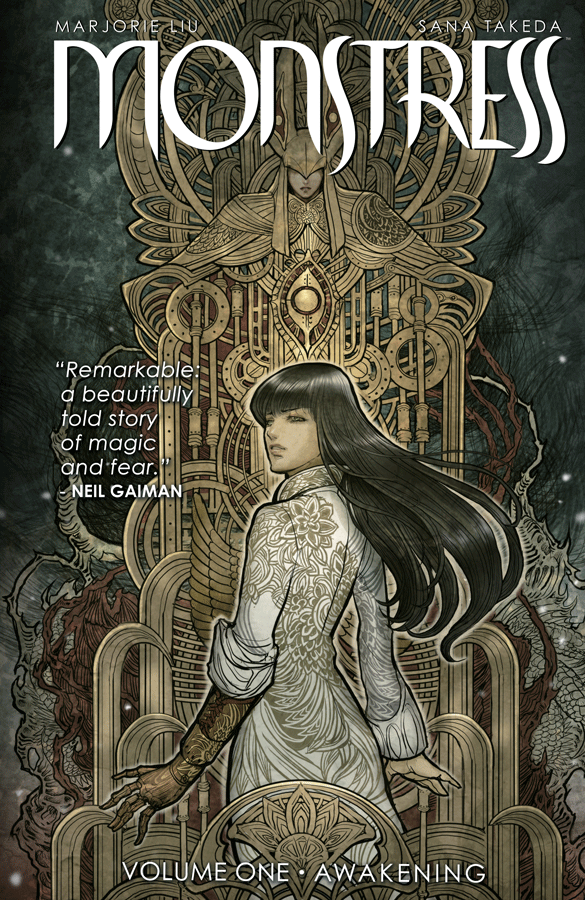 Do you like pretty things and want to cry? If you read fantasy for worldbuilding, there is so much to admire in Marjorie Liu and Sana Takeda's Monstress, a lush, fantasy comics series currently on its 30th issue. The first volume of Monstress: Awakening collects the first six issues, and the world is an incredible combination of Art Deco architecture, steampunky science, magic inspired by Middle Eastern myths, and a matriarchal society—all set in an alternate-world Asia.
With its own creation myth, religion, and history, Monstress centers around the conflict between Arcanics—a mixed race resulting from humans and the immortal, animal-shaped Ancients—and the Cumaea, a "scientific" order of witches (humans) who consume and experiment on them to fuel their magic. The wars have been gruesome and violent, with their legacy carrying trauma and deep emotional scars in our protagonist, half-Arcanic and former child slave Maika Halfwolf. Maika, who can pass for human, has very big fish to fry—hell-bent on avenging her dead mother, she is the occasional host of a terrifying and supremely powerful monster, who emerges from the stump of her severed arm.
It's hard to put into words just how breathtakingly epic Monstress is, how dark, and how beautiful. Though interspersed with moments of levity and wisdom from adorable cats, and rife with whimsical details (unicorn horses!), the themes here are heady: Liu drew on her Chinese grandparents' experiences during World War II to show just how broken life is for the Arcanics. Like with Maika, sometimes the monster inside all of us just wants to burn it all down—and that destructive power is readily available to her. Takeda's artwork deserves all the superlatives and can't be understated, with fine detailed architecture and manga-style characters. Comes with major content warnings.
Nimona by Noelle Stevenson
For tonally lighter fare, Noelle Stevenson's web comic-turned-graphic novel Nimona will bring about giggles and snickers, as a teenage girl strongarms her way into being the sidekick to the "villainous" Lord Ballister Blackheart. Here be dragons! Knights who communicate via videocall! The properties of magic getting debated by goggle-wearing scientists! Ballister fits reluctantly into the role of villain ever since his arm got blown off by his archnemesis, the lushly locked Sir Ambrosius Goldenloin of the Institution of Law Enforcement and Heroics. Who better to give him a push than orphaned, impulsive, sarcastic Nimona, a shapeshifter who can take the form of any living being of any size or strength?
Though the novel starts with quippy dialogue and witty punchlines as Ballister and Nimona form a rapport, there is a darker, more serious undertone amongst all the charm: Nimona is, well, an extremely efficient killer. Since Ballister is truly a cinnamon roll who eventually just wants to be loved, he's at odds with himself when he realizes Nimona's full and true power—and the chaos she brings. And since this fun blur between science and magic of a world doesn't exclude patriarchy, teenaged girls must be controlled, right? They're dangerous when they're unpredictable.
Still, feel assured under Stevenson's confident pen. Her artwork drives the heartfelt character design, and the amazing expressions on their faces are a joy—especially the eyebrows! And overall, Nimona is a tender, funny exploration of what makes a hero a hero and a villain a villain, with a sweet romance, enough silliness to give you a bellyache, and a moody girl to root for, even on her bad days. Because who doesn't have those days?