Whether you're energized by early sunrises, late sunsets, or lounging by the water with a good book, we hope you join us for our next Sirens community day on
Sunday, July 25
! Community days are opportunities for our Sirens community—as well as anyone interested in gender and fantasy literature—to gather virtually. All are welcome, though if you'd also like to connect and get to know a few more familiar faces before our
in-person conference
currently scheduled for October 21-24, 2021, we'd salute you for planning ahead!
Like our previous Sirens community day back in April, our July community day will comprise of four virtual events on Zoom, and will be free to everyone, whether you've attended Sirens before or not. We ask that everyone interested in participating in our community day register below. We will provide Zoom links to our online gatherings to only those who have registered.
Registration
You must be at least 18 years old to register and you will be required to acknowledge the Sirens Terms of Service, Anti-Harassment Policy, and Accessibility Policy as part of your registration.

Schedule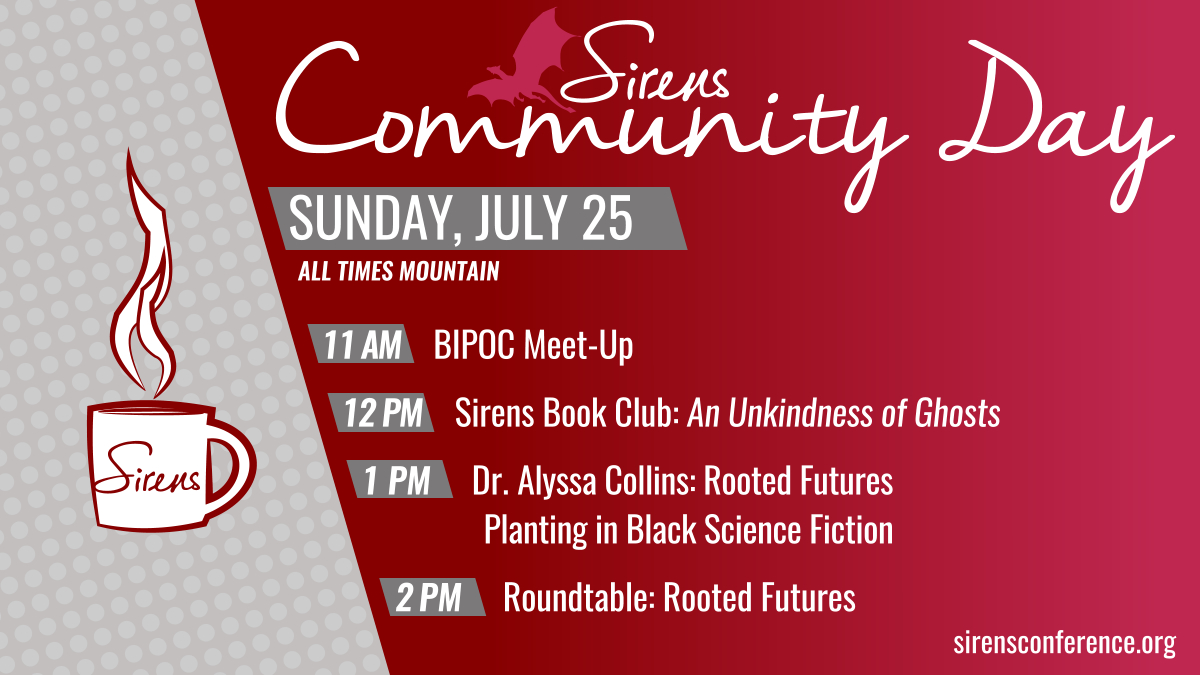 Sunday, July 25, 2021
11:00 a.m. Mountain (1:00 p.m. Eastern)
BIPOC Meet-Up
As a continuation of our efforts to support and uplift diverse voices at Sirens, we are devoting the first hour of our community day for our Sirens members who identify as BIPOC (Black, Indigenous, person of color) to connect and converse. This casual meet-up will be moderated by a Sirens staff member—share your recent fantasy read or whatever's on your mind! Please note that these spaces are reserved for BIPOC; others are not invited to these spaces.
12:00 p.m. Mountain (2:00 p.m. Eastern)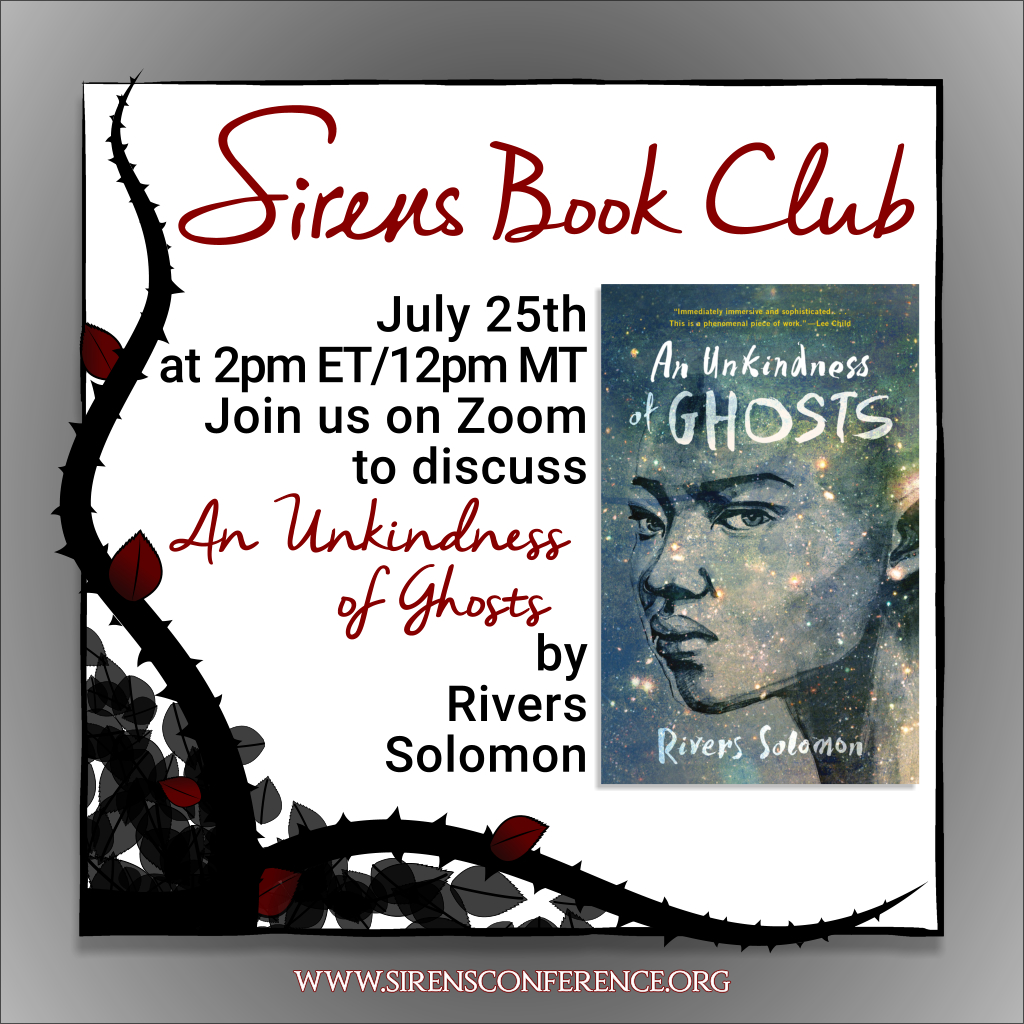 The
Sirens Book Club meets monthly to discuss and debate a book off our
2021 Reading Challenge, which includes 50 works by women, trans, and nonbinary authors that imagine a more inclusive, more empathetic, more just world.
This month, we're reading Rivers Solomon's An Unkindness of Ghosts, a seminal dystopia set in space that is at the top of our list when we think of speculative-fiction-as-transposition, illuminating in far starker realities what cannot be gleaned from history books or pedagogy. Black, queer, autistic Aster lives on a starship organized like an antebellum plantation with Black and brown folks working backbreaking labor and brutally policed on the lower decks, while the white, wealthy upper deckers twist theocracy to cruel ends and live in blameless comfort. Solomon tells a story of structural racism and collective trauma with such thorough worldbuilding and such visceral pain you won't look at science fiction the same way again.
1:00 p.m. Mountain (3:00 p.m. Eastern)
Dr. Alyssa Collins: Rooted Futures: Planting in Black Science Fiction
Dr. Alyssa Collins, assistant professor of English and African American Studies at the University of South Carolina and the inaugural Octavia E. Butler fellow at the Huntington Library for the 2021-2022 academic year, will give our community day lecture on her work on Afrofuturism, Black feminism, and technology.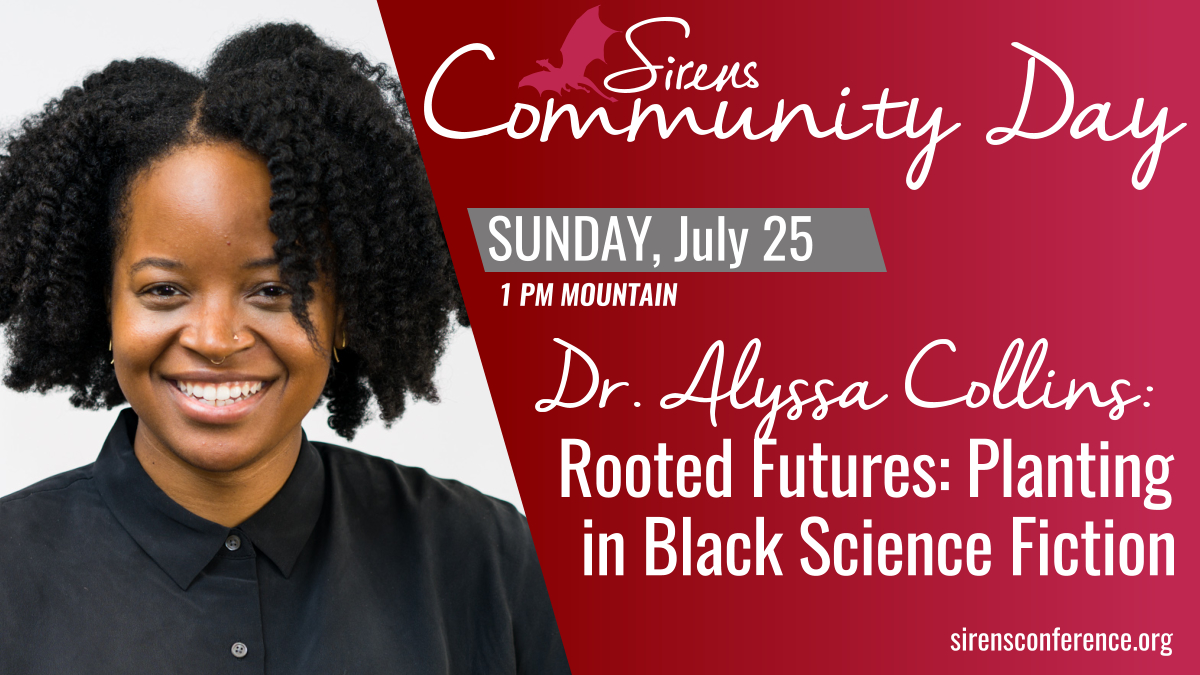 Alyssa Collins is an assistant professor of English and African American Studies at the University of South Carolina. Her work explores the intersections of race, science, and technology as depicted in 20th century and contemporary African American literature, digital culture, and new media. When she's not working, she writes about race, superheroes, television, and embodiment around the internet. You can follow her on Twitter @LyssaDee.
2:00 p.m. Mountain (4:00 p.m. Eastern)
Roundtable: Rooted Futures
Following Alyssa's presentation, we'll split into small groups for a true Sirens programming mainstay—the roundtable. With a Sirens staff moderator and the help of Zoom breakout rooms, we'll offer everyone an opportunity to discuss, share, and explore the themes of rooted futures in speculative fiction.