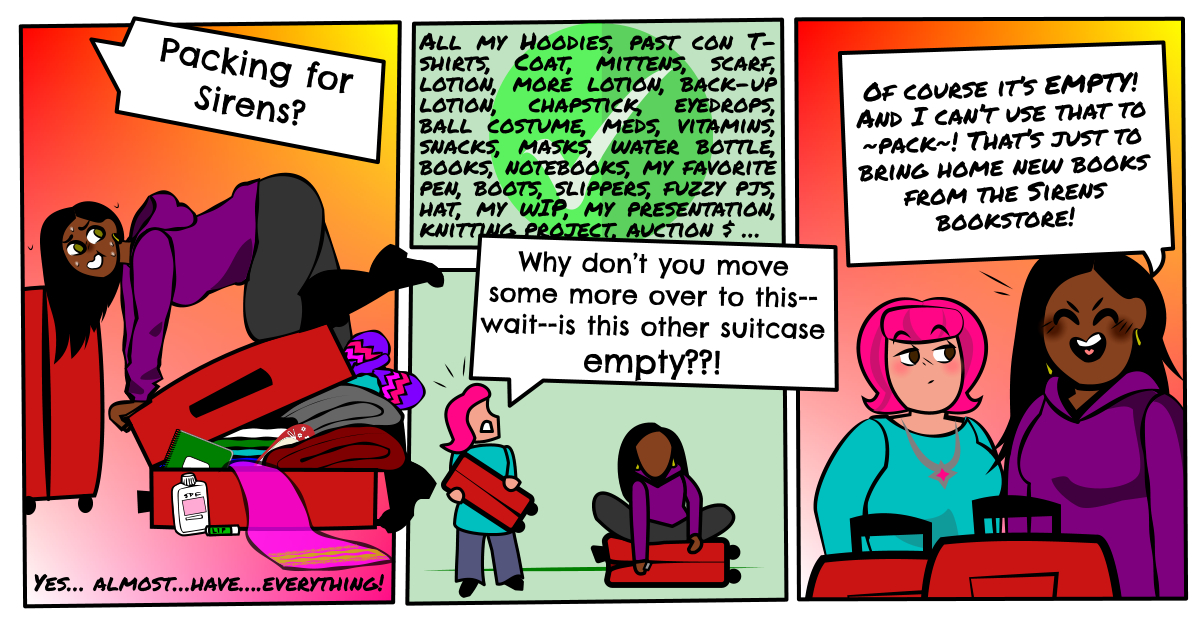 After a very unusual year, in which we transformed Sirens into an online gathering, we are again planning for an in-person event this fall. We are readying the programming schedule, collecting newly released books, searching for amazing auction items, and discussing how we can make Sirens—after a year away—feel as warm and welcoming as ever. We confess: This all feels a bit strange.
And we suspect that coming—or coming back—to Sirens might feel a bit strange to you, too. So we thought we'd offer a series of posts about what Sirens is (or isn't), some travel tips and tricks, and how you might choose to engage with the conference and community. If you're considering attending, we very much hope you do. And if you're returning, we can't wait to see you again.
You can read the first two posts in our Siren's Voyage series, about whether Sirens might be the right conference for you and about making travel arrangements.This week, let's talk what to pack—and why you might want to bring an empty suitcase!
Sirens Conference: Denver, Weather, and Altitude
Sirens takes place at the Hilton Inverness Hotel, located in south Denver, about 20 minutes from downtown. What dominates the Denver landscape, though, isn't its skyscrapers, but the magnificent Rocky Mountains, which form the western edge of the city.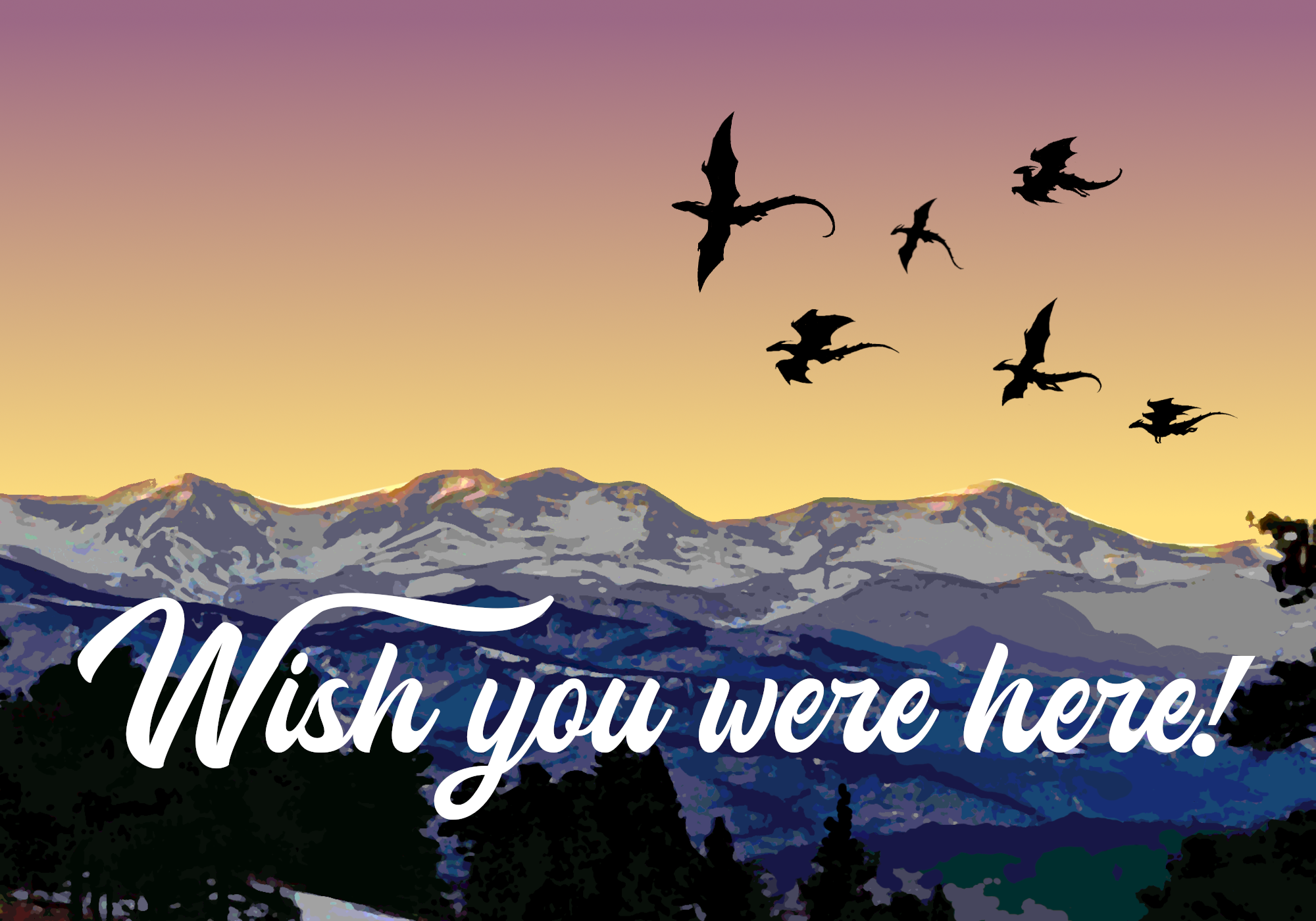 Denver was founded in 1858 as a mining town during the Pikes Peak gold rush in western Kansas Territory. Visitors today find that the city retains much of that western spirit: big dreams, expansive views, and a sometimes philosophical connection to the outdoors. We hike, we bike, we ski, and we do as much as possible four seasons of the year. If you're looking to get outside during your trip to Sirens, no matter the weather, you won't be alone. The Hilton Inverness offers a running/walking path right outside the hotel, but the hotel is also located just a couple miles from the nearest light rail stop (and offers a complimentary shuttle in a five-mile radius) and only a couple hours from the famous mountain towns of Breckenridge, Vail, and Winter Park.
The weather in Denver in October—not to mention September and November—can be changeable, so when we talk about what to pack, we're talking layers. The weather usually hovers around highs in the 50s and 60s Fahrenheit (10-20 Celsius), with colder temperatures after sunset, but Denver usually gets its first significant snowstorm of the year in October, so anything is possible. Unless you're planning on exploring, you'll likely spend most of your time inside—where the weather will be more predictable, but also hotel-conference-space cold, so you'll want those layers indoors and out. A jacket and sweaters, gloves and fingerless handwarmers, scarves no matter where you are.
Denver sits at exactly 5,280 feet—one mile for those trying to do the mental math—above sea level, which sounds impressive to flatlanders, but isn't nearly so high as mountain-town elevations (or standard airplane pressurization), where the elevation usually exceeds 8,000 feet. Denver's elevation does not give rise to altitude sickness or other health concerns associated with mountain towns.
But! Denver does not have as much oxygen in the air as you might be used to at lower elevations. You'll breathe more quickly, you'll sweat more easily, you'll be hungrier, and you'll need more sleep. Further, as every Denver bartender will tell you, alcohol will have a greater effect. Denver's altitude also comes with less atmosphere, so bring your sunscreen and sunglasses. Unless you're coming to Sirens for a really long time, you won't acclimate while you're here! It often takes a week or more to stop getting winded climbing a flight of stairs at altitude—and it can take six months or more for your workout to feel normal again. Prepare to take it easy!
To add insult to injury, Denver's prevailing climate is high-plains desert. It's hard to see in the city, but if you drive 20 miles east, you'll see miles of dusty ranchland between you and the horizon. Colorado is one of the driest states, especially the eastern plains, where Denver lies, so even while you're sitting in our climate-controlled meeting space, please remember that you're in the desert. You'll need to drink a lot—a lot!—more water in Denver than you do at home, and if you start drinking a lot more water a few days before you arrive, you'll be much happier. You might need to supplement with the occasional sports drink. You'll also want to bring all those things that Coloradans take with them everywhere: a water bottle, lip balm, hand lotion, eye drops, saline nasal spray, and so on, as those items can help you feel more comfortable in a very dry climate. This dryness can also lead to insomnia or headaches, so you may want to bring sleep aids or painkillers, take it easy on the alcohol, and ask the Hilton Inverness for one of their guest-room humidifiers.
Sirens Conference: Packing
So with all that, let's talk a bit about packing! First, let's abandon the notion that you'll be able to do Sirens with just a carry-on. The dry-climate toiletries aren't going to fit in that tiny zippy bag! And once you're checking one bag, hey, why not two? Because, friends, we are going to have over a thousand speculative titles by female, nonbinary, and trans authors at Sirens. We ship! But if you don't want us to ship, how do you plan to get those books home? A second suitcase, of course!
Toward that end, have you thought about flying Southwest, where bags fly free? We know it's the bus of the sky, but if you can manage their cattle-call boarding policy, you might be able to jettison the notion of trying to cram all your hydrating needs into a tiny bag and all your Sirens merchandise, auction items, and books into your single suitcase—and then lifting that suitcase over your head into the bin. Fly in style: with a suitcase for your lip balm and another for your books!
Here's what we'd pack:
For the weather:
Outdoor coat or jacket
Outdoor mittens or gloves
Scarf
Sweaters or sweatshirts
Layering t-shirts or tank tops
Fingerless handwarmers for chilly conference rooms
Things to wear with pockets! For your lip balm, your hand sanitizer, and your tiniest notes
For the altitude/climate:
Lip balm (nothing beats original Chapstick!)
Hand lotion (heavy duty repairing, like for gardeners, is best)
Body lotion
Eyedrops
Saline nasal spray
Water bottle (though we'll have Sirens water bottles for sale)
Healthy snacks (the hotel has a convenience shop with a limited, expensive selection)
Headache medicine
Sleep aids (if you're prone to trouble sleeping)
For COVID-19 safety:
Masks (N95 masks are now readily available and come in colors!)
Hand sanitizer
Spray hand sanitizer for soft surfaces
Sanitizing wipes (for shared surfaces)
Just because:
Any books you'd like signed by our guests of honor (we'll have copies for sale, but if you already have your own, you're welcome to bring it)
Your shopping list
A notebook and your favorite pen
Whatever you'd like to wear to the Sirens Ball
That second suitcase!
---
And with that, we hope to see you at Sirens! With a bit of luck, these packing suggestions will make your journey to Sirens and back again just a little bit easier. And we're all about making things easier as we continue to muddle through 2021.