Each year, Sirens chair Amy Tenbrink posts monthly reviews of new-to-her fantasy books by women and nonbinary authors. You can find all of her reviews at the Sirens Goodreads Group. We invite you to read along and discuss!
In All Rise, CBS's new courtroom drama, Simone Missick stars as Lola Carmichael, a former prosecutor who, as of the pilot, has just been appointed to the bench. Judge Carmichael is an inspirational role: a black woman searching insistently for justice from a position of power. And in the second episode of All Rise, another powerful black fictional character makes an appearance: One of Carmichael's long-time friends gifts her with a picture of Carmichael's hero, Commander Uhura, as played by Nichelle Nichols.
This is not a review of All Rise (well-intentioned, but middling). But that moment—when a primetime network show acknowledges the indelible influence of a powerful black female character from Star Trek on its own powerful black female character—encapsulates what so many have been saying for so long: representation matters. Representation matters in every aspect of our lives, from the boardroom to the newsroom, including, specifically, in the media we consume. Representation matters even—or perhaps especially—in speculative works.
But let's take that one step further. Judge Carmichael has not, to my knowledge, cosplayed Commander Uhura. But lots of powerful black women have. And as we talk about representation in speculative works, we must—not should, but must—talk about representation in fan spaces.
Over a decade ago, I did my tour of duty in a fandom: as a lawyer, a convention planner, a worker bee and a leader. And I found fan spaces terribly but unsurprisingly reflective of all our other spaces: Even in fandoms populated primarily or even almost exclusively by marginalized folks, white cisgender men (and the white women who enable them) run the show. Celebrity fans—those made famous by, and whose livelihood depends on, fandom—are almost exclusively cisgender male, almost exclusively white, almost exclusively heterosexual, almost exclusively abled and neurotypical. As in so many of our spaces, marginalized folks do the lion's share of the work, but are ultimately pushed to the side (or even out) in favor of familiar, destructive power structures.
Which is why the three young-adult books I've chosen to review this month are so important. Each is about fandom—for a comic, a video game, a movie—and each purposefully makes space for marginalized groups in constructing its fan spaces. You can't even properly call these works a reclamation because there's nothing to reclaim; fan spaces never welcomed these groups in the first place. But these works upend that exclusion in brave and thoughtful ways, ways that make readers braver and more thoughtful, too. Representation matters—and it matters in how we talk about and express our love for speculative works.
So let's get to it.
---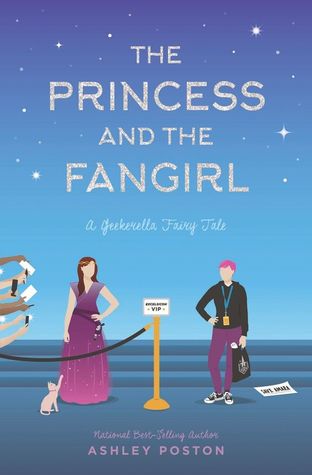 Ashley Poston's The Princess and the Fangirl is a glorious, hilarious, romantic romp set at a sci-fi convention. It's technically a sequel, but truthfully, I read Geekerella so long ago that I can't remember anything about it other than that it, too, is a glorious, hilarious, romantic romp and…that it included a pumpkin-shaped food truck? At any rate, you don't need to read one before the other—and unlike Geekerella, The Princess and the Fangirl centers a queer romance—so let's jump right in.
The movie is Starfield. The con is ExcelsiCon. The character is Princess Amara, who seemingly died in a giant explosion at the end of the most recent movie. Imogen is a Starfield fangirl on a mission to keep Amara, her favorite character, from being deader than a doornail. Jess, who plays Amara and is trying to avoid both pigeonholing and toxic fandom, is hoping like hell that Amara is, in fact, deader than a doornail. In a plot worthy of a heist novel, Imogen and Jess look alike and when the script for the upcoming movie leaks, they have to switch places (I mean, of course they do) in order to find the culprit.
As you decide whether to pick up The Princess and the Fangirl you should know three things. First, it's a meet-cute book for people that you will love to see meet-cute. Disguised as Imogen, Jess encounters Imogen's online friend Harper, a smoking hot female fanartist who shows Jess the welcoming, creative community side of fandom. Meanwhile, Imogen-as-Jess spends time with Ethan, Jess's hot bodyguard. The cast is diverse (Imogen and Jess are white, Harper is black, and Ethan is Japanese-American), the romances are adorable, and the whole thing is a rollicking good time. Second, Poston does a decent deconstruction of fandom. Wrapped up in this fizzy romance are incisive thoughts about fandom itself: who is invited, who is elevated, who is harassed, who is excluded, who must scratch and claw to find the smallest bit of space to celebrate the things they love. Finally, The Princess and the Fangirl is geektastic. The details are a dang delight.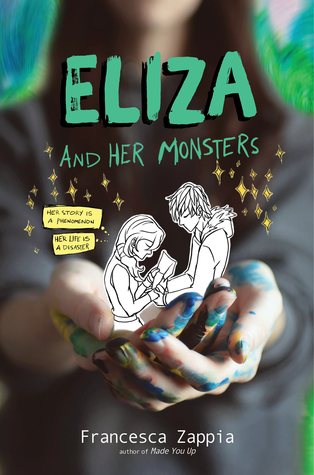 Next up is Eliza and Her Monsters by Francesca Zappia. Unlike The Princess and the Fangirl, which tends toward fun and frolic, Eliza and Her Monsters will break your heart and then patch it back up—and trust me, having read Eliza, you wouldn't trade that for an unbroken heart. Eliza Mirk is living a double life: her real life, where she's a shy, awkward girl who doesn't really have any friends, but does have an awful lot of anxiety; and her online life, where she's LadyConstellation, creator of Monstrous Sea, an absurdly popular webcomic. Then a dude named Wallace Warland (no kidding), Monstrous Sea's most popular fanfiction writer, transfers to Eliza's school. And he and Eliza strike up a tentative friendship, maybe more.
Only thing is, with only a few exceptions, LadyConstellation's identity is secret. Until it isn't. When her secret spills and all of Eliza's carefully constructed boundaries disappear, she falls apart, her anxiety spiraling into panic attacks and suicide ideation.
Eliza and Her Monsters is a beautiful, heart-rending work, a love letter to creators and fans and online friends, a delicate exploration of what it means when the foundations of our worlds crumble—and it feels like the foundations of ourselves have crumbled. It's about living in a place, perhaps an online place, that feels like your own. It's about anxiety and selective mutism and feeling adrift. It's about finding the space you need in order to create the forgiveness you deserve. It is, in a word, lovely.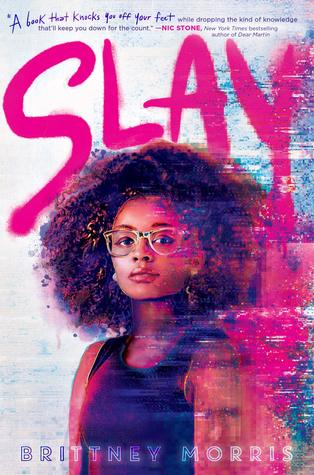 Finally, in Slay by Brittney Morris, Kiera Johnson is the creator of SLAY, a multiplayer online role-playing card game specifically for black people—half a million black people worldwide as the book opens. Kiera specially built the game with black experiences in mind—you'll delight at the battle cards—and the game has such a massive-but-secret following that there are code words to say to someone if you want to know if they SLAY. But Kiera's complication is, like Eliza, that she's anonymous. Not even her sister knows that she's the creator, moderator, and queen of SLAY.
Toward the beginning of Slay, a SLAY player kills another over something that happened in the game. Suddenly, Kiera's baby is out in front of the world—in front of white people who call it racist, in front of black people who say it's not model behavior—and even her sister and her boyfriend have unwelcome opinions. And then a new player enters the game, and a threatens both SLAY and Kiera—and SLAY itself is on the line.
In addition to Kiera's escalating problems, Morris writes a host of characters that address contemporary racism: the white guy who asserts reverse racism, Kiera's white friend who wants Kiera to approve her getting dreads, Kiera's sister who wants Kiera to behave just a little bit less, and Kiera's boyfriend who wants her to behave just a little bit more. Slay is a smart, timely deconstruction of what it means to be black, especially in America, premised on a piece of popular culture crafted by and for black people—and specifically questioning what it means for a marginalized group to inhabit an interactive, communal fan space.
---
By day, Amy Tenbrink dons her supergirl suit and practices transactional and intellectual property law as an executive vice president for a media company. By night, she dons her supergirl cape and plans literary conferences and reads over a hundred books a year. She likes nothing quite so much as monster girls, Weasleys, and a well-planned revolution.