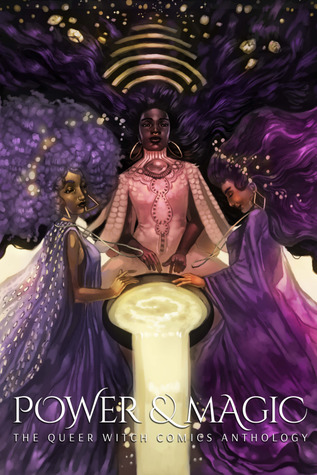 Power & Magic: The Queer Witch Comics Anthology is edited by Joamette Gil, and showcases seventeen creators of color in fifteen unique stories. Each one interprets "witch" differently, but all feature people of color and queerness in a beautiful way. As with any collection of works, there is a wide range of styles and tones; while I felt some stories were stronger than others, overall it is a lovely book. On a side note, I appreciate that the table of contents includes content warnings for particular stories. It's a thoughtful detail that I wish more publishers would use.
The anthology opens with Jemma Salume's elegant four-pager which, despite its brevity, is a gorgeous and intriguing gem that brilliantly sets the stage for the rest of the stories. For me, standouts include Nivedita Sekar's modern take on fairy tales; drawn in delicate pencil, it is a quiet meditation on heartbreak, dating, and growth. Another highlight is Ann Xu's exploration of generational magic, where the loss of one's own language will be familiar to many children of diaspora. Her expressive brushstrokes flow through the pages, leading to a poignant triumph. I also loved Aatmaja Pandya's piece; her deceptively simple art carries her mostly wordless story, a tender look at old age and death. Finally, the last story, by Naomi Franquiz, starts from a painful place, but the evocative art and lyrical writing come together for a hopeful journey of healing through community.
Gil's own story is a short but compelling examination of tradition. She subverts the usual dichotomy of light equals good and dark equals bad, an especially effective choice given the Black characters in her piece. Gil's dreamy art compliments her tale of self-discovery and love, and while it might not be the flashiest story in the book, it feels like the core of what Power & Magic is all about.
On a technical note, the book is in grayscale, and a couple of the comics don't have quite enough visual contrast, making them somewhat hard to read. (Possibly the digital version of the book might have fared better than the print edition in this regard.) The text also varies from fonts to hand lettering, and some readers might struggle when the text is smaller or less clear.
Gil has put together a solid collection with lots of variety and plenty of heart. If you enjoy other queer and/or POC focused anthologies of fantastical comics, like the Beyond or Elements series, Power & Magic casts a similar spell.
---
Lani Goto grew up on a steady diet of fantasy books, but now it's more like a mix of some fantasy, lots of sci-fi, and a bit of horror. In addition to reading, they enjoy cooking, hanging out with animals, and yelling at movies. They have a degree in art, and another in comics, though they currently work with engineering teams at the Wikimedia Foundation.