In this issue:
PROGRAMMING DEADLINE APPROACHING
The deadline to submit programming proposals to Sirens is May 15, 2015.
We look forward to receiving your proposals. Remember, all programming at Sirens is created and presented by attendees. Submit your proposal now!
You can get information on how to put together a programming proposal on our website, and we've posted our annual programming series on our blog. Check it out for help turning your idea into a presentation, as well as for thoughts and experiences from others who've presented and how they made a proposal.
If you're looking for co-presenters, why not place an ad on Facebook or the Sirens message boards?
If you're still thinking about what to present, please join us for a chat. We'll be talking about programming ideas on Sunday, April 19, from 1 to 2:30 p.m. Eastern. This link will take you to a chat on the Sirens website during that time; no software or downloads are required, but you may need to refresh the page.
#SirensBrainstormMonday on Twitter has topics free for the taking (and if you have too many ideas, please feel free to contribute your extras). We recently held a chat on Twitter, too, where ideas were floated for anyone to take. Here are just a couple examples:
Bring It On: Are Girls More Fearless in Fantasy Literature?
Forgiveness and Revenge in Fantasy
Murder, Mistake, Rebellion, Revolution: Our Changeable Thresholds of Female Villainy in Fantasy Literature
Homicidal Asylum Prisoner to Practically Perfect Authorial Insert: The Many, Many Faces of Alice of Wonderland
"How about something with women-led societies and matriarchal lines: Sorrow's Knot, The Demon King, Queen of the Tearling?"
"40+-year-old women in fantasy lit: Paladin of Souls, A Crown for Cold Silver, Granny Weatherwax…"
Handbook of Revolution: Deploying Your Dragons, Mages, Spies and Wannabe Queens
We believe involving everyone in the dialogue of the conference is critical, and that's why our only presenter requirement is that you be old enough to attend. Please know that we value hearing from everyone—and if a topic interests you, it probably interests other attendees, too. If you have any questions about programming, please write to (programming at sirensconference.org).
REGISTER
Staff members recently visited the 2015 site for Sirens. We're happy to report that the lobby space at the Inverness Hotel has been renovated! Now better than ever, the hotel boasts ample natural light, outlets for all your power needs, a new fireplace, and plenty of cozy seating. In addition, the dining locations have been renovated, and a new coffee bar serves your favorite caffeinated drinks until early afternoon. We can't wait to share this lovely space with you.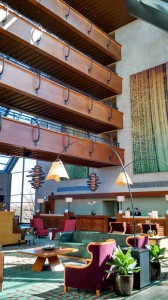 Register now for Sirens in Denver, Colorado.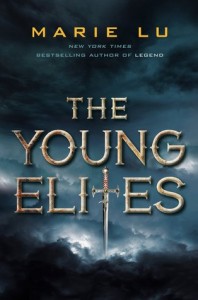 Come read with us! Sirens co-founder Amy leads the Sirens Book Club each month. April's book is The Young Elites by Marie Lu. Join the discussion here on Goodreads.
Marvel is spotlighting female heroes in their new bi-monthly anthology.

Awesome: Women SFF artists redesign female characters.

Ursula K. Le Guin on Kazuo Ishiguro: "Are they going to say this is fantasy?"

From Harper Voyager: Fiona McIntosh remembers Sara Douglass.

Princess Rap Battle: Cinderella vs. Belle.

From Esquire: A look at genre vs. literary fiction.

From NPR: A Girl, A Shoe, A Prince: The Endlessly Evolving Cinderella.

From The Guardian: Kapow! Attack of the feminist superheroes.

Matrilines: The Woman Who Made Fantasy: Katherine Kurtz.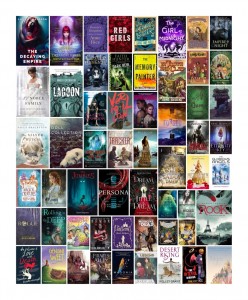 Click the image for a closer look at the covers.
March 1:
The Mermaid's Sister, Carrie Anne Noble

March 3:
Dead Heat (Alpha & Omega #4), Patricia Briggs

March 10:
The Doll Collection, Ellen Datlow
Persona, Genevieve Valentine

March 17:
The Witch of Painted Sorrows (The Daughters of La Lune #1), M. J. Rose

March 19:
The Glorious Angels, Justina Robson

March 24:
Medicine for the Dead (Children of the Drought #2), Arianne "Tex" Thompson

April 1:
By Tooth and Claw (Clan of the Claw), S. M. Stirling, Mercedes Lackey, Eric Flint, Jody Lynn Nye

April 2:
The D'Evil Diaries, Tatum Flynn

April 7:
Awakening, Shannon Duffy
Dark Heir (Jane Yellowrock #9), Faith Hunter
Emissary: The Second Book of the Seven Eyes, Betsy Dornbusch
Empire of Night (Age of Legends #2), Kelley Armstrong
Every Breath You Take (Jensen Murphy, Ghost for Hire #3), Chris Marie Green
Garden of Dreams and Desires (Crescent City #3), Kristen Painter
Genuine Sweet, Faith Harkey
Miss Mayhem, Rachel Hawkins
Palace of Lies, Margaret Peterson Haddix
Rolling in the Deep, Mira Grant
Tracker: A Foreigner Novel (Foreigner #16), C. J. Cherryh
Vengeance of the Demon (Kara Gillian #7), Diana Rowland

April 9:
Lumberjanes #1, Grace Ellis, Noelle Stevenson, and Brooke A. Allen (Art)

April 10:
Lagoon (U.S. edition), Nnedi Okorafor

April 14:
Bloodkin (The Maeve'ra Trilogy #2), Amelia Atwater-Rhodes
Dream a Little Dream, Kerstin Gier
Forged (Taken #3), Erin Bowman
Jack: The True Story of Jack and the Beanstalk, Liesl Shurtliff
The Second Guard, J. D. Vaughn
The Water and the Wild, K. E. Ormsbee and Elsa Mora (Illustrations)
Window Wall (Glass Thorns #4), Melanie Rawn
The Wondrous and the Wicked (The Dispossessed #3), Page Morgan

April 15:
Vermilion, Molly Tanzer

April 21:
Beauty's Kingdom, A. N. Roquelaure (Anne Rice)
Becoming Jinn, April Goldstein
Castle Hangnail, Ursula Vernon
The Decaying Empire (The Vanishing Girl #2), Laura Thalassa
Desert Rising, Kelley Grant
Red Girls: The Legend of the Akakuchibas, Kazuki Sakuraba
Pirate's Alley (Sentinels of New Orleans #4), Suzanne Johnson
The Silver Witch, Paula Brackston
Stolen Magic, Gail Carson Levine
War of Shadows (Ascendant Kingdoms #3), Gail Z. Martin

April 28:
Charm, Sarah Pinborough
Deception's Pawn, Esther Friesner
An Ember in the Ashes, Sabaa Tahir
The Eternity Key, Bree Despain
The Game of Love and Death, Martha Brockenbrough
The Girl at Midnight, Melissa Grey
Hunted Warrior, Lindsey Piper
The Jumbies, Tracey Baptiste
Legend: The Graphic Novel, Marie Lu, Leigh Dragoon, and Kaari (Art)
Magonia, Maria Dahvana Headley
Medusa the Rich, Joan Holub and Suzanne Williams
The Memory Painter, Gwendolyn Womack
Pip Bartlett's Guide to Magical Creatures, Maggie Stiefvater and Jackson Pearce
Rogue, Julie Kagawa
The Shattered Court, M.J. Scott
Of Noble Family (Glamourist Histories #5), Mary Robinette Kowal
Rook, Sharon Cameron
Valiant, Sarah McGuire
SIRENS REVIEW SQUAD
We'd love a few more volunteers to supply us with short reviews of works they have read and loved. If you think you could contribute a book review of at least 250 words sometime during the next year, we would love to have your recommendation for the Sirens newsletter.
Review squad volunteering is quite flexible; we simply ask that you share information about books you've enjoyed. (We are, of course, especially interested in fantasy books by and about women, and we hope you'll consider interesting, diverse selections.) You can contribute once or on an ongoing basis, and on a schedule that works for you. Please visit the volunteer system and, when we ask you what position you're interested in, type in "Book Reviewer."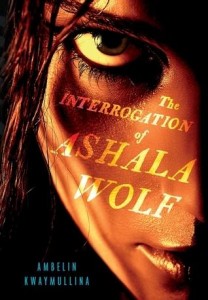 The Interrogation of Ashala Wolf
Ambelin Kwaymullina
Candlewick
When I started The Interrogation of Ashala Wolf, I kept flipping to the flap copy—was this book two? At the beginning, Ashala aks her captor philosophical questions and refers to past events in a way that feels very much like a sequel. Yet, this was Kwaymullina's first novel, so I knew I had to read on. Over the course of the first fifty pages, I gathered a handful of ideas. The world we know has ended, and 300 years after that, the scant human population shares space with sentient cats and saurs, and is asking a great question: Should all humans be allowed to live freely, and are all humans included in the old definition of human? Soon after, I realized that the story didn't start in the wrong place—instead, I had a mystery to unravel.
In the time of rebuilding, there are humans who have developed abilities, most of them related to manipulating the natural world. The government won't allow them to be citizens, for the most part, and too often, children found to have abilities die during the identification process. Ashala, leader of a Tribe of children with abilities who hide in the Firstwood, has been captured and taken to a detention center, where new technology, a computer, can look into her brain for information about rebels. If anyone can fight the interrogation, it's Ashala, who can Sleepwalk and perform amazing feats while she dreams. Soon, however, all her stories begin to unravel, and her ability to protect the Tribe, and herself, is endangered. The problem is that her memories are suspect, and it's not clear who she can trust.
The Interrogation of Ashala Wolf is a fascinating example of both near-future fantasy and of nonlinear storytelling. Kwayamullina, an Aboriginal writer and illustrator from the Palyku people in Australia, is shaping a series about the Tribe, and an author's note at the end of The Interrogation of Ashala Wolf explains a bit of how her cultural beliefs influenced the story. If you're looking for a page turner, I recommend trying this book. – Undusty New Books
---
Questions? Concerns? Please email general queries to (help at sirensconference.org) and questions about programming to (programming at sirensconference.org).