In 2021, Sirens welcomes Dr. Kinitra D. Brooks, Rin Chupeco, Sarah Gailey, and Fonda Lee as our conference guests of honor. Each guest's work presents insightful, critical thoughts related to gender and villainy, and we invite you to explore that
work
before Sirens.

Dr. Kinitra D. Brooks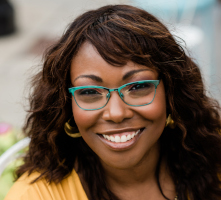 Kinitra D. Brooks is the Audrey and John Leslie Endowed Chair in Literary Studies in the Department of English at Michigan State University. She specializes in the study of black women, genre fiction, and popular culture. Her current research focuses on portrayals of the Conjure Woman in popular culture. Dr. Brooks has three books in print: Searching for Sycorax: Black Women's Hauntings of Contemporary Horror, a critical treatment of black women in science fiction, fantasy, and horror; Sycorax's Daughters, an edited volume of short horror fiction written by black women; and The Lemonade Reader, a collection of essays on Beyoncé's 2016 audiovisual project, Lemonade. She is also the co-editor of the New Suns book series at Ohio State University Press. Dr. Brooks spent the 2018–2019 academic year as the Advancing Equity Through Research Fellow at the Hutchins Center for African and African American Research at Harvard University.
For more information about Kinitra, please visit her website or her Twitter.

Rin Chupeco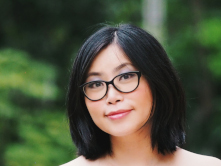 Rin wrote obscure manuals for complicated computer programs, talked people out of their money at event shows, and did many other terrible things. They now write about ghosts and fantastic worlds but are still sometimes mistaken for a revenant. They are the author of The Girl from the Well and its sequel, The Suffering; The Bone Witch trilogy; The Never Tilting World duology; and the A Hundred Names for Magic series, starting with the first book, Wicked As You Wish. They were born and raised in the Philippines and, or so the legend goes, still haunt that place to this very day.
For more information about Rin, please visit their website or their Twitter.


Sarah Gailey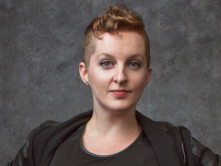 Hugo Award winner and bestselling author Sarah Gailey is an internationally published writer of fiction and nonfiction. Their nonfiction has been published by Mashable and the Boston Globe, and they won a Hugo award for Best Fan Writer. Their most recent fiction credits include Vice and The Atlantic. Their debut novella, River of Teeth, was a 2018 Hugo and Nebula award finalist. Their bestselling adult novel debut, Magic for Liars, was published in 2019; their latest novella, Upright Women Wanted, was published in February 2020. Their young adult novel debut, When We Were Magic, came out in March 2020.
For more information about Sarah, please visit their website or their Twitter.

Fonda Lee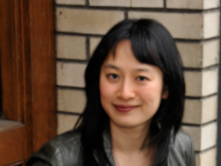 Fonda Lee writes science fiction and fantasy for adults and teens. She is the author of the Green Bone Saga, beginning with Jade City (Orbit), which won the 2018 World Fantasy Award for Best Novel, was nominated for the Nebula Award and the Locus Award, and was named a Best Book of 2017 by NPR, Barnes & Noble, Syfy Wire, and others. The second book in the Green Bone Saga, Jade War, released in 2019 to multiple starred reviews. Fonda's young adult science fiction novels Zeroboxer (Flux), Exo, and Cross Fire (Scholastic), have garnered accolades including being named Junior Library Guild Selection, Andre Norton Award finalist, Oregon Book Award finalist, Oregon Spirit Book Award winner, and YALSA Top Ten Quick Pick for Reluctant Young Adult Readers. In 2018, Fonda gained the distinction of winning the Aurora Award, Canada's national science fiction and fantasy award, twice in the same year for Best Novel and Best Young Adult Novel. She co-writes the ongoing Sword Master & Shang-Chi comic book for Marvel. Fonda is a former corporate strategist who has worked for or advised a number of Fortune 500 companies. She holds black belts in karate and kung fu, loves action movies, and is an eggs Benedict enthusiast. Born and raised in Canada, she currently resides in Portland, Oregon.
For more information about Fonda, please visit her website or her Twitter.

For more information about our 2021 Sirens Studio guest of honor, Joamette Gil, please visit our Sirens Studio page.