If you'd like to extend your Sirens experience, we hope you'll join us for the Sirens Studio! While Sirens is fabulous, it can be hectic: so many people to see, so many conversations to have, not nearly enough time to grab a seat by the fire and just read. The Sirens Studio, however, gives you both what you love about Sirens and that down time that we all need: small-group workshop intensives led by exceptional faculty in the morning; flexible time to read, write, or relax in the afternoon; and on Tuesday night, both a reception with our exceptional Studio faculty and a guest of honor keynote address available only to Studio attendees.
More information about our 2021 Studio faculty and workshop topics for the Sirens Studio is below. Tickets are available only to registered Sirens attendees, and include access to the Studio's workshop intensives, the afternoon quiet and discussion rooms, morning smoothies, an appetizer reception with our 2021 faculty, and the Studio keynote address. The Sirens Shuttle will be available on the evening of Monday, October 19, to facilitate Sirens Studio attendees' transportation to the Hilton Inverness Hotel. In order to keep the experience conversational and somewhat intimate, we are limiting the number of Sirens Studio tickets to 70.
Dates: Tuesday, October 19, 2021, and Wednesday, October 20, 2021
Time: 7:00 a.m. to 10:00 p.m. on Tuesday, and until 5:00 p.m. on Wednesday
Ticket Price: $100
You may purchase tickets here.

Workshop Intensives
Reading Intensives
Yeet the Patriarchy: How Fantasy Stories Can Undermine Systemic Oppression
Casey Blair
This workshop will not just examine why fantasy stories can be a powerful way to examine institutionalized sexism but will focus on how they can actually work to unravel the patriarchy as a system. Looking at modes that go past a surface-level understanding and thoroughly undermine systems on the page, we'll discuss how fantasy stories can shape our understanding of how patriarchy works and how they, and we as readers, can meaningfully jettison it. Topics will include the difficulty and potential of depicting communities and communal action as heroic and challenging the valorization of the archetypal lone male genius who is an awful person; what it means to assert that all stories require conflict, what that implies, and what we do with it; and radical compassion—distinct from white feminist calls for civility designed to defend the status quo—as subversive practice. Come prepared to think deeply about accepted societal assumptions and favored narratives—what stories get considered "normal," "fun," or "marketable," and why—as well as both our and fantasy stories' role in upholding or upending them.
Celebrating the Villainess
Rin Chupeco
Everyone loves a bad boy, but bad girls don't always get the same treatment, and it has everything to do with the pre-assumed roles women are expected to perform in society. And while the times, they are a-changing, we've still got some ways to go. This workshop will deconstruct some of our favorite villainesses in fiction, analyzing the most common archetypes and stereotypes to determine what makes them perfect foils for their respective protagonists—or, as antiheroines, determine what makes them compelling as protagonists of their own story. We'll break down the qualities of the villainess and discuss why these either repel or intrigue us (or both!), and also share some of our favorites across media.
Seasoned with Soy Sauce: Asianization in Western Speculative Media and What It Means to Be "Asian-Inspired"
Ren Iwamoto
In the past twenty years, North America has exponentially increased its cultural imports from East Asia: food, comics, television, beauty products, fashion, music. Novels, however, have not enjoyed the same degree of transmission. What they have had is the literary equivalent of a white chef making "Asian-inspired" cuisine and passing it (even implicitly) as superior to the original. East Asianness is imported, rendered mutable in its new context, and reimagined for the pleasure of a non-Asian audience. We will be looking at Amanda Sun's Ink, Alison Goodman's Eon, and L.L. McKinney's A Blade So Black. We will also "read" into such films and television as the Hollywood live-action production of Ghost in the Shell, Avatar: The Last Airbender, 47 Ronin, and the recent Netflix series Seis Manos, led by such questions as: What is "Asianization" and what makes something "Asian-inspired"? When is it appreciation over appropriation? And finally, is there a functional difference between Asian-inspired books by actual Asian authors and by white authors?
More Than Girls in Capes: Women Writers and Female Representation in Comics and Graphic Novels
Fonda Lee
In 2018, Marjorie Liu won the Eisner Award for Best Writer for her series Monstress, making her the first woman in the thirty-year-long history of the award to take home the comics industry's top prize. In a field that has a history of being exclusionary and at times hostile toward women, today many women writers are creating some of the most exciting and innovative stories in comics and graphic novels. The barriers between prose and comics has become ever more porous as many acclaimed prose authors such as Nnedi Okorafor and Seanan McGuire are also penning stories for Marvel and D.C. This session will be devoted to discussing the works of female comic book writers and graphic novelists in the speculative fiction genre, such as Kelly Sue DeConnick, Tillie Walden, Noelle Stevenson, and others—as well as the evolving state of female representation in comics. A reading list will be provided in advance, and attendees are encouraged to come prepared to recommend their own favorites.
Writing Intensives
Faith in Fantasy: Building Believable Religions
Marie Brennan
Religion in fantasy commonly falls into one of two modes: either it's overt plot, with the gods intervening directly in the story, or it's background color used for swearing and very little else. But in the real world, religion shapes our lives and our cultures in countless ways, from the easy-to-spot examples of marriage or funerary customs to subtler touches like cuisine or the punishments inflicted for crimes. Developing the ethics, motifs, and practices of a religion, rather than its mythological backstory, can bring depth and color to invented societies in ways that drive everything from character to plot. Participants are encouraged to arrive with an example of a fictional religious framework to develop through a variety of exercises.
Finding Magic: Enchanting Characters and Their Worlds
Anna-Marie McLemore
Magical realism is one of the least understood terms in the literary landscape. And whether you write it or not, it holds secrets that can help you bring magic to whatever you're writing. In this session, we'll establish some ground rules about what magical realism is and what it isn't. We'll talk about what magical realism can teach us about crafting fully-realized characters, whether we're writing contemporary or high fantasy. And through a few magical realism-inspired exercises, we'll do some magic-infused writing.
Career Intensives
Success Within and Beyond Academia
Kinitra D. Brooks
Ultimately, this is a workshop about balance. How do you temper being both a fan and an academic? Being a serious critic of genre as well as a creator? And what if you choose to do this within the confines of the institution of academia? Kinitra will use her own experiences to aid in planning and strategizing participants' paths to however they define success by balancing these sometimes-competing aspects of the self.
Working for Change: Can We Wear Capes in Real Life?
Jae Young Kim
Jae Young has spent her career working at non-profits providing free legal services to survivors of domestic violence and immigrants looking to start a new life in the United States, starting off as a staff attorney and now working as a director of a family and immigration unit at one of the largest civil legal services organizations in the United States. In this workshop, Jae Young will share her experiences in non-profits and provide a unique perspective on pursuing personal interests and social justice in the workplace in the current political climate. She will also share the highs and lows of her career and provide guidance to those in interested in exploring a career in the non-profit world—or working for change on a personal level. Finally, she will discuss transferable skills that can advance your career regardless of your field.

Studio Guest of Honor
Joamette Gil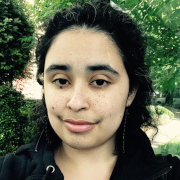 Joamette Gil is the head witch at P&M Press, an independent comics micro-press specializing in speculative fiction by creators of color, LGBTQIAP+ creators, and creators at the intersections. Best known for her Prism Award-winning publication Power & Magic: The Queer Witch Comics Anthology, she also made the James Tiptree, Jr. Literary Award's 2018 Honor List and received nods from the Ignatz Awards and Lambda Literary Awards over the course of P&M Press's three-year existence. Her newest titles are Heartwood: Non-binary Tales of Sylvan Fantasy and Power & Magic: Immortal Souls. Another new title, Mañana: Latinx Comics from the 25th Century, is forthcoming in 2020. Joamette's own comics work has been featured by IDW, Margins Publishing, EverydayFeminism.com, TheNib.com, Oni Press, Lion Forge, and Abrams ComicArts. She also contributed to the Eisner Award-winning Puerto Rico Strong anthology benefitting hurricane disaster relief on the island. When she's not inhaling graphic novels, she's off plotting silly play-by-post scenarios or watching horror movies with her friends and familiars in Portland, Oregon.
For more information about Joamette, please visit her website or her Twitter.

Studio Faculty
Reading Intensive Faculty
Writing Intensive Faculty
Career Development Intensive Faculty