If you'd like to extend your Sirens experience, we hope you'll join us for the Sirens Studio! While Sirens is terrific, it can be hectic: so many people to see, so many conversations to have, not nearly enough time to grab a seat by the fire and just read. The Sirens Studio, however, gives you both what you love about Sirens and that down time that we all need: small-group workshop intensives led by exceptional faculty in the morning; flexible time to read, write, or relax in the afternoon; and on Tuesday night, both a reception with our exceptional Studio faculty and a guest of honor keynote address available only to Studio attendees.
More information about our 2019 Studio faculty and workshop topics and schedule for the Sirens Studio is below. Tickets are available to registered Sirens attendees, and include access to the Studio's workshop intensives, the afternoon quiet and discussion rooms, morning smoothies, the faculty reception, and the Studio keynote address. The Sirens Shuttle will be available on the evening of Monday, October 21, to facilitate Sirens Studio attendees' transportation to the Hilton Inverness Hotel. In order to keep the experience conversational and somewhat intimate, we are limiting the number of Sirens Studio tickets to 70.
Dates: Tuesday, October 22, 2019, and Wednesday, October 23, 2019
Time: 7:00 a.m. to 10:00 p.m. on Tuesday (and until 5:00 p.m. on Wednesday)
Ticket Price: $100
You may purchase tickets here.

Workshop Intensives
Reading Intensives
The Danger of the Single Narrative
Nia Davenport
When stories feature Black characters, are there certain tropes, conflicts, or settings we automatically expect? Furthermore, do we judge the merit of those stories by the amount of pain or trauma inflicted on Black protagonists? "The Danger of the Single Narrative" will discuss several popular SFF books written by Black authors that feature Black protagonists. We will explore the struggles, settings, and identities put forth by these works and examine why stories that do not explicitly deal with Black pain are just as valid and necessary as stories that do. Books we will discuss include Dhonielle Clayton's The Belles duology, N.K. Jemisin's The Hundred Thousand Kingdoms, Tomi Adeyemi's Children of Blood and Bone, Justina Ireland's Dread Nation, L.A. Banks's Vampire Huntress Legend books, Seressia Glass's Shadow Blade, and L. Penelope's Song of Blood and Stone.
Not All Who Wander Are Lost in Translation: A Behind-the-Scenes Discussion About Translated Literature
Juliet Grames
It is often quoted that only 3% of literature published in the United States is translated from other languages. Are American publishers and readers so closed-minded they are missing out on the world's best stories? The truth is accessing translated literature is even more difficult and rewarding than most people guess. Soho Press Associate Publisher Juliet Grames, who has spent the last ten years acquiring for, editing, and managing the press's translation program, will discuss the hidden facets of bringing works from other literary cultures into English. She'll cover the nuts and bolts of how publishers find, select, and acquire works from other languages, and the challenges and pitfalls in the system; editorial process and avoiding literary cultural imperialism; how translators become attached to projects; grants, prizes, and how certain literary traditions have become privileged over others in the global market; and why there are so few works by women available in translation. The session will conclude with an open forum for attendees to share their favorite translations or build their reading lists with other people's recommendations.
Finding the "I" in Team: Evaluating Roles in Fictional Collaborations
Dr. Jen Michaels
Numerous studies have shown that in the workplace and at home, women overwhelmingly bear the burden of teamwork and emotional labor—a dynamic that carries over into fiction. For example, Hermione Granger from the Harry Potter novels is an excellent team player, empathetic, smart, and resourceful. Wendy Darling from Peter Pan is brave, an effective caretaker, and capable of accepting maturity. Natasha Romanoff from the Marvel Cinematic Universe is deadly, efficient, and a surprisingly good listener. All are arguably as or more capable than titular heroes in their respective franchises, but all are depicted as team members, not celebrated leaders themselves. These and many other works of fiction reveal a recognizable tension: they promote the benefits of working as a team rather than a lone wolf, of asking for help and building a community, yet fail to examine who gets to be a leader or how recognizing contributions from individual members of a team can be a fraught process. This workshop will focus on how to evaluate the role and contributions of women in collaborations, teamwork, and found family in fiction, and we'll discuss how depictions of women in teams affect readers, particularly young people. We'll brainstorm how to address this issue with other readers and what quantifiers we should give when recommending relevant works, as well as how we find and recommend books that represent positive examples of collaboration and teamwork.
I'M CAPSLOCK FOR SHORT FICTION
Rebecca Roanhorse
Some of the most challenging and innovative writing in science fiction and fantasy is being done in short fiction, and underrepresented voices are leading the way. This workshop will take a look at where to find the best short fiction in both print and audio, and how to best understand the various forms of short fiction, including novella, novelette and short story. The bulk of the workshop will be devoted to exploring some of the best stories of the past three years, many of them award finalists, by women, nonbinary, LGBT+, and IBPOC writers. A reading list will be distributed beforehand to facilitate discussion, but bring your own favorites to share. Come discover possibly new-to-you authors and find out where the field of speculative fiction is headed.
Writing Intensives
Writing Despite Yourself: Working Through Mental Blocks and Mental Illness
Mishell Baker
As writers, we are well aware of the limits imposed on our work by the marketplace, but often the most invisible and debilitating limits are the ones imposed from within. Neurodiversity is more than a synonym for mental illness—every writer has a unique combination of emotional triggers, cognitive processes, and perceptive filters. To reach the greatest number of readers, you must appreciate the diversity of human thought and feeling, and to get the words on the page in the first place, you must know what motivates and suppresses you specifically. What topics do you shy away from, and why? Are your passions informing your writing deliberately, or is your writing revealing more about you than you intended? How can you continue to turn out quality writing when suffering from depression or anxiety? In this workshop, through discussion and short exercises, we'll delve into the dirty tricks that the human brain plays and discuss ways to work through, with, or around them to get the words flowing.
The Visual Narrative: Developing Illustrated Projects and How to Write Like an Artist
Nilah Magruder
In the past decade, we've seen an explosion of illustrated storytelling in the publishing world; everything from picture books, to comics, to illustrated novels. More and more writers are interested in moving into this sector of publishing, but there is a daunting divide between writing and visual art that can be hard to navigate. In this workshop, we will discuss the role of art in publishing; how to research and reach out to artists for picture book, comic, and illustrated cover art; the nature of collaboration; the opportunities and challenges of visual storytelling; and how to employ visual communication techniques in prose. This is an ideal session for both writers who are interested in writing illustrated projects and artists who also write.
Career Intensives
Heroines Can Fly
Sara Megibow
Today, Sara is an agent at KT Literary. During the dot-com boom, though, she was a process specialist and Six Sigma corporate trainer at GE, part of a team responsible for evaluating sales processes for profit and integrating those processes throughout the company. In this workshop, Sara will combine her knowledge from GE with her experience as a literary agent to dive into setting and measuring expectations for success. How does one use analytics to set measurable expectations? What does it look like to exceed expectations? What makes you money? What tasks are important vs. what tasks are urgent? What processes seem broken, who does that affect and how can we improve those processes? Who is your client/your customer/your boss and how do you make sure expectations are in alignment across the chain?
Negotiating Your Professional Life
Amy Tenbrink
To "negotiate" means, of course, to bargain. In most people's minds, to negotiate is sit across a figurative or even literal table from someone and strike a deal: for a purchase, a service, a job. But to "negotiate" also means to "navigate." And somewhere between formal bargains and the quotidian navigation of life lies the sort of career negotiation that everyone does, knowingly or not: for work projects, for division of labor, for promotions, for raises, for respect. Join Amy, who has negotiated thousands of deals ranging in value up to billions of dollars, to learn how much of everyday work life is negotiated and how you can, through preparation, tactics, and creative solutions, more effectively direct those negotiations.



Studio Guest of Honor
Roshani Chokshi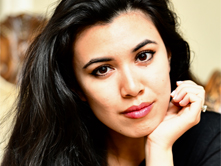 Roshani Chokshi is the New York Times bestselling author of the Star-Touched series and Aru Shah and The End of Time, Book #1 in the Pandava series. She grew up in Georgia, where she acquired a Southern accent but does not use it unless under duress. She has a luck dragon that looks suspiciously like a Great Pyrenees dog. Her work has appeared in Strange Horizons, Uncanny Magazine, Shimmer, and Book Smugglers. She is a 2016 finalist for the Andre Norton Award, and a 2016 Locus finalist for Best First Novel. Her short story, The Star Maiden, was longlisted for the British Fantasy Science Award.
For more information about Roshani, please visit her website or her Twitter.
For more information about the conference Guests of Honor, please visit our Sirens Guest of Honor page.

Studio Faculty
Reading Intensive Faculty
Writing Intensive Faculty
Career Development Intensive Faculty