If you'd like to extend your Sirens experience, we hope you'll join us for the Sirens Studio! While Sirens is terrific, it can be hectic: so many people to see, so many conversations to have, not nearly enough time to grab a seat by the fire and just read. The Sirens Studio, however, gives you both what you love about Sirens and that down time that we all need: small-group workshop intensives led by exceptional faculty in the morning; flexible time to read, write, or relax in the afternoon; and on Tuesday night, both a reception with our exceptional Studio faculty and a guest of honor keynote address available only to Studio attendees.
More information about our 2019 Studio faculty is below, and workshop topics and schedule for the Sirens Studio will be available in early 2019. Tickets are available to registered Sirens attendees, and include access to the Studio's workshop intensives, the afternoon quiet and discussion rooms, morning smoothies, the faculty reception, and the Studio keynote address. The Sirens Shuttle will be available on the evening of Monday, October 21, to facilitate Sirens Studio attendees' transportation to the Hilton Inverness Hotel. In order to keep the experience conversational and somewhat intimate, we are limiting the number of Sirens Studio tickets to 70.
Dates: Tuesday, October 22, 2019, and Wednesday, October 23, 2019
Time: 7:00 a.m. to 10:00 p.m. on Tuesday (and until 5:00 p.m. on Wednesday)
Ticket Price: $100
You may purchase tickets here.

Studio Guest of Honor
Roshani Chokshi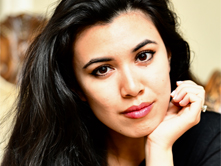 Roshani Chokshi is the New York Times bestselling author of the Star-Touched series and Aru Shah and The End of Time, book one in the Pandava series. She grew up in Georgia, where she acquired a Southern accent but does not use it unless under duress. She has a luck dragon that looks suspiciously like a Great Pyrenees dog. Her work has appeared in Strange Horizons, Uncanny Magazine, Shimmer, and Book Smugglers. She is the 2016 finalist for the Andre Norton Award, and a 2016 Locus finalist for Best First Novel. Her short story, The Star Maiden, was longlisted for the British Fantasy Science Award.
For more information about Roshani, please visit her website or her Twitter.
For more information about the conference Guests of Honor, please visit our Sirens Guest of Honor page.

Studio Faculty
Reading Intensive Faculty
Writing Intensive Faculty
Career Development Intensive Faculty