Sirens is staffed by an all-volunteer team, many of whom have been involved with Sirens since its inception. Please read below to learn a bit about us, and if you're interested in joining our team, please visit
our volunteer page
for more information.
2021 Staff
Amy Tenbrink, Conference Chair
(amy.tenbrink at sirensconference.org)
A favorite fantasy work: Conservation of Shadows by Yoon Ha Lee
By day, Amy Tenbrink dons her supergirl suit and handles strategic and intellectual property transactions as an executive vice president of a major media company. By night, she dons her supergirl cape, plans literary conferences, bakes increasingly complicated pastries, and reads 150 books a year. She holds degrees with honors from both the University of Southern California's Thornton School of Music and the Georgetown University Law Center. She likes nothing quite so much as monster girls, flagrant ambition, and a well-planned revolution.
Hallie Tibbetts, Conference Chair
(hallie.tibbetts at sirensconference.org)
A favorite fantasy work: Kissing the Witch by Emma Donoghue
Hallie has been involved with Narrate Conferences since its inception in 2006, serving variously as education officer, communications officer, and vice president, along with chairing a number of conferences (including many years of Sirens). She works in editorial at Little, Brown Books for Young Readers on books for children age zero to eighteen, but doesn't mind if grownups like those stories too.
Manda Lewis, Conference Chair
(manda.lewis at sirensconference.org)
A favorite fantasy work: Three Dark Crowns by Kendare Blake
Manda served as an engineer in the Air Force for seven years. She currently works for a children's museum in Raleigh, North Carolina, hosting after-hours special events. She is also the caretaker of two small bundles of chaos. Manda has always made it a habit to draw, color, and doodle on just about everything within reach and loves themes far more than anyone really should. She has been a volunteer for Narrate Conferences since 2007.

Karen Bailey, Logistics Coordinator
(karen.bailey at sirensconference.org)
A favorite fantasy work: American Hippo by Sarah Gailey
When she is not wrangling students (and co-workers) for a music non-profit, Karen Bailey can often be found working on completing the Sirens Reading Challenge. She also keeps busy with quilting, crocheting, and paper-crafts.
Sarah Benoot, Programming Coordinator - Exploratory
(sarah.benoot at sirensconference.org)
A favorite fantasy work: The Girl of Fire and Thorns by Rae Carson
Sarah spends her workdays as an operations specialist for a large broker-dealer, where her degree in media production comes in handy more often than you might expect. She's been working on conferences since The Witching Hour in 2005, when she found that she liked helping people find new ways to interact with literature enough to volunteer for Phoenix Rising, Terminus, and Sirens as well. Among other interests, she spends a lot of time trying to fit just one more book on her overloaded shelves.
Zack Bernheimer, Financial Coordinator
(zack.bernheimer at sirensconference.org)
A favorite fantasy work: The Alchemist by Paolo Coelho
Zack currently works for a media company on the strategy and financial analysis team. He graduated from the University of Miami with a Bachelor of Science in Business Administration. At The U, he was the student commencement speaker for his graduating class. In Zack's free time, he likes to go to the gym, hang at the beach, and watch television shows.
Faye Bi, Special Projects Coordinator
(faye.bi at sirensconference.org)
A favorite fantasy work: The Beast Player by Nahoko Uehashi
Faye works as a publicity director in New York City and spends the rest of her time cycling, reading, pondering her next meal, and leading the Sirens communications team. She's yet to read an immigrant story she hasn't cried over and is equally happy in walkable cities and sprawling natural vistas.
Casey Blair, Sales Coordinator
(casey.blair at sirensconference.org)
A favorite fantasy work: The Candle and the Flame by Nafiza Azad
Casey Blair writes adventurous fantasy novels for all ages, including the novella Consider the Dust and her cozy fantasy serial Tea Princess Chronicles. After graduating from Vassar College, her own adventures have included teaching English in rural Japan, attending the Viable Paradise residential science fiction and fantasy writing workshop, and working as an indie bookseller. She now lives in the Pacific Northwest and can be found dancing spontaneously, exploring forests around the world, or trapped under a cat. For more information, visit her website or her Twitter.
Simon Branford, Systems Coordinator
(simon.branford at sirensconference.org)
A favorite fantasy work: Flame in the Mist by Renée Ahdieh
Simon is a specialist in high performance computing and mathematical modeling and works in supporting researchers across a variety of fields. Before this he worked as a researcher on evolutionary models, which built on his PhD in mathematical computation and master's degrees in computer science and mathematics. Simon has been on the program and organizing committees for conferences on computational sciences. In his spare time, Simon likes to read and run.
Kallyn Hunter, Research Coordinator
(kallyn.hunter at sirensconference.org)
A favorite fantasy work: The Fifth Season by N.K. Jemisin
Kallyn Hunter is a researcher, writer, and knight from northern Colorado. When she isn't in front of a computer, she can be found traveling the wilds of her state with her adventure-Pomeranian or smashing the patriarchy with her theatrical jousting troupe, the Knights of the Tempest. She has been a member of the Sirens community since 2011 and has an endless to-read pile because of it.
Candice Lindstrom, Editor & Conference Administrator
(candice.lindstrom at sirensconference.org)
A favorite fantasy work: The Silence of Medair by Andrea K. Höst
Candice is an assistant editor for a business magazine publisher covering women, LGBT, minority, and disabled-veteran enterprises. In a past life she edited young adult and adult fiction for a paranormal publisher. When not reading for work, she's reading for pleasure in almost any genre, but speculative fiction is her first love.
Becky Loucks-Schultz, Website Co-Coordinator
(becky-loucks.schultz at sirensconferences.org)
A favorite fantasy work: Going Postal by Terry Pratchett
Becky spends her work days wrangling specialized computer programs and the medical staff that uses them. When she's not at work she spends a great deal of time wrangling cats, both permanent residents and fosters, and learning to write books.
Fred Loucks-Schultz, Website Co-Coordinator
(fred.loucks-schultz at sirensconference.org)
A favorite fantasy work: Court of Fives by Kate Elliott
Fred is an Information Technology Specialist who has worked in corporate, government, non-profit, and small business sectors over the course of his career. He grew up in Seattle, but now lives in Denver with his wife, several cats, and a small library. He reads voraciously, but also enjoys video games, woodworking, costuming, and music (both listening and playing).
Cass Morris, Conference Content Coordinator
(cass.morris at sirensconference.org)
A favorite fantasy work: The Orphan's Tales duology by Catherynne Valente
Cass Morris works as a writer and educator in central Virginia and occasionally moonlights as a bookseller in the Outer Banks of North Carolina. She completed her Master of Letters at Mary Baldwin University in 2010, and she earned her undergraduate degree, a BA in English with a minor in history, from the College of William and Mary in 2007. Her debut novel, From Unseen Fire: Book One of the Aven Cycle, is a Roman-flavored historical fantasy released by DAW Books. She reads voraciously, wears corsets voluntarily, and will beat you at MarioKart.
Erynn Moss, Registration Coordinator
(erynn.moss at sirensconference.org)
A favorite fantasy work: The Wee Free Men by Terry Pratchett
Erynn is an enthusiastic reader who likes refreshing her soul by spending time with the brilliant people she finds at Sirens. She's into comics, sewing, knitting, costumes, and camping. She currently lives in Louisville with her bff spouse and their toddler trainee-Siren.
Jo O'Brien, Art Coordinator
(jo.obrien at sirensconference.org)
A favorite fantasy work: The Dark Descent of Elizabeth Frankenstein by Kiersten White
Jo O'Brien is a writer, artist, cosplayer, mythical creature, and Viking who lives in northern Colorado, wrangling a host of familiar spirits. She draws and writes about ambitious, unrepentant, sometimes vicious women in novels and for live steel horse theater. She has been a member of the Sirens community since 2011.
Jennifer Shimada, Community Coordinator
(jennifer.shimada at sirensconference.org)
A favorite fantasy work: Sorcerer to the Crown by Zen Cho
Jennifer is a fantasy reader, tea drinker, world traveler, and academic librarian. She is originally from California, earned a BA in history in Texas, taught fifth grade in Oklahoma, and currently works at a graduate school of education in New York. Along the way, Jennifer earned an MLIS from San Jose State University.
K.B. Wagers, Safety & Accessibility Coordinator
(kb.wagers at sirensconference.org)
A favorite fantasy work: Empire of Sand by Tasha Suri
K.B. Wagers is the author of the Indranan War trilogy, as well as There Before the Chaos and Down Among the Dead, the first two books of the Farian War trilogy with Orbit Books, and the upcoming NeoG series from Harper Voyager. They hold a bachelor's degree in Russian studies and a second-degree blackbelt in Shaolin Kung Fu. A native of Colorado, K.B. lives at the base of the Rocky Mountains with their partner and a crew of recalcitrant cats. In between books, they can be found attempting to learn Spanish, dying in video games, dancing to music, and scribbling new ideas in their bullet journal.

In Memoriam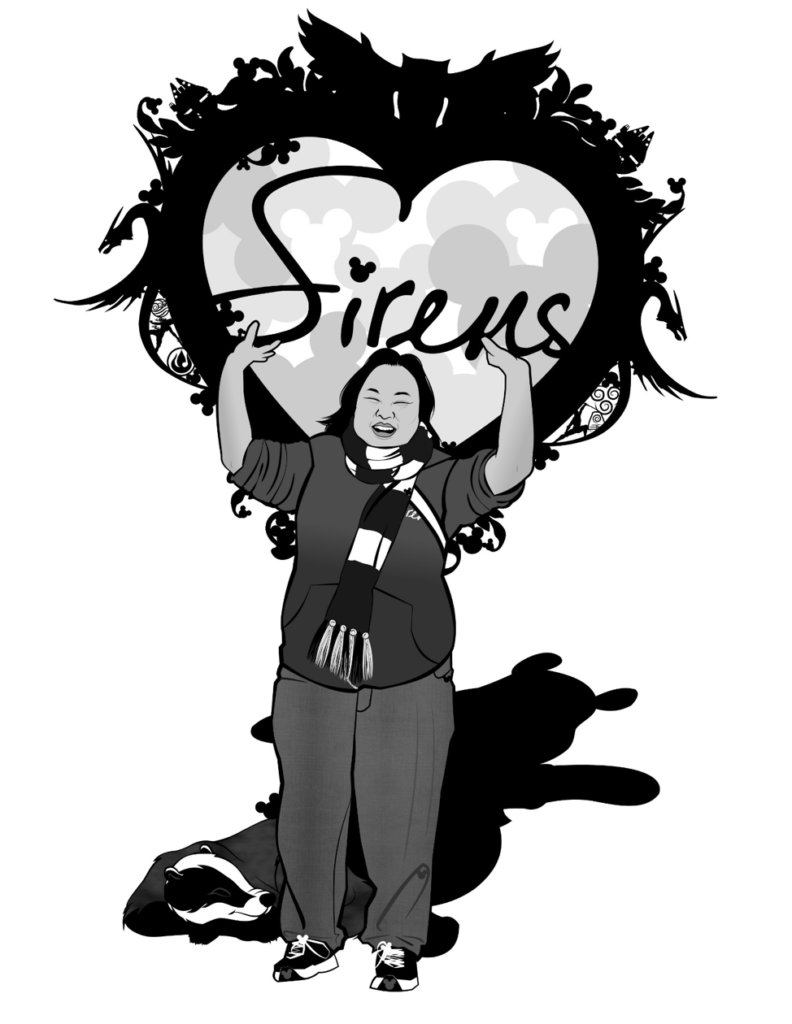 Sabrina Chin, January 17, 1981–October 25, 2019
Sabrina Chin, Conference Chair
A favorite fantasy work: The One Hundred Nights of Hero by Isabel Greenberg
Sabrina worked as a software developer for a telecommunications company located in the Washington, DC, area. She had a Bachelor of Science degree in computer science and completed her master's degree at Johns Hopkins University. Sabrina volunteered for conferences in a technical or customer service capacity starting in 2003. She oversaw the creation and maintenance of the conference websites for Phoenix Rising, Terminus, and Sirens, and co-chaired Sirens from 2013 to 2019. In the little spare time found between working and volunteering, she enjoyed reading a range of young adult, science fiction, fantasy, and graphic novels.