Vail
Vail is, without question, one of the world's must-see mountains for skiers and snowboarders—it can accommodate over 50,000 per hour—but did you know that it's also one of the world's premier vacation destinations? Locals will tell you that Vail is even more majestic in the off-season, when the wildflowers abound or the aspens turn entire mountainsides sunshine yellow. If what you want is a cozy fire, a good book, a bit of shopping, and some terrific cuisine, you're going to love Vail.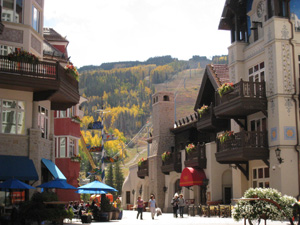 Founded in the 1960s specifically as a tourist destination, Vail is located 100 miles west of Denver in the heart of both the Rocky Mountains and the White River National Forest. Two sections of Vail are designated pedestrian villages, and Vail boasts the largest free transportation system in the country—not to mention that Sirens attendees will have access to the complimentary Hotel Talisa shuttle.
While Vail's valley is just over 8,000 feet above sea level, chances are that any discomfort you're feeling isn't altitude sickness, but rather significant dehydration—and we can help you with that! (The Hotel Talisa is also quite experienced with altitude sickness, should you encounter trouble.) For more information, please see our altitude section, as well as for resources for maps, weather, and packing.
To see Vail right now, visit the vailgov.com webcam.
Vail - Altitude - Maps - Weather - Packing

Altitude
Colorado has the highest average altitude in the United States, and the average elevation in Vail is 8,150 feet. Colorado is also the seventh driest state in the United States. The altitude and the dryness together can be challenging, so we've provided you with the following information—and we strongly encourage you to prepare before coming to Sirens.
At Vail's altitude, you'll find that, due the reduced oxygen, your body will work harder: you'll breathe more quickly (and become winded more quickly), you'll sweat more easily, you'll be hungrier, and you'll need more sleep. Further, as every mountain-town bartender will tell you, alcohol will have a greater effect: assume that every drink you'd have at sea level equals three in the mountains. Vail's altitude also comes with a thinner atmosphere, making you significantly more susceptible to sunburn.
Most people will have no significant trouble at Vail's altitude, especially if you take a few precautionary measures. The bigger concern is making rapid ascents at and above 8,000 feet; airplane cabins are often pressurized between 5,000-8,000 feet, for example, because the range is considered a safe and healthy pressurization for most people.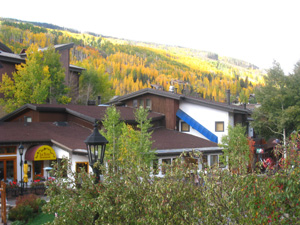 So what should you do to prepare for Sirens in Vail?
In Colorado's dry climate, you need a lot of water. Coloradans are easily identified at conferences by their giant water bottles, and we strongly encourage you to be adopt the habits of locals: a large water bottle should go everywhere with you and you should need to refill it 3-4 times a day. Please consider also adding sports drinks to your hydration regime, to help you replace lost electrolytes. We strongly recommend that you begin to increase your hydration a few days before departing for Vail; it's much easier to prevent dehydration than it is to recover from its effects.
Moisturizers like lip balm, heavy-duty lotion, eye drops, and saline nasal spray will help reduce any discomfort due to dryness. We strongly recommend that you start applying your moisturizers the moment you arrive. Again, prevention is easier than recovery.
Vail's dryness can also lead to headaches and insomnia. Please consider bringing headache medicine and sleep aids.
Please bring—and wear—a full-spectrum sunscreen and dark sunglasses. The thinner atmosphere makes for a very quick sunburn if you aren't careful—and your eyes can burn, too!
You may want to consult a medical professional regarding supplements designed specifically to ease the transition to high altitude.
The Hotel Talisa includes humidifiers in all its guest rooms. Please use yours religiously.
Please take things a bit more slowly than you otherwise would. Perhaps go to bed a bit early or have breakfast in bed. Maybe pamper yourself at the spa or take it easier than you otherwise would when exercising.
You may want to come into Vail early to give yourself time to adjust. The discounted Sirens room rate begins on Friday, October 20, 2017, so if you have the time and resources to travel to Vail early, you'll have time to both take care of yourself and spend a bit of extra time reading, writing, or exploring Vail and the Colorado Rockies.
If you're very concerned about the altitude, you may want to fly into Denver a day early and spend the night at Denver's altitude before traveling to the mountains. Adjusting to high altitude in stages often helps.
In Vail, altitude sickness may be a concern for a small percentage of attendees. Symptoms of altitude sickness include a headache that does not respond to painkillers and other symptoms such as nausea, extreme fatigue, inability to sleep, swelling, and continued rapid heartbeat. Altitude sickness usually clears up in a day or two at most, but can be very uncomfortable in the meantime. Treatment options include going to a lower elevation, oxygen treatment, hyperbaric therapy, and prescription medications; if you've experienced altitude sickness in the past, you might consider obtaining medication from your doctor, as well as travel insurance specifically for this trip (if your regular insurance policies don't cover trip interruption or medical care). Additionally, the Hotel Talisa's marketplace offers altitude adjustment pills comprised of vitamins and other natural ingredients that attendees report help with acclimatization. Should you experience symptoms of altitude sickness while in Vail, please consult the staff of the Hotel Talisa for assistance and treatment options.
Vail - Altitude - Maps - Weather - Packing

Maps
For maps of Vail, you might visit this site. The Hotel Talisa can be found near the oval marked "Cascade Village."
Vail - Altitude - Maps - Weather - Packing

Weather
Weather in the Rocky Mountains can change in an instant. Though Sirens is scheduled mid-fall, you might encounter summer-like conditions or a light sprinkle of snow. We recommend checking the weather for Vail just before leaving so that you'll be prepared. Daytime temperatures are usually 50–60° F, with cooler weather, even freezing conditions, overnight. To get up-to-the-minute weather information on Vail, please use this tool:
Vail - Altitude - Maps - Weather - Packing

Packing
Before you leave for Vail, check the weather—and then pack cold-weather gear anyway, since that weather might change in a matter of hours! We also recommend sturdy, closed-toe walking shoes, and comfortable, casual layers so that you'll be at ease in air-conditioned meeting spaces or outside on the beautiful resort grounds at high noon during a warm spell.
Additionally, we recommend some must-haves:
A water bottle
Full-spectrum sunscreen and dark sunglasses
Moisturizers, including lotion, lip balm, eye drops, and saline nasal spray
Headache medicine to help with any dehydration or altitude headaches
Sleep aids to help with any insomnia
Any prescription medications that you need, including any designed to help you adjust to Vail's altitude
Your identification, credit/debit cards or cash, and travel itinerary