In this issue:
PROGRAMMING DEADLINE APPROACHING
The deadline to submit programming proposals to Sirens is May 12, 2014.
We look forward to receiving your proposals! If you're still thinking about what to present, please join us for one of our upcoming chats (more information below) or check out this year's brainstorming post. You can get an overview of how to put together a programming proposal on our website, and we've posted our annual programming series—a more informal approach to the same information—on our blog.
Looking for someone to join you as a presenter? Please post an ad on our Facebook, message boards, brainstorming post, or any LiveJournal or blog post.
If you've got your best idea (or two) ready to go, you're welcome to submit it now.
As you probably already know, the programming at Sirens is created and presented by attendees. We think that involving everyone in the dialogue of the conference is critical, and that's why our only presenter requirement is that you be old enough to attend. In the past, we've received excellent presentations from students, grandmothers, professors, musicians, readers, and teachers, among others. Please know that we value hearing from everyone—and if it interests you, it probably interests other attendees, too.
If you have any questions about programming, you can comment here or write to (programming at sirensconference.org).
UPCOMING CHATS
We're hosting two chats on our website to talk about programming ideas, travel plans, and the books we've been reading. Everyone is welcome! Please feel free to stop by for a minute or an hour. You don't need to download anything or make an account, or have any special software for the chat, but you may need to refresh the page after the chat's start time to participate.
Our chats are scheduled for:
Wednesday, April 2, from 9 to 11 p.m. Eastern
Saturday, April 5, from 2 to 4 p.m. Eastern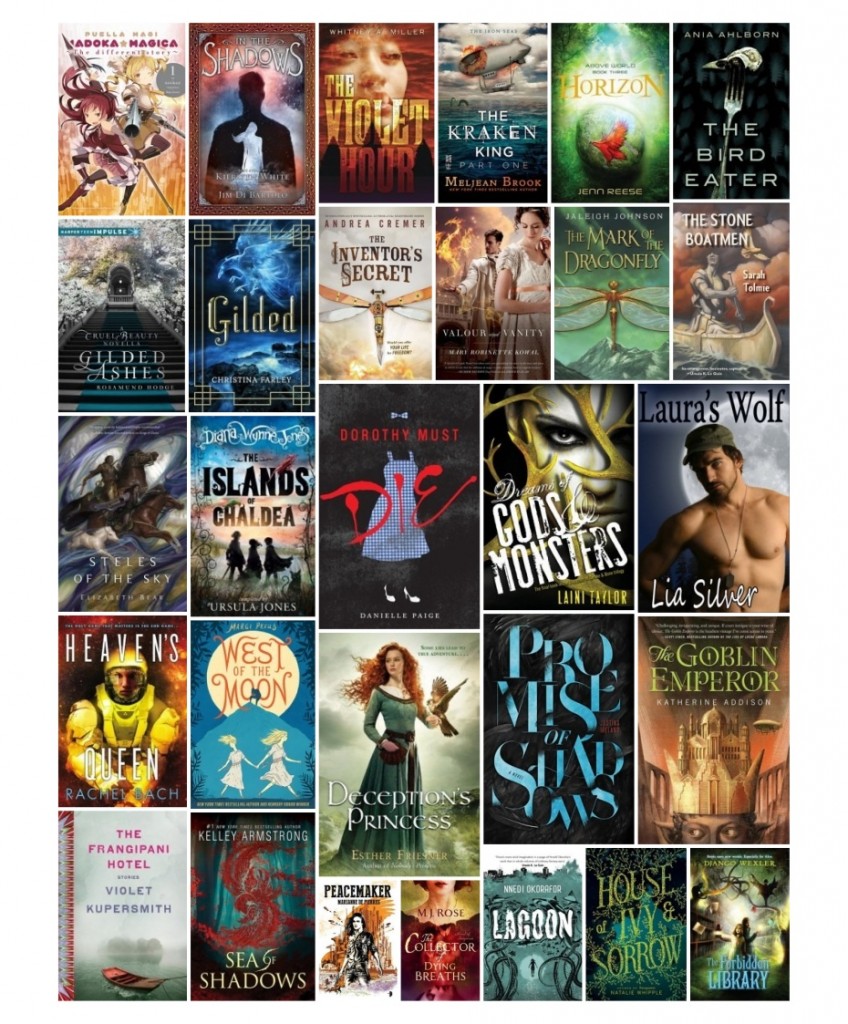 Click the image for a closer look at the covers.
Gilded, Christina L. Farley (March 1)

Laura's Wolf, Lia Silver (March 5)

The Violet Hour, Whitney A. Miller (March 8)

Promise of Shadows, Justina Ireland (March 11)

Puella Magi Madoka Magica: The Different Story, Vol. 1, Magica Quartet, Hanokage (March 25)

The Mark of the Dragonfly, Jaleigh Johnson (March 25)

The Stone Boatmen, Sarah Tolmie (April 1)

Dorothy Must Die, Danielle Paige (April 1)

The Frangipani Hotel, Violet Kupersmith (April 1)

West of the Moon, Margi Preus (April 1)

The Bird Eater, Ania Ahlborn (April 1)

Gilded Ashes, Rosamund Hodge (April 1)

The Goblin Emperor, Katherine Addison (April 1)

Dreams of Gods & Monsters, Laini Taylor (April 8)

Sea of Shadows, Kelley Armstrong (April 8)

Valour and Vanity (Glamourist Histories #4), Mary Robinette Kowal (April 8)

Horizon (Above World #3), Jenn Reese (April 8)

Steles of the Sky (Eternal Sky #3), Elizabeth Bear (April 8)

The Collector of Dying Breaths, M. J. Rose (April 8)

Lagoon, Nnedi Okorafor (April 10)

House of Ivy & Sorrow, Natalie Whipple (April 15)

The Forbidden Library, Django Wexler (April 15)

The Kraken King Part I: The Kraken King and the Scribbling Spinster (Iron Seas #4.1), Meljean Brook (April 15)

The Inventor's Secret, Andrea Cremer (April 22)

Deception's Princess, Esther Friesner (April 22)

The Islands of Chaldea, Diana Wynne Jones and Ursula Jones (April 22)

Heaven's Queen, Rachel Bach (April 22)

Peacemaker, Marianne de Pierres (April 29)

In the Shadows, Kiersten White and Jim Di Bartolo (April 29)

2014 Arthur C. Clarke Award Finalists.

Ursula K. LeGuin, Queen of America (and Ken Kesey Award winner).

Nahoko Uehashi (whose Moribito series has been a Books and Breakfast pick in the past) is on the 2014 Hans Christian Andersen Award shortlist, and was named as one of two winners.

Sailor Moon 20th anniversary site (maybe you read this for Books and Breakfast?).

Misfits of Avalon, the comic.

Fantasy Book Cafe is hosting Women in SF&F Month again this April.

Sarah Rees Brennan writes a poem about recognition for women's writing.
Do you have exciting book news or fantasy links to share? Send it to (help at sirensconference.org) and we'll include it in the next newsletter. We appreciate your contributions! Thanks for helping us expand this month's news. Special thanks to Kate and Casey for their additions.
BOOK GIVEAWAY
Post a comment of at least two sentences on our blog or LiveJournal by April 18, 2014, and tell us which April release you're most excited about and why. We'll choose one lucky winner from the participants and contact them for a mailing address, and that person will win a copy of the book they chose. (U.S. addresses only, please!) Current Sirens staff members are not eligible to win, though they may leave a comment, but all volunteers, attendees, and I-wish-I-could-attendees are welcome to tell us their favorites.
MARCH'S GIVEAWAY WINNER
No one entered the March giveaway, so no winner has been named. (We'd say that future entrants may find the odds are highly in their favor.) That said, the March giveaway is open until April 4, so that's a hint.
---
Questions? You can comment here or write to us at (help at sirensconference.org).