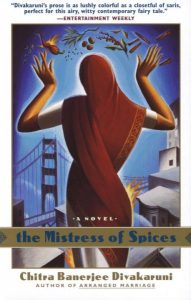 Each year, Sirens chair Amy Tenbrink posts monthly reviews of new-to-her books from the annual Sirens reading list. You can find all of her Sirens Book Club reviews at the Sirens Goodreads Group. We invite you to read along and discuss!
As a daughter of the Midwest, I have a complicated relationship with the housewifely arts: namely, cooking, cleaning, and sewing. I practice all of these, in some fashion (though my cleaning is notably desultory), but none so well as to meet the expectations of my foremothers, for whom no speck of lint was too small to pick up, no embroidery too complicated to tackle, and Lord above, no cookie too perfect to try, try, try again. (It took me decades to realize that I don't even really like cookies.)
But in the Midwest – and indeed, in many, many cultures around the world – those housewifely arts are, in fact, the highest possible form of female caretaking. You got a promotion at work? I baked you a cake! You have a solo in the church choir for Easter? I made you a new dress! How do I love you? Let me count the chores that I did this morning before you awoke…
For all that I struggle with the complexities of that caretaking, even now, when I've shed most of my upbringing for professional ambition, those deep-seated expectations turn up at the strangest times. When I want a challenge? I bake bread. When I feel the most like a failure? When my house is messy. What do I do while I watch TV? Cross-stitch. And I have the most unexpected soft spot for books about women who work magic with food…
I chose The Mistress of Spices, both for the 2017 Sirens Reading Challenge and for my book club, in large part because it is about a woman who works magic through a classic feminine art: in this case, spices. Tilo – short for Tilottama, or, in part, "sesame seed" – is already in the third act of her life, having spent her childhood as a seer and her youth as a pirate queen. Having grown disenchanted with piracy, Tilo makes her way to a remote island – and begs to be allowed to join the assembly of aspiring mistresses of spices: those Indian women who learn to work magic through correct application of the correct spices: ginger for courage and so on. Once they have learned enough, they sacrifice their youth, beauty and future relationships, and are sent around the world to help the Indian people. Tilo chooses Oakland.
Rather early on in the book, Tilo wakes up in her spice shop in Oakland, and the rules of her magic are clear: don't leave the shop, don't get to too close to your customers, don't use the spices for yourself. And all is well, more or less. Tilo uses her skills to help immigrants struggling with a panoply of issues: racism, violence, arranged marriage, abuse. But then, one day, an American man walks into her store and she's smitten – and despite her aged appearance, so is he. Suddenly, Tilo begins to learn that not all things are how you might intend and that, sometimes, the spices have a will of their own. Tilo's intent clashes with the spices' as she leaves the store for the first time, buys new clothes, worries about her customers, and begins seeing her American man.
In the end, I loved three things about The Mistress of Spices. First, as you would expect if you've read anything else by Chitra Banerjee Divakaruni, the language is exquisite. Divakaruni's craft, even in this, her first novel, is light years ahead of so many other authors: it has a poetry to it, the feel of a legend, and it's a joy to read. Second, I loved that Divakaruni, an immigrant herself, addressed, unflinchingly, so many issues that face immigrant communities in America: racism, abuse, violence, trying to fit in, wondering if you should just go home – if you even know where home is anymore. Despite the pervasive magic in The Mistress of Spices, Tilo's customers are real people, with real-world problems. Third, I loved that, to get to the climax of the book, Tilo had to battle her own magic. Despite her talent and her experience, the spices are sentient: rule enforcers, tricksters, who thwart Tilo in ways both obvious and quite subtle. So often, magic is the means to the end, something to be mastered and used, and it was a treat to read a book where a woman's relationship with her power was very different, something to be coaxed, perhaps, or negotiated with.
And in the end, there was only one thing about The Mistress of Spices that I didn't like as well: something I call the "Medea problem." In the Greek Medea myth, Medea gives up everything – including being a princess – to help Jason of Argonaut fame steal the Golden Fleece from her father and run away with him. Later, she kills for him – and eventually, when he casts her aside, she kills their children. Which leads one to wonder: What kind of dude is so awesome that a woman would do all of that?
I'm predestined to be skeptical of a woman who's willing to give up not only her business and her life as she knows it, but her magic and her immortality, for some guy. Must be some guy, right? And maybe that guy is out there, but Tilo's American man isn't that guy. He's a restless former playboy who has made and spent millions: on houses, on cars, on girls. Falling in love with Tilo is, I suppose, meant to be his redemption, but it turns out that I don't care about his redemption: I just want her to keep doing her, magic and all.
Is The Mistress of Spices worth a read? Absolutely. (Which is good, since it's required for the 2017 Sirens Reading Challenge.) It's a beautifully crafted folktale of an indomitable woman who battles her own magic to aid her people, and what's not to like about that?
Amy

---

Amy Tenbrink spends her days handling content distribution and intellectual property transactions for an entertainment company. Her nights and weekends over the last twenty years have involved managing a wide variety of events, including theatrical productions, marching band shows, sporting events, and interdisciplinary conferences. Most recently, she has organized three Harry Potter conferences (The Witching Hour, in Salem, Massachusetts; Phoenix Rising, in the French Quarter of New Orleans; and Terminus, in downtown Chicago) and seven years of Sirens. Her experience includes all aspects of event planning, from logistics and marketing to legal consulting and budget management, and she holds degrees with honors from both the University of Southern California's Thornton School of Music and the Georgetown University Law Center. She likes nothing so much as monster girls, Weasleys, and a well-planned revolution.