In this issue:
PROGRAMMING DECISIONS COMING
Notices regarding proposals will be sent to you by June 9, 2014 (and you should expect them close to that date, rather than sooner). Please note, however, that if we're still tracking down your co-presenters, a decision may be delayed. Thank you in advance for making sure that all proposal collaborators have checked in. Tip: Be sure to check under less-used tabs if you use Gmail.
GET A ROOM!
Over the past year or so, hotel occupancy rates and meetings have picked up significantly. There is more demand than available space. That can affect smaller events, like Sirens. We recommend that you reserve your room at Skamania Lodge this summer—and that you don't plan for there to be a spare upon your arrival at the conference, especially given the resort policies. See more information and discounted rates on our hotel page. Also, if you're looking for roommates, others are (already!) looking too. Contact others or post an ad on our message boards.
SPEAKING OF TRAVEL
If you're wondering about air travel from your location to Portland International Airport (PDX), you might sneak a peek at FlightAware Insight. Plug in your departure and arrival airports, and you'll get back a list of popular routes, passenger loads, and typical prices, so you can figure out if you're getting a good deal—or not!
REGISTRATION PRICE INCREASE: JULY 6
Registration for Sirens increases to $205 on July 6.
AMY'S BOOK CLUB
One of Sirens's chairs, Amy Tenbrink, is reading "hauntings and the haunted" books in preparation for October. Ghosts, specters, memories, visions, and other patterns show up across fantasy, horror, and non-genre fiction, and she keeps talking to us about them, so we thought she should talk to you, too! If you'd like to read along, there is a discussion up for Dreaming in Cuban by Cristina García, and the following books will be featured on the Sirens Goodreads Group in coming months.
June: Imaginary Girls, Nova Ren Suma
July: The Ghost Bride, Yangsze Choo
August: In the Shadow of Blackbirds, Cat Winters
September: The Woman in Black, Susan Hill
October: The Haunting of Hill House, Shirley Jackson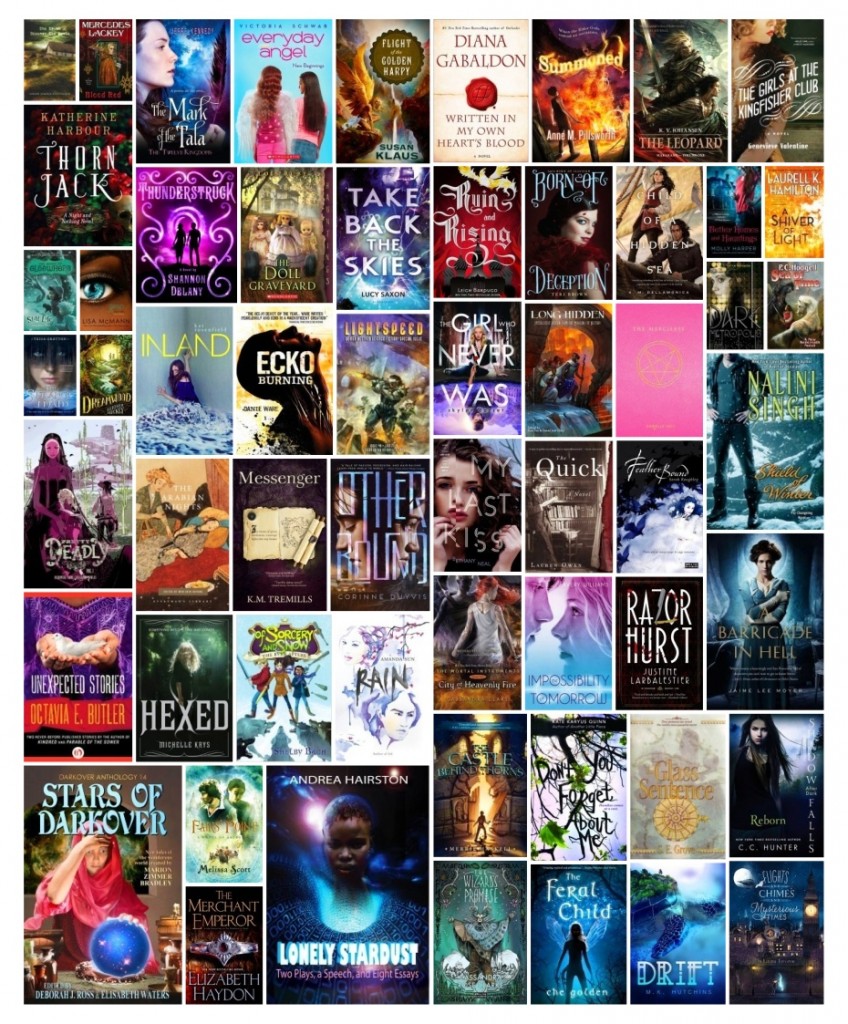 Click the image for a closer look at the covers.
Feather Bound, Sarah Raughley (May 6)
The Wizard's Promise, Cassandra Rose Clarke (May 6)
Long Hidden: Speculative Fiction from the Margins of History, ed. Daniel José Older and Rose Fox (May 9)
Flights and Chimes and Mysterious Times, Emma Trevayne (May 13)
Pretty Deadly, Vol. 1 (Pretty Deadly #1-5); Kelly Sue DeConnick, Emma Ríos (ill.), Jordie Bellaire (ill.) (May 13)
Reborn, C. C. Hunter (May 20)
The Castle Behind Thorns, Merrie Haskell (May 20)
Fairs' Point, Melissa Scott (May 20)
Thunderstruck (Weather Witch #3), Shannon Delany (May 20)
City of Heavenly Fire, Cassandra Clare (May 27)
Everyday Angel, Victoria Schwab (May 27)
The Twelve Kingdoms: The Mark of Tala, Jeffe Kennedy (May 27)
Messenger, Kate Tremills (May 30)

Drift, M. K. Hutchins (June 1)
The Girl Who Never Was, Skylar Dorset (June 1)
Lightspeed Magazine, June 2014 (Women Destroy Science Fiction special issue), including flash fiction by Rhiannon Rasmussen (June 1)
Lonely Stardust: Two Plays, a Speech, and Eight Essays, Andrea Hairston (June 1)

A Barricade in Hell, Jaime Lee Moyer (June 3)
Blood Red (Elemental Masters #10), Mercedes Lackey (June 3)
Ecko Burning, Danie Ware (June 3)
The Feral Child, Che Golden (June 3)
Gasp, Lisa McMann (June 3)
The Girls at the Kingfisher Club, Genevieve Valentine (June 3)
The Heir of Khored (Seven-Petaled Shield #3), Deborah J. Ross (June 3)
The Merchant Emperor, Elizabeth Haydon (June 3)
Sea of Time, P. C. Hodgell (June 3)
Shield of Winter, Nalini Singh (June 3)
A Shiver of Light (Merry Gentry #9), Laurell K. Hamilton (June 3)
Stars of Darkover, ed. Deborah J. Ross and Elisabeth Waters, with contributions by Janni Lee Simner, Rachel Manija Brown, Kari Sperring, and Diana L. Paxson, among others (June 3)
Take Back the Skies, Lucy Saxon (June 3)

The Impossibility of Tomorrow, Avery Williams (June 4)

The Truth Against the World, Sarah Jamila Stevenson

The Arabian Nights, ed. Wen-chin Ouyang (June 10)
Born of Deception, Teri Brown (June 10)
(Don't You) Forget About Me, Kate Karyus Quinn (June 10)
Hexed, Michelle Krys (June 10)
My Last Kiss, Bethany Neal (June 10)
The Leopard, K. V. Johansen (June 10)
The Strange Maid (United States of Asgard #2), Tessa Gratton (June 10)
Written in My Own Heart's Blood, Diana Gabaldon (June 10)

The Glass Sentence, S. E. Grove (June 12)
The Merciless, Danielle Vega (June 12)
Dreamwood, Heather Mackey (June 12)
Inland, Kat Rosenfield (June 12)

Dark Metropolis, Jaclyn Dolamore (June 17)
Flight of the Golden Harpy, Susan Klaus (June 17)
Otherbound, Corinne Duyvis (June 17)
Ruin and Rising, Leigh Bardugo (June 17)
The Quick, Lauren Owen (June 17)

Better Homes and Hauntings, Molly Harper (June 24)
Child of a Hidden Sea, A. M. Dellamonica (June 24)
The Doll Graveyard, Lois Ruby (June 24)
Of Sorcery and Snow, Shelby Bach (June 24)
Rain, Amanda Sun (June 24)
Still Life (The Books of Elsewhere #5), Jacqueline West and Poly Bernatene (ill.) (June 24)
Summoned, Anne M. Pillsworth (June 24)
Thorn Jack, Katherine Harbour (June 24)
Unexpected Stories, Octavia Butler (June 24)

Razorhurst, Justine Larbalestier (June 25, Aus/NZ; out in US in 2015)

"Trust the Story": A Conversation with Sofia Samatar.

Nalo Hopkinson on winning the Norton Award for Sister Mine.

Article on Guadalupe Garcia McCall in SIGNAL.

Obituary note: Mary Stewart, author of The Crystal Cave, The Hollow Hills, and The Last Enchantment, among other works, passed in May at age 97.

Speculative Literature Foundation: Diverse Writers and Diverse World Grants reading period open May 1 to July 31 (grant funded through efforts of Faye Bi and Ellen Wright).

The 2014-15 Le Guin Feminist Science Fiction Fellowship has a deadline of September 5, 2014.

Folklore doesn't always or necessarily mean fantasy. With that in mind, we thought many of you might be interested in checking out Never Alone, a game with a young Iñupiat girl at its center.

Marvel's Agent Carter picked up by ABC.

Nominees for the 2013 Shirley Jackson Awards.

Shirley Jackson takes readers on unsettling ride down a darkened path.

Shveta Thakrar sold "Krishna Blue," to be included in the forthcoming Kaleidoscope: Diverse YA Science Fiction and Fantasy Stories.

Arabic sci-fi and other literary revolutions.

Translating Frozen into Arabic.

Science fiction in the Philippines/A short and incomplete history of Philippine science fiction.

A Day of Latino Science Fiction.

The 2014 Locus Awards finalists.

The 2013 Bisexual Book Awards finalists.

And the winners include Inheritance by Malinda Lo and Pantomime by Laura Lam.

C. S. Friedman on starting a writing career without revealing gender.

Aliette de Bodard on "Vanished Women: In the Wake of This Year's Nebula Awards."

Athena Andreadis on "Lest We Forget: In the Wake of This Year's Nebula Awards."
Do you have exciting book news or fantasy links to share? Send it to (help at sirensconference.org) and we'll include it in the next newsletter. We appreciate your contributions! Thanks for helping us expand this month's news, and special thanks to Kate, Sabrina, and X! for their additions.
BOOK GIVEAWAY
Post a comment of at least two sentences on our blog or LiveJournal by June 20, 2014, and tell us which June release you're most excited about and why. We'll choose one lucky winner from the participants and contact them for a mailing address, and that person will win a copy of the book they chose. (U.S. addresses only, please!) Current Sirens staff members are not eligible to win, though they may leave a comment, but all volunteers, attendees, and I-wish-I-could-attendees are welcome to tell us their favorites.
MAY GIVEAWAY WINNER
No one entered the May giveaway, and thus there was no winner. Good luck to June's entrants!
SIRENS REVIEW SQUAD
In the not-so-distant past, we had a review squad: volunteer readers reviewing books that they would recommend to others interested in women in fantasy. We're pleased to bring back the review squad, and to feature their book reviews in the Sirens newsletter. If you think you could contribute a book review of at least 250 words sometime during the next year, please visit the volunteer system and on the third page, where you are offered different volunteer team choices, indicate that you'd like to be a book reviewer in the section that says "Please tell us of any specific position you are interested in." Review squad volunteering is very flexible; we simply ask that you share information about books you've enjoyed. You can contribute once or on an ongoing basis, and on a schedule that works for you.
If you're with a publisher and are interested in providing review copies or similar, please contact us at (help at sirensconference.org). On to this month's reviews!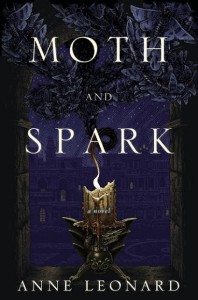 Moth and Spark
Anne Leonard
Viking (February 2014)
hardcover edition
Moth and Spark. Tam and Corin. I'm a sucker for strong female characters, and Tam Warin certainly fits the bill. She's of good birth and excellent education but not noble. She is possessed of a sassy sense of humor and an extraordinary amount of common sense, which eventually saves the day and her handsome prince. Corin (said handsome gentleman) has several hard tasks—living up to his father's expectations, freeing the dragons, and saving his country from imperial politics and enemy invasion. Our intrepid heroes make a formidable team as they operate within court and go haring about the countryside on adventures.
The book starts strong. In the first fifty pages or so, Corin has an enigmatic encounter with dragons and fights an unexpected skirmish at a country inn. Meanwhile, Tam accepts her sister-in-law's invitation to court where she becomes an accidental witness to a strange sort of murder. All of these brief scenes eventually unspool into a tangled plot that carries this story forward into intrigue, romance, and war. The dragons present another unexpected layer, since their fate determines so many other problems.
I haven't read a second world, high fantasy novel in ages, and I enjoyed this one. I would have appreciated a little more world-building, but the plot drove me through the story. I happen to like "girl cooties" and rooted for our unlikely, heroic couple. The romantic aspect also served to balance the hardships of invasion and war. The dragons seemed completely Other, almost unexplainable. Hopefully, Anne will write another volume that examines the relationship between dragon and rider.
Full disclosure: Anne Leonard attended Sirens in 2013, where I met her and enjoyed discussing books and being parents of teenage boys. – Kristen Blount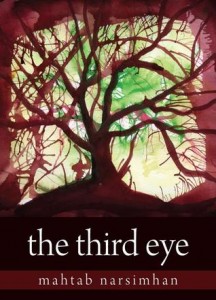 The Third Eye (The Tara Trilogy #1)
Mahtab Narsimhan
Dundurn (2007)
paperback
Tara's mother and grandfather disappear in the middle of the night, and soon, her father remarries, leaving Tara and her little brother, Suraj, pitted against an evil stepmother. In true fantasy fashion, the stepmother pampers her own child and neglects Tara and Suraj. It's almost unbearable for the children, especially since their father is a mere shell of his past self, unable to spin the tales he used to tell. When a strange newcomer, Zarku, tries to usurp Tara's missing grandfather's place as the village healer, Tara hatches a plan to scour the dangerous forest for her missing relatives. However, the night is dark and full of vetalas…and before things are done, Tara forges an alliance with Lord Yama, the god of death.
The Third Eye won the 2009 Silver Birch Award from the Ontario Library Association for books aimed at young readers. It's not hard to see why: Third Eye is an engrossing, fast-paced fantasy adventure that incorporates Indian culture and Hindu stories. I loved that Tara's quest is not only to save her family (and her relationship with her younger brother is, frankly, cute), but to save the men of her village, who are Zarku's biggest targets. How often does a little girl end up in that position? I also enjoyed how stories and storytelling were embedded within the plot, such as the inclusion of Tara's father's stories, which gave me a pleasant sense that the story was operating on multiple levels.
The writing is uneven at times, and I sometimes wished for more attention to introducing details at just the right time. I also wished for a little more subtlety in the struggle between good and evil. Still, when this story is good, it's especially good. I devoured most of the book on a plane ride, and I'll be going back for the rest of the series—this book ends on a breathtaking cliffhanger. – Undusty New Books
---
Questions? You can comment here or write to us at (help at sirensconference.org).