As we look toward Sirens, we're pleased to bring you exclusive interviews with this year's brilliant Sirens Studio faculty. These conversations are a prelude to the workshops that these faculty will teach as part of the Studio later this year. Last year, Sirens content coordinator Cass Morris spoke with Ren Iwamoto and today we're thrilled to be republishing this interview.
CASS MORRIS: Your graduate studies are focused on twentieth-century East Asian literature, Japanese colonialism, and post-colonial discourse. What drew you to that cross-section of topics? What impact do you think greater awareness of them can have on fantasy fiction?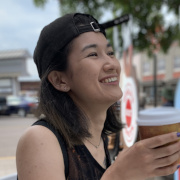 REN IWAMOTO: It's a topic I actually shied away from at first; I think I saw a post on Twitter about the erection of a statue commemorating the Korean comfort women who were abused during the Japanese occupation. I didn't want to acknowledge it. Growing up in the diaspora, there is a certain degree of nostalgia for "the homeland." But I'm also Canadian. I demand Canada be held accountable for concentration camps, residential schools, its well-buried history of slavery, the continued forced sterilization of indigenous women—why should I excuse Japan? Especially when even now, many people deny that such events as the Nanking Massacre even occurred. I deliberately fought my impulse to brush past the initial discomfort and instead sought out content that educated me.
Politics and history always have impacted the literary landscape, so as an academic my next step was to source material in my field. This was actually the most difficult part. My Japanese is too poor to read untranslated texts, so I, despite my best efforts, turned to manga (this isn't a knock against manga, but unfortunately it's a little difficult to get academic clout as an undergraduate studying comics). This turned out to be fortuitous, because Japan's manga industry turns a multi-million dollar profit every year and is rife with magic, high strangeness, and future imaginings. As such, my interest in topics like nationalism, war, and industrialization found a fantastically large puddle to splash around in. The aim of my research is to unearth patterns in how the Japanese cultural context informs these themes.
To speak broadly of impact, any and all knowledge of real-world events alters how we interpret science fiction and fantasy. On a more personal level, seeing fantasy elements "inspired" by East Asia (but that actually just fetishize East Asia), or people who watch anime and think that means they understand what it means to be Japanese, I kind of want to smash someone over the head with a chair WWE-style. So I think awareness of the academic discourse—even on a relatively shallow level—helps generate a more complete knowledge and hopefully operates as a gateway for further investigation. There's no ultimate goal for this sort of endeavor, but I do think compassionate, intellectually robust fiction helps compassionate, intellectually robust people bloom in the world. So.
CASS: You're also an intern at P.S. Literary Agency. Tell us a little about the agency and the work you do there.
REN: I was, from May to November 2019. It was a wonderful experience. I worked for Eric Smith and Kurestin Armada, both of whom represent SFF for teens and adults, amongst other things. My primary duty there was reading slush and writing reader's reports, which essentially document what works, what doesn't, and whether I felt the piece was worth the agent's time to look at. I loved reading the slush. There's something deeply personal, and yet anonymous about it. I was consistently impressed by the quality of submissions.
I'm hoping to leverage the experience I earned at P.S. Literary to pursue a more long-term career in fiction publishing, but for now I'm content to apply what I learned there to my freelance practice.
CASS: Speculative fiction has the wonderful potential to hold mirrors up to the past, present, and future. What are some topics you hope to see speculative fiction explore? What's on your wish list?
REN: I've almost certainly said this before, but speculative fiction should destabilize. Topic is almost irrelevant to me so long as the story turns some stone over; then something meaningful was accomplished. Magic, futurism, historical reimaginings, whatever it is that straddles the line between science and magic—these all have the potential to interrogate heterocentrism, patriarchy, gender, race, and so on. Even concepts like time and space open themselves up to deconstruction. That's very exciting to me as both a pleasure reader and an academic, so whether the story is about war or star-crossed lovers or two kids riding their bikes around the neighborhood becomes secondary.
CASS: How and when did you fall in love with fantasy literature?
REN: In the interest of honesty, I have to say H*rry P*tter. They were the first books I read for my own pleasure, not for school or because my parents had picked them out for me. But given current circumstances, I've had to re-evaluate exactly what I liked about them. The conclusion I came to is that they taught me to love magic. I was and am deeply interested in the idea of there being another layer to reality, a secret layer, which only a few could access. It appealed to my fantasy of being a Special Person who could see and do Special Things. Fortunately, there is an abundance of precisely that kind of content created by people I'm not morally obligated to throw hands at on sight.
On a less commercial level, Gabriel Garcia Marquez was the first "fantasy" writer I engaged with on an academic level. So lush and ripe with sentiment! I'm still in love. To me, magical realism and its cousin genres do the same thing as the portal fantasies I loved growing up—they reveal something secret. If you know, you know. You know?
CASS: At this year's Studio, you'll be teaching "Seasoned with Soy Sauce: Asianization in Western Speculative Media and What It Means to Be 'Asian-Inspired.' " What do you hope attendees will take away from your session?
REN: In my experience, everyone at Sirens has come already having done much of the groundwork regarding cultural appropriation. So my goal isn't to teach that, nor is it to discourage people who aren't East Asian from creating content which draws upon East Asian inspirations. Rather, I'm interested in conveying how the fascination with "the Orient," which has featured so heavily in Western colonial history, has translated into modern storytelling practices. The aesthetic of East Asia is very sexy to a Western audience. Westerners love the image of Tokyo, Seoul, Shanghai, Bangkok, and so on. It appeals to their idea of the Far East as either a hyper-sophisticated, hyper-urban paradise, or otherwise an overpopulated mega-slum riddled with opium dens and wet markets. Because this depiction is fundamentally shallow, and most often created by white people for white people, it's impossible for its audience to fully appreciate the nuance of the East Asian experience (I, as a Japanese person, am only slightly more equipped). This is a rambling way of saying I hope the audience learns a little bit of colonial history in East Asia and world-building.
CASS: Sirens is about discussing and deconstructing both gender and fantasy literature. Would you please tell us about a woman or nonbinary person—a family member, a friend, a reader, an author, an editor, a character, anyone—who has changed your life?
REN: This is a cop-out, but I've become keenly aware of how every social movement which has benefited me as a queer person of color has been championed initially by Black women. Some of the most innovative and inspiring intellectuals in my field are Black women. And, because this is Sirens, some of the most exciting literature I've read this past year, both within and beyond the confines of SFF, has been written by Black women. So: Black women.
---
Ren Iwamoto is a Japanese-Canadian grad student from the tenth dimension. Her areas of interest include studies in death, gender, memory, grotesquerie, and post-colonialism; she is in eternal search of the thesis topic that combines all of the above. Her poetry has been featured in multiple publications. For more information about Ren, please visit her Twitter.
Cass Morris works as a writer and educator in central Virginia. Her debut series, The Aven Cycle, is Roman-flavored historical fantasy released by DAW Books. She is also one-third of the team behind the Hugo Award Finalist podcast Worldbuilding for Masochists. She holds a Master of Letters from Mary Baldwin University and a BA in English and History from the College of William and Mary. She reads voraciously, wears corsets voluntarily, and will beat you at MarioKart. Find her online at cassmorriswrites.com or on Twitter and Instagram @cassrmorris.