In this issue:
GET READY FOR SIRENS
This year's Sirens is just days away! Before you arrive, you may want to take a look at our conference schedule and programming summaries, and pick your books for Books and Breakfast. We also encourage you to review our tips on adjusting to the altitude, and if it's your first time at Sirens, here are some things to know.
GUEST OF HONOR: N. K. JEMISIN
We interviewed each of our Sirens 2017 Guests of Honor about their inspirations, influences, and craft, as well as the role of women in fantasy literature, as befits this year's theme of women who work magic.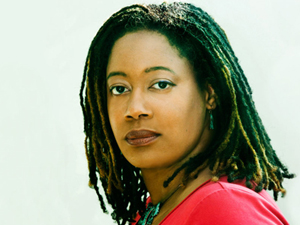 This month,
we spoke N. K. Jemisin
about worldbuilding, urban spaces, and what constitutes progressive epic fantasy: "what makes epic fantasy conservative isn't a focus on white men, but a focus on supporting or restoring an authoritarian status quo… Progressive fantasies are less concerned (or not concerned at all) with restoring the monarchy or putting down the rebellion or bringing the old ways back."
Our feature on N. K. Jemisin also includes a review of The Fifth Season by B R Sanders as well as a list of books to check out if you've read everything else she's written already!
INSTRUCTION EMAILS
This past week, we sent out detailed instruction emails for the Sirens Shuttle, the Sirens Studio, the Sirens Supper, and registration check-in. Presenters should have also received an email about room adjustments at the Park Hyatt and getting ready to present at Sirens, and the updated PDF is on our website. If you emailed us about dietary concerns and haven't received a response, and for any other missing emails, please contact us at (help at sirensconference.org).
CONTACTING US DURING SIRENS
Our staff began arriving in Colorado on Friday, October 20 to prepare for Sirens. While we're unpacking materials and setting up for the conference, we won't be able to monitor our emails as closely as we normally would. If you have an urgent question prior to arriving on-site, please email (help at sirensconference.org) and we'll get back to you as quickly as possible.
Once the conference starts, the easiest way to reach is in person! If you have any questions or simply want to chat, our information desk in Grouse Mountain will be open starting at 3:00 p.m. on Thursday, October 26.
TWITTER SCHEDULE
Starting tomorrow, October 24, we'll be live-tweeting our conference schedule starting with Sirens Studio. If you prefer not to receive these notifications, you might want to mute @sirens_con until Monday, October 30. Or, if you'd like to follow along virtually, keep an eye on the #Sirens17 hashtag!
IN CASE YOU MISSED IT…
Guest of Honor Interviews: 
Inclusivity at Sirens:
---
Questions? Concerns? Please email general queries to (help at sirensconference.org) and questions about programming to (programming at sirensconference.org).